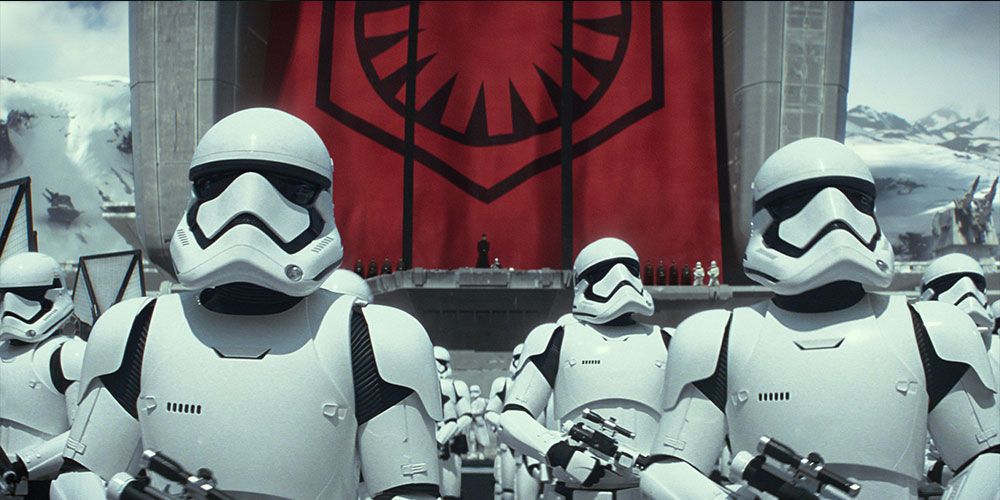 With The Mandalorian arriving on Disney+ in two months, anticipation is about as high as it can be for the Star Wars universe's first live-action television series. Fans already know the show will be set in the interim between Episodes VI and VII on the outer edges of the galaxy, but now, two of the creative minds behind the project have hinted at the big bads at the show's peripheries.
Speaking with Entertainment Weekly, director Dave Filoni and showrunner Jon Favreau both took time to better contextualize the series, explaining that, while the First Order won't necessarily be as imposing as they are in The Force Awakens, audiences will begin to understand how they ascended to power.
RELATED: Star Wars: How The Mandalorian Character Differs from Boba Fett
"...[W]hat could happen in the 30 years between celebrating the defeat of the Empire and then the First Order?" Favreau teased. "You come in on Episode VII, [the First Order are] not just starting out. They're pretty far along... So somehow, things weren't necessarily managed as well as they could have been if [the galaxy] ended up in hot water again like that."
"This doesn't turn into a good guy universe because you blew up two Death Stars," Filoni said. "You get that the Rebels won and they're trying to establish a Republic, but there's no way that could have set in for everybody all at once...you're out on the frontier and there might be Washington and they might have some marshals, but sometimes good luck finding one."
RELATED: The Mandalorian Battles a Pair of Classic Star Wars Aliens in New Image
Created by Jon Favreau, The Mandalorian stars Pedro Pascal, Gina Carano, Carl Weathers, Giancarlo Esposito, Emily Swallow, Omid Abtahi, Werner Herzog and Nick Nolte. The series debuts Nov. 12 on Disney+, the same date as the streaming service's official launch.