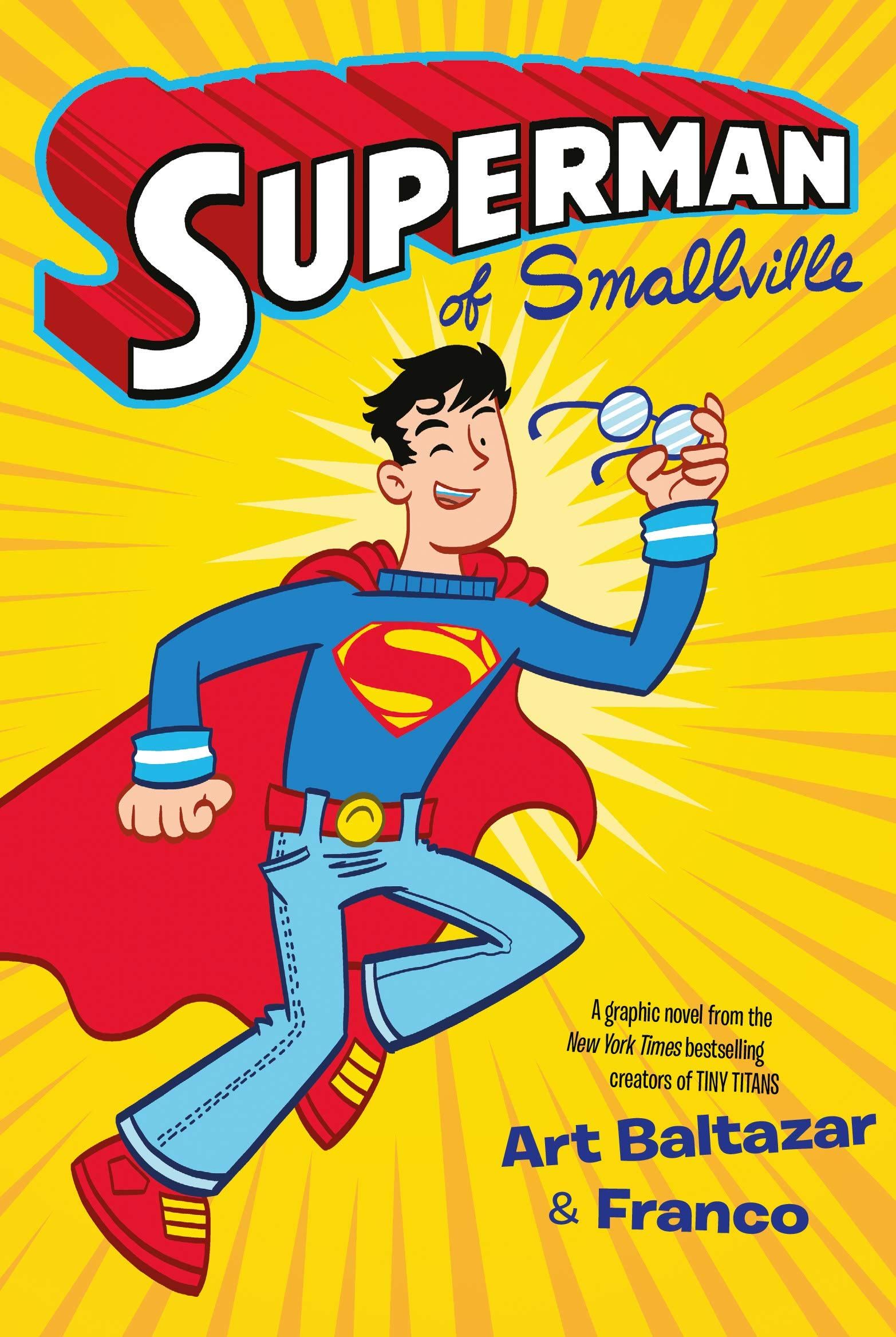 Of all the creative teams that come to mind when it comes to all-ages friendly interpretations of iconic superheroes, Art Baltazar and Franco Aureliani are among the names that rightly come to the top of the list very quickly. The creative team has worked together writing and illustrating heroes for DC Comics for years (perhaps most notably in Tiny Titans) in a kid-friendly art style that usually reimagines the heroes and villains as school-age children. The duo reunite for Superman of Smallville, the latest original graphic novel from DC Comics' middle-grade publishing imprint DC Zoom.
Taking place while the Teenager of Steel is still coming to terms with his super-powered double life while attending middle school in his hometown of Smallville, the graphic novel shows Clark Kent still unsure of himself and his extraterrestrial origins. Along the way, several iconic Superman supporting characters make their own appearances as Clark balances his responsibilities on the Kent farm, at school and as a burgeoning superhero while a new threat from outer space makes its way to the unassuming Kansas farming town.
RELATED: The Legion of Super-Heroes Arrive, and They're Taking Superboy with Them
Baltazar and Aureliani continue to prove why they are some of the best kid-friendly comic book creators in the game right now, crafting an original story here that is suitable for readers of all ages without playing down to its audience. As such, it's a timeless story that children and adults alike can enjoy, reimagining the beginnings of Superman's superhero activities as he tries to remain incognito while attending middle school and fostering his subsequent friendships with Lana Lang, Pete Ross and an extraterrestrial-obsessed Lex Luthor. In doing so, Art and Franco have created both a slice-of-life bit of Americana and a coming-of-age story for the teen Clark that succeeds in both endeavors.
Divided into four chapters, Superman of Smallville has some of the same comedic sensibilities as the Eisner Award-winning Tiny Titans, but really aims for a slightly older audience while staying family-friendly. A lot of coming-of-age stories are fueled by angst and ennui, but Clark's struggles aren't heavy-handed soul-searching. Even so, the superhero stakes remain. Art and Franco keep things relatable while reminding readers that the young protagonist is just a kid who is also growing up into the most iconic superhero of all time.
RELATED: Superman: Year One Just Made Clark Kent the King of [SPOILER]
Similarly, Art and Franco's art style is much cleaner here than Tiny Titans and its crayon-esque visual approach. The graphic novel is reminiscent in several ways of the various animated series by Genndy Tartakovsky, with its solid, straight line work and vibrant, undiluted color palette. Emotion and nuance are perfectly conveyed through the artwork alone, making Clark's daily routine on the farm and in middle school just as entertaining as his antics as Superman. And when the action does build to its inevitable climax, the artwork really underscores the sense of humor still present in the final confrontation while delivering the expected superhero showdown.
Art Baltazar and Franco Aureliani deliver career-level work with Superman of Smallville; considerably high praise considering their previous body of work. The origin story of Clark Kent's teenage career as Superman is well-worn territory, but the creative team makes it feel fresh and accessible with their signature robust sense of humor and deep love of the characters. Appealing to children as well as adults, the creative team utilizes a more polished approach here than in works past, and the extra effort goes a long way in delivering a family-friendly, updated take on DC Comics' flagship superhero as he finds himself in the hustle and bustle of middle school.
RELATED: Did Superman Always Attend High School in Smallville?