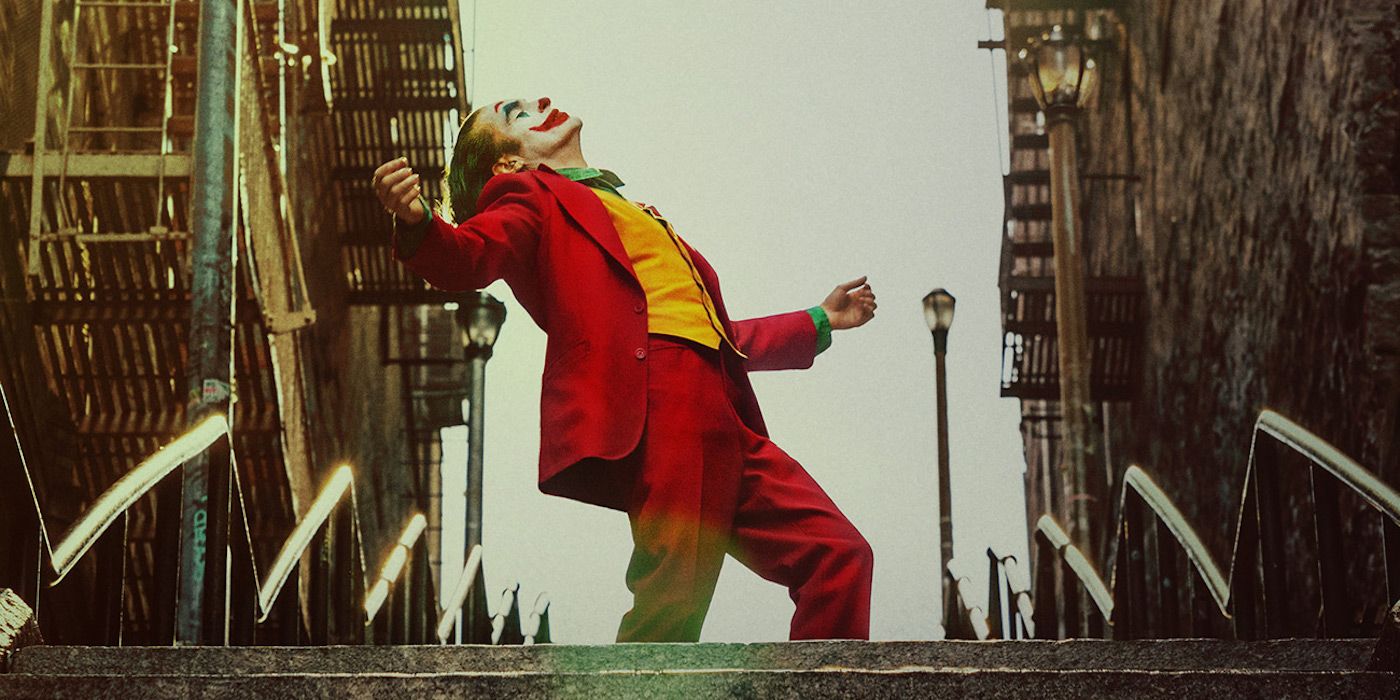 Early reviews out of the 2019 Venice Film Festival confirm suspicions Joker will be be one of the year's most divisive and controversial movies. Most of the subjects of controversy are by design; this is an intense and disturbing film intended to provoke and make people uncomfortable. One particular selection on the soundtrack, however, might be making people uncomfortable for the wrong reasons.
The song in question is Gary Glitter's "Rock and Roll Part 2," which plays when Joaquin Phoenix's Joker is dancing down the steps near his home in his full Joker costume, an image which is presented on the film's latest poster and is one of many dance sequences throughout the film.
Ignoring real world context, the scene is a winner. Variety's Owen Gleiberman describes it as "a moment of transcendent insanity." The Hollywood Reporter's David Rooney says it's the film's most memorable usage of Phoenix's body language and "almost balletic" sense of movement. The song's era-appropriate pop culture presence (for decades, it was used frequently to signify victories for many different sports teams in the United States) also serves as an understandable reason why it was chosen to underscore this moment.
RELATED: Joker: Early Reviews Praise Phoenix's 'Astonishing' Performance
The problem comes when you look at what we know about Gary Glitter today. The once popular British glam rock singer was charged with downloading child pornography in 1999. In 2006, he was found guilty of obscene acts with minors in Vietnam. In 2015, he was found guilty of rape, attempted rape and indecent assault and sentenced to 16 years in prison. Unlike with some other controversial musicians, there's no "Did they or didn't they?" benefit of the doubt to be argued about: the facts are clear that Gary Glitter committed multiple crimes against children.
With all of this real world background in mind, is it appropriate for Joker to use Glitter's music? While it's likely the 75-year-old Glitter is going to be spending the rest of his life behind bars, he is still earning royalties from the commercial usage of his music. While the artistic impulse to use his music in Joker might be understandable and even successful, is it worth it if it helps a criminal profit?
Most of the discourse surrounding Joker has been arguing about the issue of depiction vs. endorsement. Those excited for the movie are interested in the psychological study of a violent and unstable man, seeing such character studies as necessary for understanding such men without endorsing or encouraging them. Other commentators who've been worried about the movie are fearful that, even with the movie being clear that its protagonist is a villain, it might make him too sympathetic and end up celebrated by similarly unstable men in real life. Critics who've seen the movie have been arguing intensely about these issues.
RELATED: Joker Movie May Be Uncomfortable But Necessary Viewing For 2019
In general, the argument that depiction is not endorsement is a strong one, but it's also one that needs to be made very carefully. Surely Todd Phillips and Warner Bros. aren't aiming to inspire future criminals with their movie. However, the issue that this movie is arguably endorsing a criminal through music royalties complicates things.
That this is just over a single music cue makes the artistic decision extra difficult to defend. Martin Scorsese's The Wolf of Wall Street was controversial for actually working with the financial criminal Jordan Belfort, enough so that the US government had to step in to take half of Belfort's earnings from the film and legally prevent him from receiving royalties. In that case, however, you could argue that Scorsese working with Belfort was a necessary evil in order for his film to get made at all and work as a criticism of the system with allowed Belfort to get so successful. In contrast, Joker isn't a film about Gary Glitter, and there's no moral benefit and only fleeting artistic benefit in the trade-off of paying him for use of his music.
It's still a month out from Joker's theatrical release. In that time, "Rock and Roll Part 2" could be easily replaced with another similar piece of music. The fact the song doesn't even have any lyrics should make it especially easy to find a replacement without hurting the impact of the scene itself. The filmmakers should at least consider a replacement if they don't want the headache of dealing with this especially controversial decision.
Directed by Todd Phillips, Joker stars Joaquin Phoenix, Robert De Niro, Zazie Beetz, Bill Camp, Frances Conroy, Brett Cullen, Glenn Fleshler, Douglas Hodge, Marc Maron, Josh Pais and Shea Whigham. The film arrives in theaters Oct. 4.
KEEP READING: Leaked Joker Script Promises the Most Controversial Comic Book Movie Ever