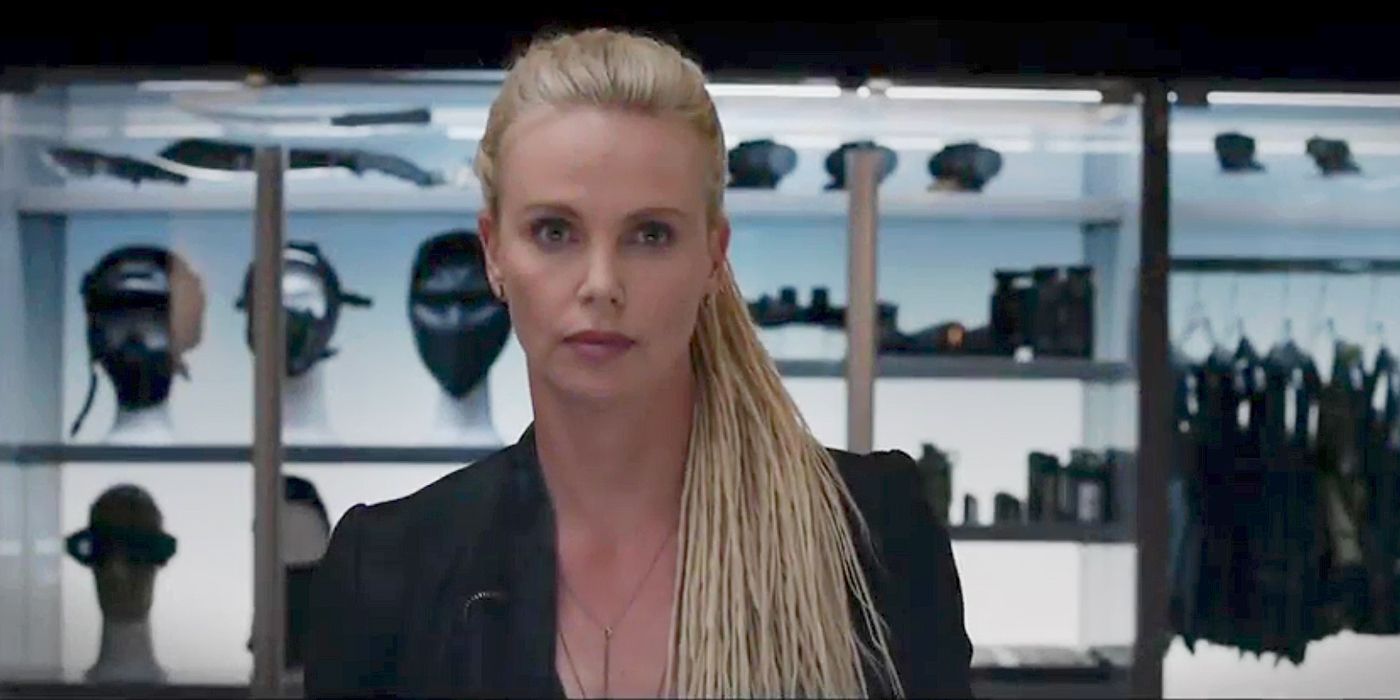 Charlize Theron will return in Fast and Furious 9 as Cipher, but this time she will ditch the dreadlocks for a bowl cut.
In an Instagram post, Theron revealed her look for the as-yet untitled ninth entry in the series. "She's baaaaack," Theron captioned the post, which includes the photo of her look and an out-of-focus snapshot of her chair on set, confirming she is indeed returning as Cipher.
RELATED: Guardians of the Galaxy Star Joins Fast & Furious 9
In 2017's The Fate of the Furious, the villainous character tormented Dom and the Family by blackmailing Diesel's character into turning on the team. A cyberterrorist with a head of blonde dreadlocks, she was a unique villain for the series. Fast 9 looks to continue the trend of giving Charlize Theron an unexpected look.
RELATED: Fast & Furious 9 Adds Another UFC Fighter to Its Cast
No details of the plot have yet been revealed, but many familiar faces are confirmed to return along with Theron: Helen Mirren's Magdalene Shaw, who was introduced in the previous movie, and Jordana Brewster's Mia Toretto, the girlfriend of the late Paul Walker's character. Even director Justin Lin -- who directed Tokyo Drift, Fast & Furious, Fast Five and Fast and Furious 6 -- will return after taking a few movies off.
The series has a history of turning villains into vital parts of the team, like Dwayne Johnson's Luke Hobbs and Jason Statham's Deckard Shaw. It's possible, then, this is more than just a physical transformation for Cipher. After turning a murderous international terrorist into a hero, anything's possible, although this bowl cut probably could also imply something sinister.
RELATED: Fast & Furious 9 Pauses Filming in Wake of Stuntman Injury
This Instagram post is just the latest from the cast of the film. Just in the past few months, Diesel used the platform to confirm the return of Jordan Brewster's Mia Toretto and potentially tease the return of the Walker's character Brian O'Connor.
Fast & Furious 9 will be helmed by Justin Lin, who directed the third, fourth, fifth and sixth entries in the Fast & Furious franchise. Fast & Furious 9 is slated for a May 22, 2020 release.