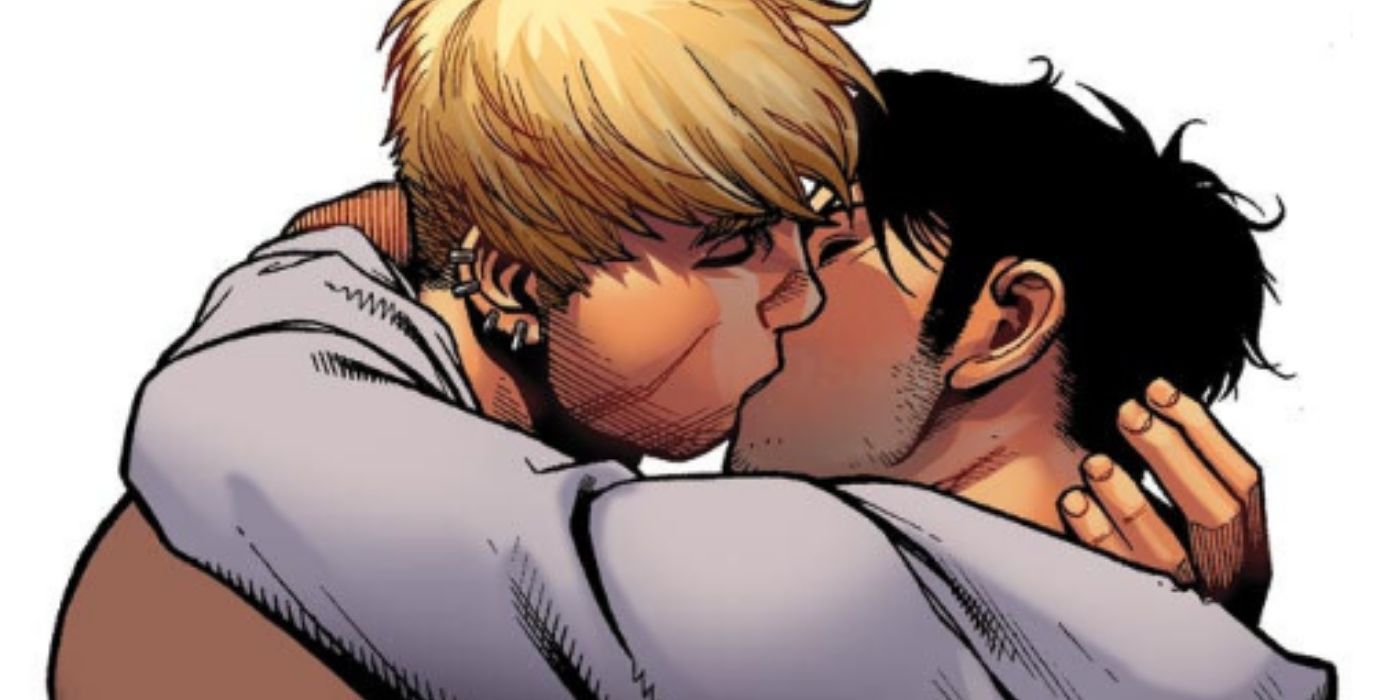 On Saturday afternoon, Marcello Crivella, the Mayor of Rio de Janeiro, dispatched a team of city hall agents accompanied by 20 armed policemen into the Bienal do Livro, Brazil's biggest literary event, with instructions to seize any books or comics with LGBTQIA+ content. However, the festival's entire stock of LGBTQIA+ books had already sold out, and the arrival of armed police led to an impromptu protest for freedom of expression, with those involved demanding Crivella step down immediately.
Crivella's campaign against LGBTQIA+ books started on Thursday when he announced that he would sweep the Bienal for any volumes of Avengers: The Children's Crusade that were not wrapped in black plastic, sealed and stamped with a warning of improper content. The volume in question featured Wiccan and Hulkling kissing. The book sold out 40 minutes after the news of the sweeping order hit the floor of the Bienal.
RELATED: Brazilian Mayor Blasts Marvel, Orders Police 'Sweep' of Young Avengers Book
In response to the crackdown, Brazilian YouTuber Felipe Neto bought the entire festival's stock of LGBTQIA+ books, distributing them for free in opaque black plastic and marked with a sticker reading, "This is an improper book for archaic, retrograde and prejudiced people."
Under the Brazilian Constitution, censorship is expressly forbidden, and homophobia is a crime. In 2011, same-sex couples gained the right to compose a family unit, and in 2013 they finally won the right to marry. Although a judge initially ruled Crivella's ban was unconstitutional, the president of the Court of Justice later backed up Crivella's act of censorship, remarking LGBTQIA+ content falls outside the usual scope of superhero comics.
The legal justification for the sweeping alleged Avengers: The Children's Crusade (and later any other LGBTQIA+ books sold at the Bienal) broke articles 78 and 79 of the Children and Teenagers Statutes. According to Article 78, any publication with content unsuitable for children or teenagers should be sold sealed and marked with a warning, and covers with pornographic or obscene images should be hidden with opaque paper. Article 79 specifies that any publication targeting minors should not contain illustrations, photos, graphics, articles or advertisements of alcoholic drinks, tobacco, weapons, and munitions, and they should respect the ethical and social values of the individual and the family.
RELATED: Brazilian Mayor Extends Content Crackdown Beyond Young Avengers Ban
In response to the incident, the Folha de São Paulo, which is the newspaper with the highest circulation in Brazil, used Wiccan's and Hulkling's kiss on its cover.
Saturday, which is historically the day with the highest public attendance at the Bienal, was also set to host a series of lectures on LGBTQIA+ representation in literature and comics. The day also coincided with Brazilian Independence Day, which for the last decade has been a day for protests. In at least 12 states, protestors marched against Jair Bolsonaro's government, which, just like Crivella's, is backed by the evangelical Christian population.
Among other things, Bolsonaro's party has refused to extend explicit protections to the LGBTQIA+ collective and fired the director of an HIV prevention program for designing an education campaign aimed at transgender Brazilians. One of Bolsonaro's most recent acts included refusing to use public funds to finance any movie containing LGBTQIA+ themes, which he considers "a waste of money." Under Bolsonaro's government, hate crimes against the LGBTQIA+ have sharply risen, particularly in larger cities like Sao Paulo or Rio de Janeiro, which were considered a little bit more open-minded.
(via O GLOBO)
KEEP READING: Brazilian Judges Give Differing Rulings on Mayor's Comics Content Crackdown