Oliver Queen isn't the only character getting a new costume for Arrow Season 8. A new photo from the show's final season offers the best look yet at Black Canary and Spartan's new outfits.
The photo, revealed by TVLine, sees Black Canary and Spartan standing with Green Arrow. All three face an as-yet unrevealed opponent, whose shoulder can be seen in the foreground of the still. Each featured character wears their new Season 8 costume, in what appears to be the first official photo of them.
RELATED: Arrow: Stephen Amell Comments on Crisis Synopsis: 'Holy F-ing Sh-t'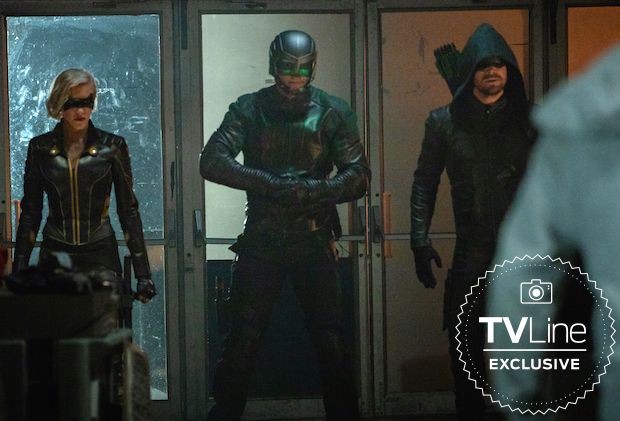 Black Canary's new costume appeared in the Season 8 sizzle reel, albeit briefly. In July, both Black Canary and Spartan's costumes were revealed in concept art, but this is the first real glimpse of them both in live-action.
Spartan's color motif swaps red for green, likely in honor of Green Arrow, who retired from vigilante life in the Season 7 finale. Aside from the color change, though, his costume remains largely the same.
RELATED: Stephen Amell Shares Dramatic Dialogue from Arrow's Final Season
Laurel's costume, on the other hand, is very different. In honor of her new hero status, she dons a Black Canary costume. She will maintain the overall black color scheme, but she has ditched Black Siren's long black coat. Now, her costume has yellow accents and piping, solidifying her new Canary identity. The suit's pants also have sections that resemble fishnets; this is clearly a callback to the comic book version of the character, who famously wears fishnet stockings with her costume.
Additionally, the photo shows that, despite his new mission for the Monitor, Oliver will reunite with his fellow Team Arrow members much sooner than expected. "Diggle has always been on Oliver's side, and it will be no different in Season 8. We'll see them get even tighter, in ways that they haven't been before," Spartan actor David Ramsey teased.
Returning Tuesday, Oct. 15 at 9 p.m. ET/PT on The CW, Arrow stars Stephen Amell as Oliver Queen, David Ramsey as John Diggle, Rick Gonzalez as Wild Dog, Juliana Harkavy as Black Canary, Katie Cassidy as Black Siren, Katherine McNamara as Mia Smoak, Joseph David-Jones as Connor Hawke and Ben Lewis as William Clayton-Queen.
KEEP READING: Arrow's David Ramsey on Why The Arrowverse Remains Without a Green Lantern