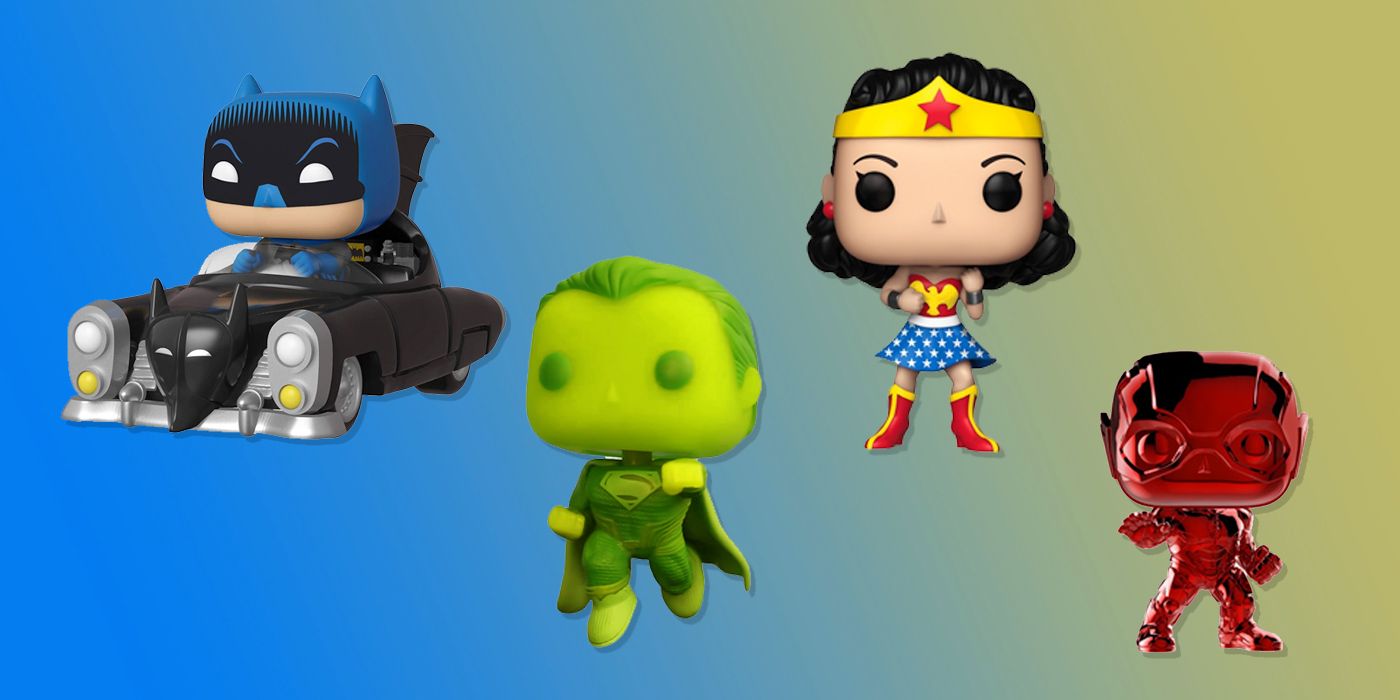 Justice League is a group of superheroes including Batman, Wonder Woman, The Flash and Aquaman. These characters are from DC Comics, and they even got their own movie in 2017, centered around these heroes coming together after the passing of Superman.
And Funko Pops are figures that are based on popular characters, such as those related to the Justice League. While this brand makes lots of toys and pieces of memorabilia, the 10 that are listed out down below (ranked from number 10 to number one) are some of the best ones inspired by and centered around this group and this story.
10

Funko Blind Box Plush: DC - Batman
Some Funko Pop figurines are actually plush toys that are pretty cute and cuddly, and this particular blind box is centered around one of the most well-known superheroes of all time: Batman.
These little guys are just 1.5 inches tall, showing off characters like Batman, The Joker and Harley Quinn in a miniature and marvelous way. It is quite easy to picture these stuffed in a stocking during the holiday season, given out as a favor during a superhero birthday party, played with by young DC fans or displayed along with other Batman and Justice League merch.
9

Funko POP! Movies: DC Justice League – Cyborg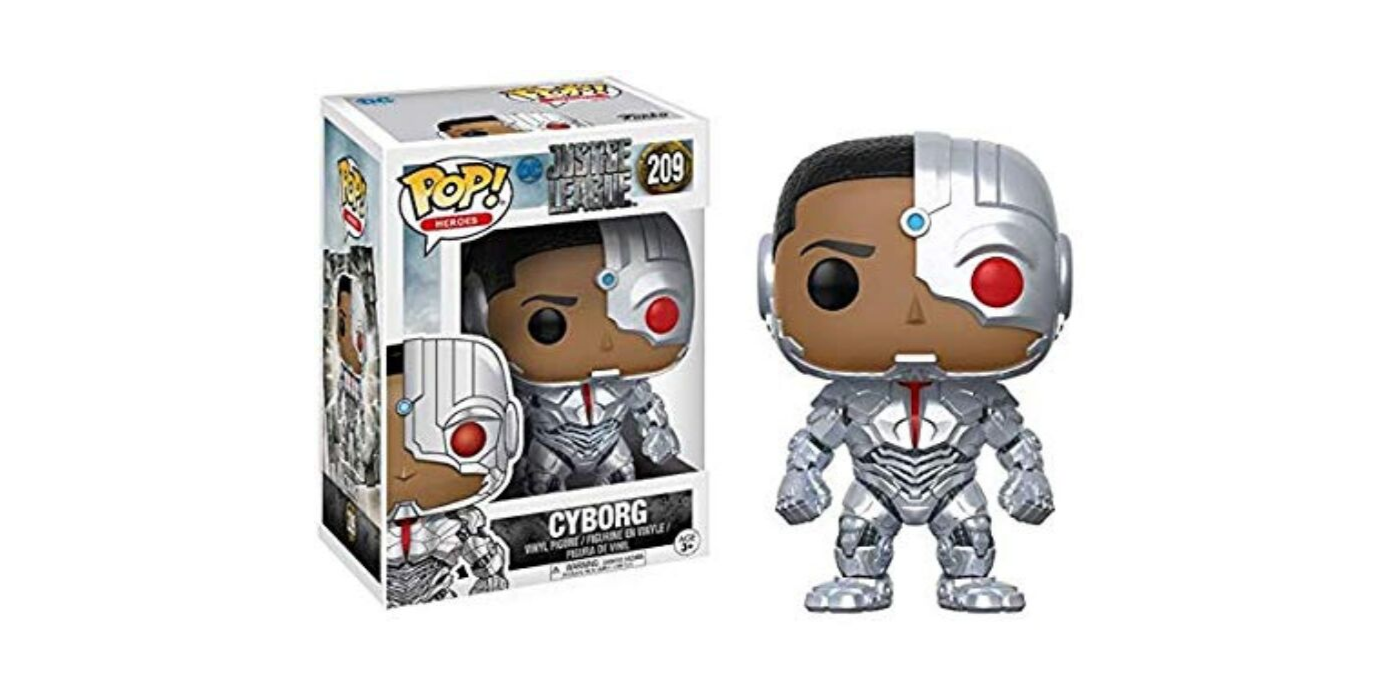 Another star of the film Justice League was Cyborg, and he is seen here with his robotic parts and electronic eye. Since he is, well, a cyborg, any toy version of him would be awesome for a DC fan to own.
This specific Funko Pop, though, is super detailed, making it a great addition to any collection that is centered around comic books, superhero flicks, this league or this character. That being said, keep this product here in mind when doing any shopping for any celebration or milestone that could be coming up soon!
8

Funko Pop! Keychain: DC Justice League - Aquaman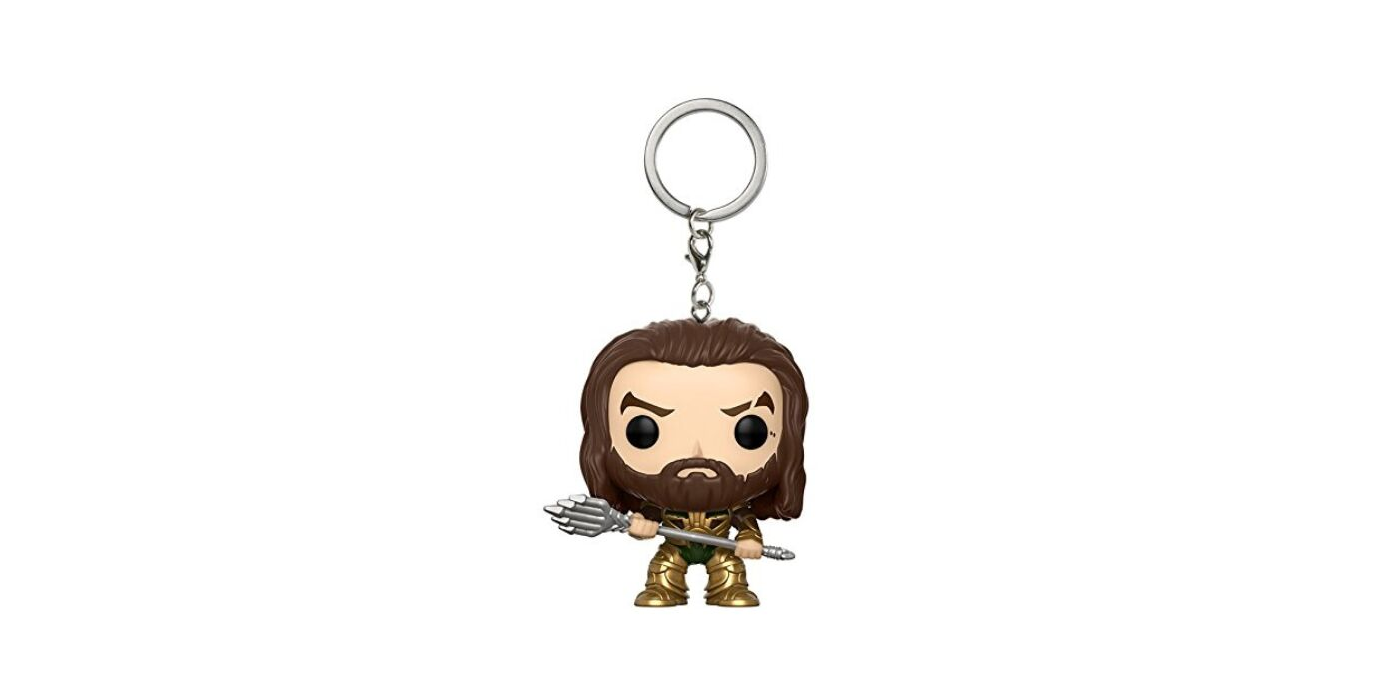 Aquaman is another superhero who has rose to popularity as of late, thanks to actor Jason Momoa's portrayal of him. And remember: The Funko Pop brand does not just make figurines; they also make plush toys and even keychains! With a keychain version of a favorite character, a person can carry it anywhere and everywhere.
This would look so good on a backpack at school, on a set of keys in a pocket or on a table or shelf, being displayed as a way to show off an interest and passion. And who wouldn't want to carry this guy around all the time?
7

Funko Pop! Heroes DC Wonder Woman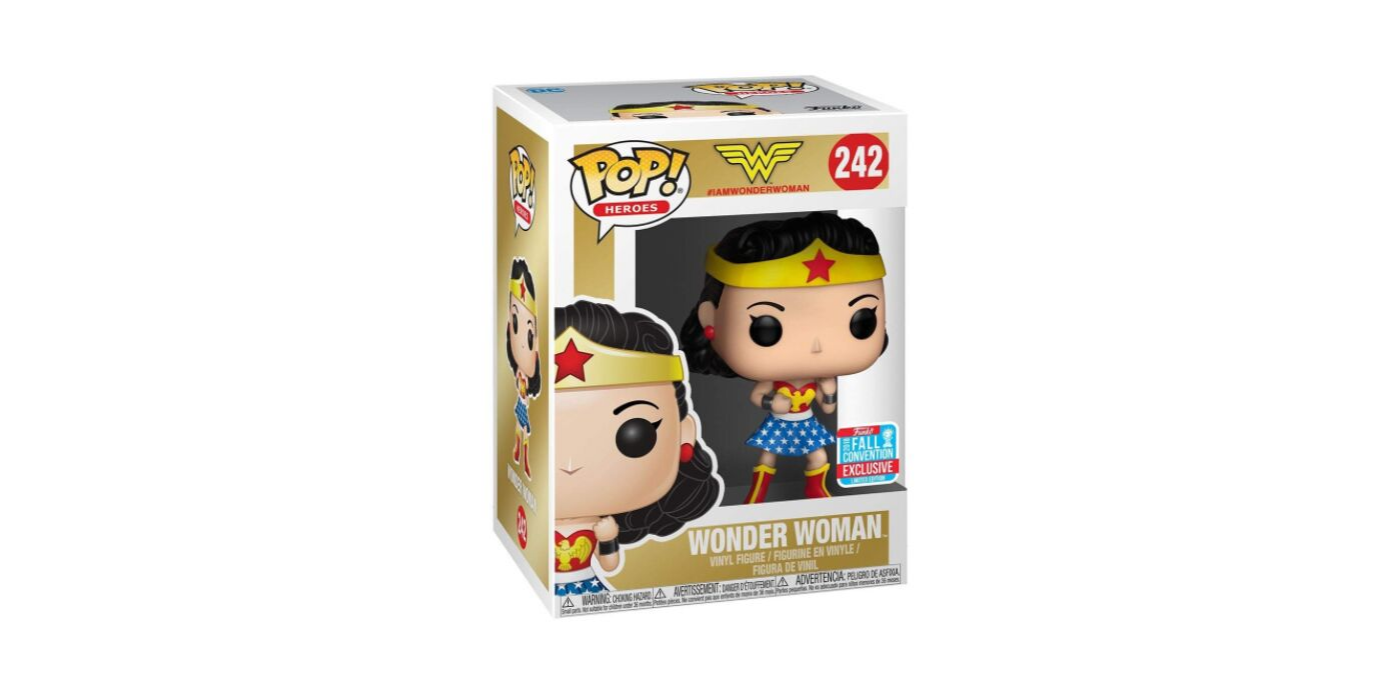 AmazonIn recent films, Gal Gadot has played Wonder Woman, but back in the day, Lynda Carter portrayed this leading lady. While there are many action figures that honor this character, this Funko Pop right here has a retro look to it; the crown, the clothes and the design are more of a nod to the vintage version of Wonder Woman, making this a very special piece.
And no matter which actress a fan prefers, this collectible item is something that anyone who is into DC and/or Justice League needs in life.
6

Funko Pop! Rides: Batman 80th - 1950 Batmobile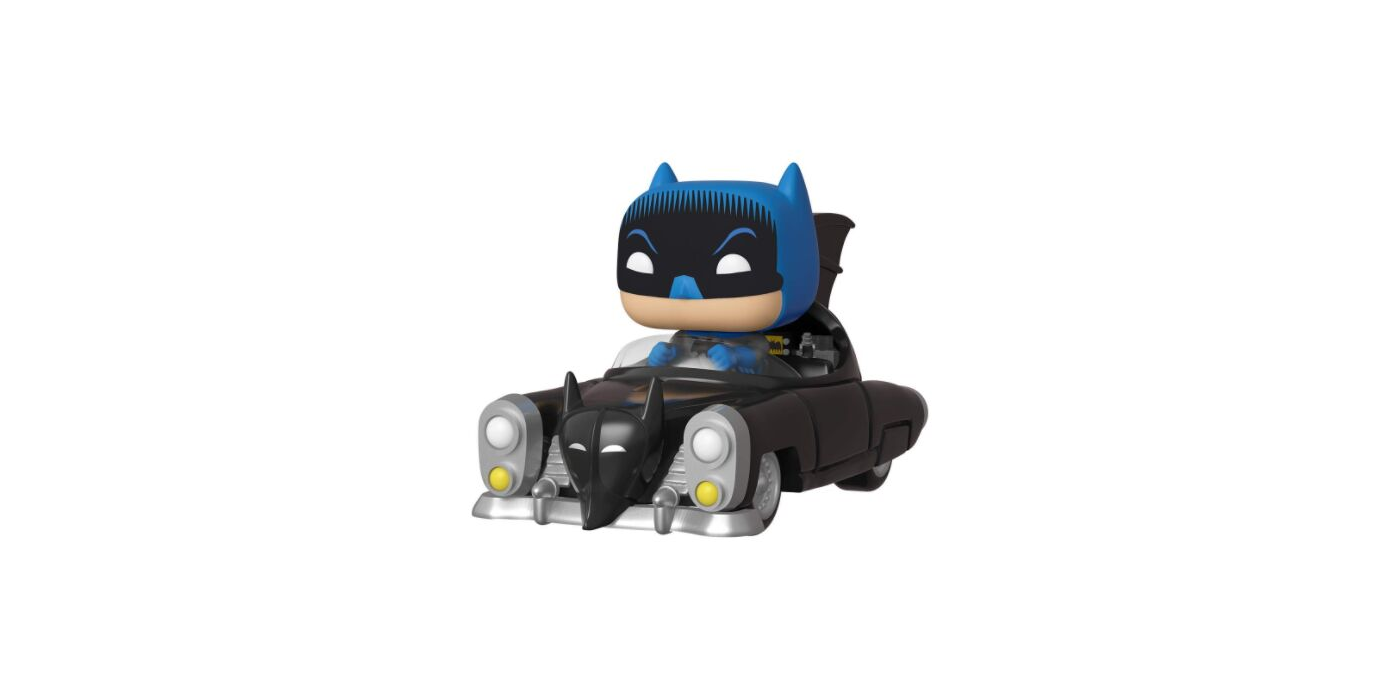 Another old-school design is seen here, with this Funko Pop that shows off Batman and his Batmobile. As mentioned, this guy is known by one and all and around the world, and he is a true icon, even outside of this conversation about the Justice League and DC Comics. Therefore, a figurine like this is the perfect thing to buy for those who are obsessed with him!
Whether he is played with or set out as a decoration, he will definitely be appreciated, especially due to the unique design seen on this particular edition.
5

Funko Superman Vinyl Figure
This well-known and fun brand also makes Vinyl Figures like this one here, which shows off yet another super popular and loved character: Superman.
As a Vinyl, he has a boxy look to him, and he is actually made out of interchangeable magnetic pieces. As a normal action figure, he would still be cool, but the dynamic design of this collectible item has earned it a spot on this list. And if any Superman fans have a birthday coming up, remember this product, as it would be a very thoughtful gift to buy and to give.
4

Funko Pop Batman Vs. Superman Glow In the Dark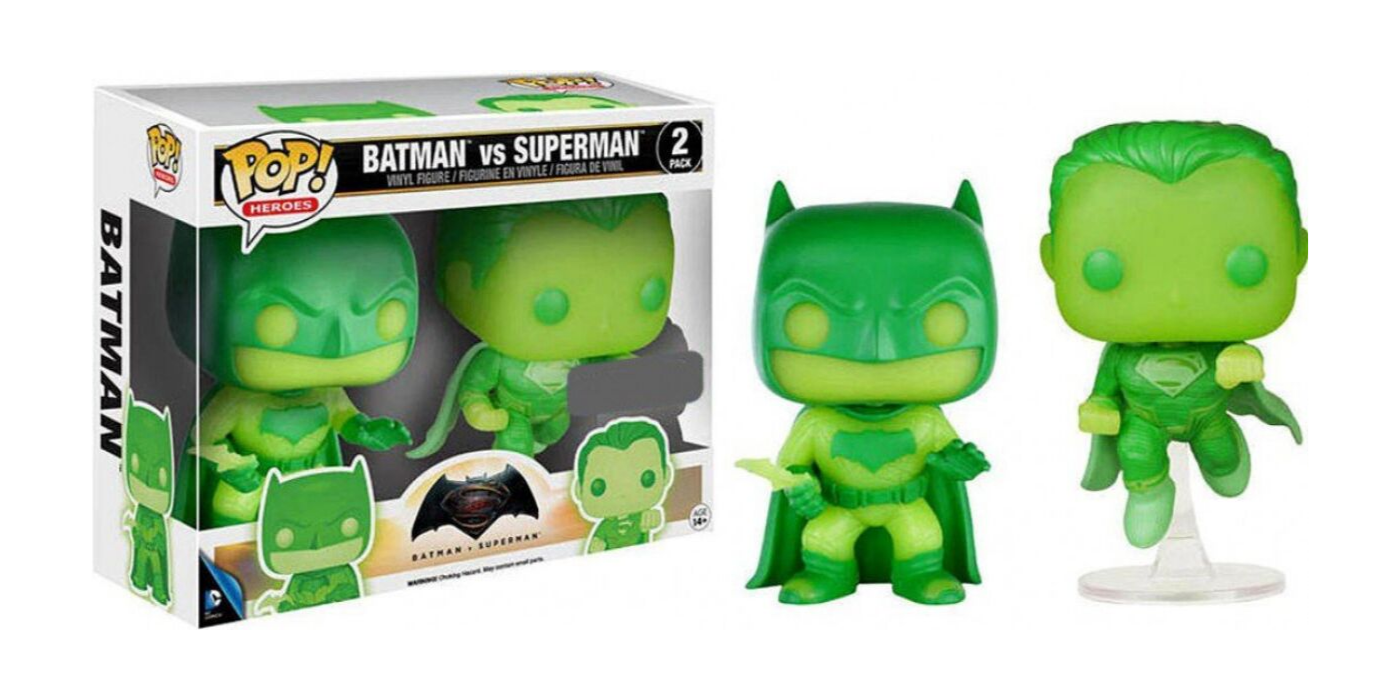 Okay, Batman and Superman have been mentioned over and over, because they are big when talking about Justice League, DC Comics and superheroes in general. Well, this exclusive two-pack set right here includes a figure that depicts both of these characters… and they glow in the dark!
Yes, Funko Pop has done it again by giving something more and something special. Fans love collecting items that honor their faves, and this set is very unique since anyone and everyone would want to see these heroes shine even brighter than they already do.
3

POP Heroes: Chrome Flash 3-pack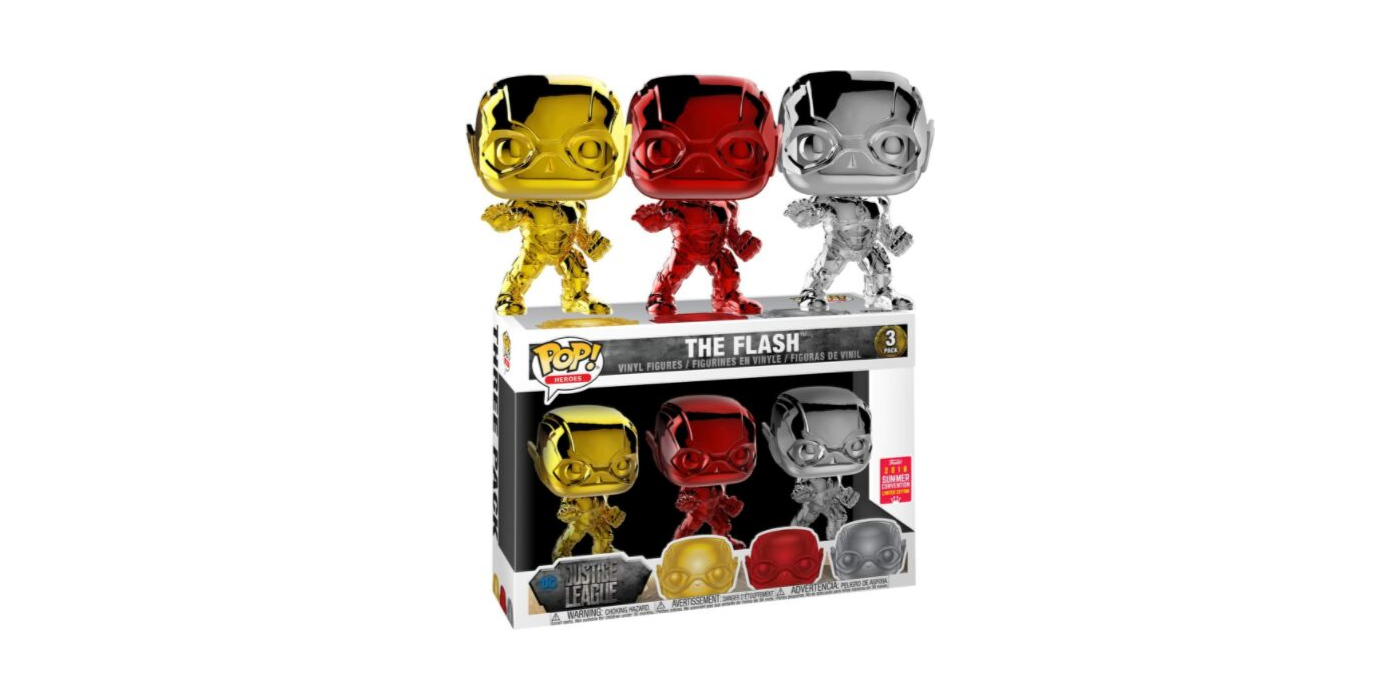 Of course, The Flash is also part of the Justice League, and he even has his own television show. Due to his popularity, there are probably lots of people out there who would just adore owning this three-pack set of Funko Pops; there is a gold version of The Flash, a red one and a silver one, and they all come with a metallic finish, making them stand out for sure.
This hero may not be as big as some of the others on this list, but he is certainly quite important to this league and this fanbase.
2

Funko Batman: DC Universe x POP! 8-bit Vinyl Figure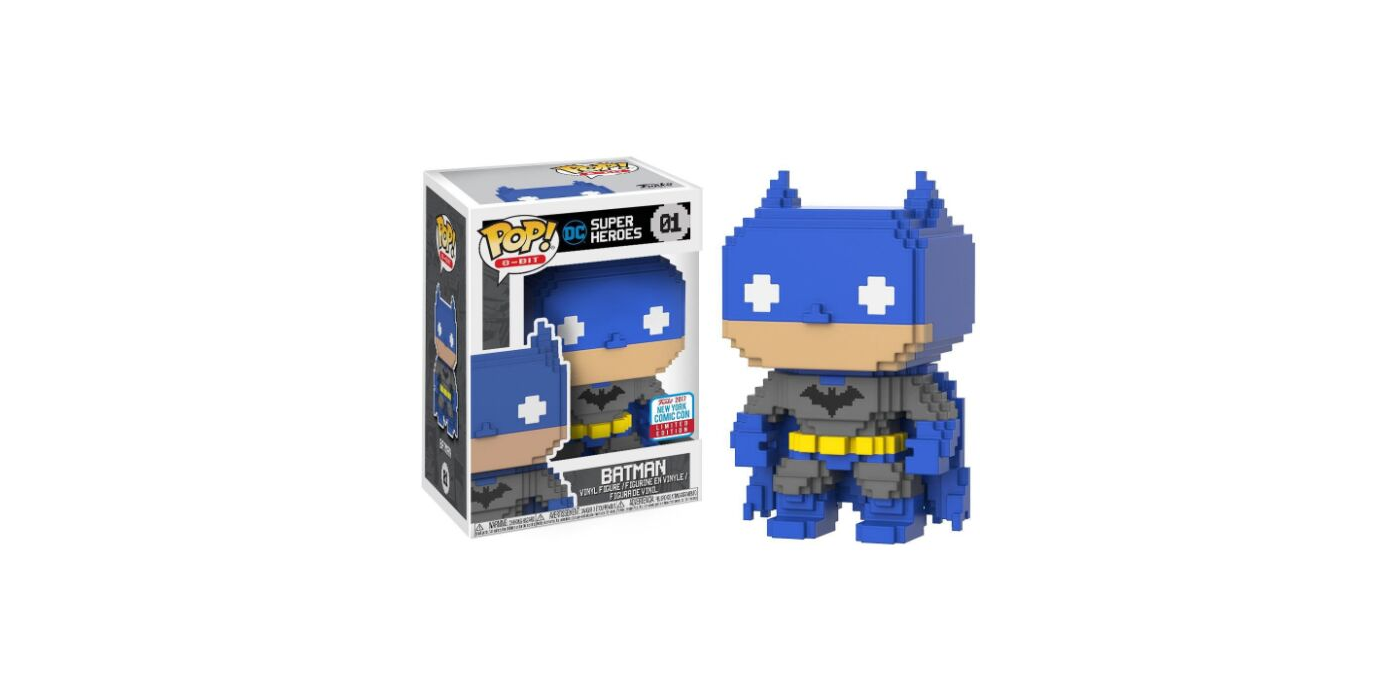 Okay, there is one more version of Batman to show off and tell the world about before moving on to the top-ranked action figure today: this 8-bit one! Once again, Funko Pop has given fans a replica of a famous superhero, one that can be put on display and/or played with, but this one is extra amazing since it looks like it is made out of tons of tiny pixels.
It also comes with a third-generation plastic graphic protector, making this something else to keep in mind when doing any DC and/or Justice League shopping.
1

Funko Pop Heroes: Clark Kent Collectible Figure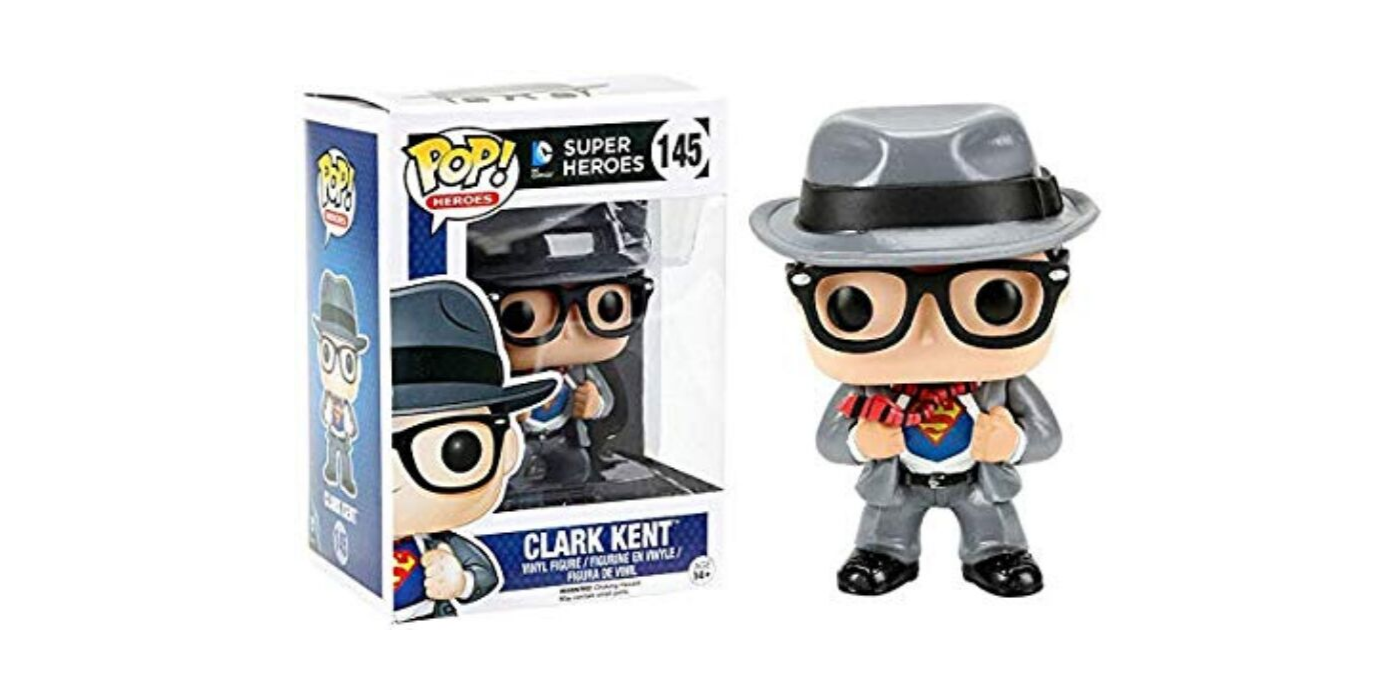 Everyone has their favorite superhero, but Superman really is a true legend. He has his own shows and flicks, he is important when discussing the Justice League, he is mentioned in songs and books, and he is seen here in a very neat way…
This Funko Pop is actually a mini representation of Clark Kent! Fans know that with just a few little wardrobe changes (like taking off those glasses and adding a cape), it can turn this average man into a real hero, and this figurine honors that history, that story, that legend and that league.
NEXT: 10 Gifts Every Female Fan Of Superheroes Would Love
We hope you like the items we recommend! Comic Book Resources has affiliate partnerships, so we receive a share of the revenue from your purchase. This won't affect the price you pay and helps us offer the best product recommendations.