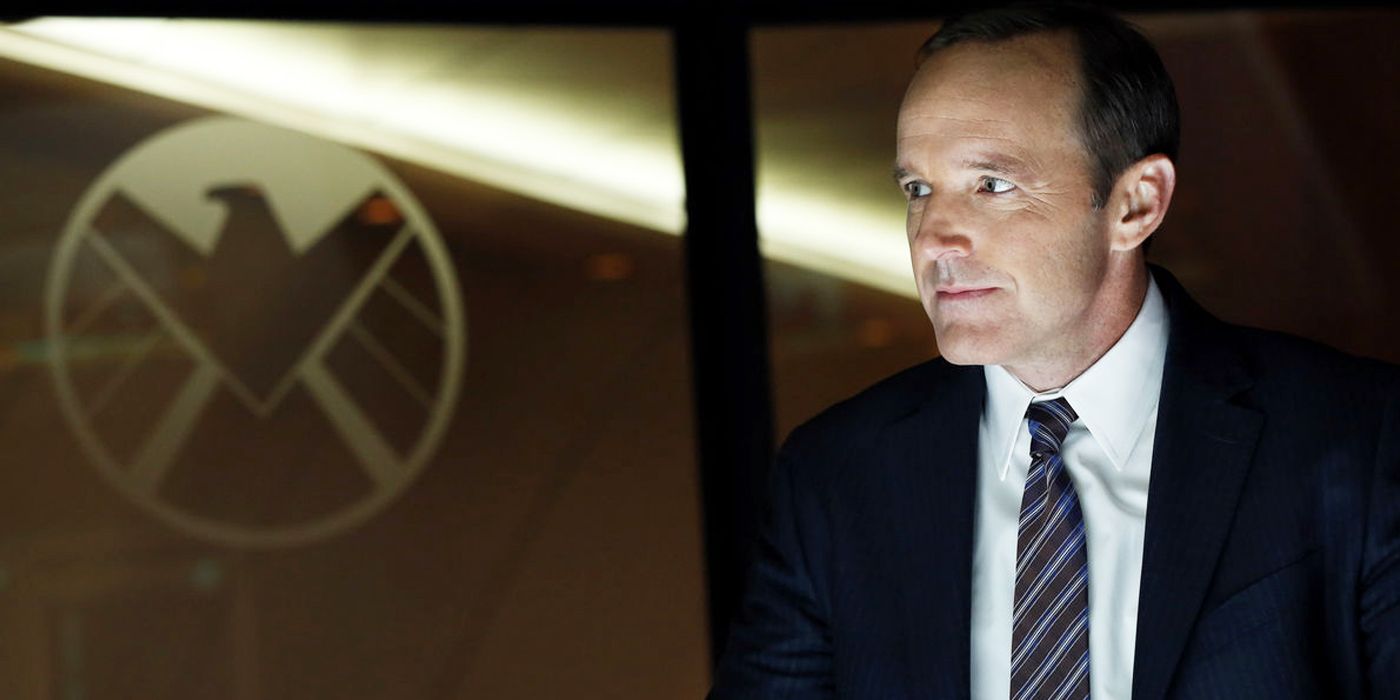 SPOILER WARNING: This article contains major spoilers for the Agents of S.H.I.E.L.D. Season 6 finale.
As Agents of S.H.I.E.L.D. heads into its final season, one question has lingered in fans' minds: will Phil Coulson return? The answer, we are pleased to share with you, is yes. Coulson will find new life as a Life Model Decoy, or LMD, with enhanced chromicon upgrades.
In the Season 6 finale, Director Alphonso "Mack" Mackenzie, Melinda May, Daisy Johnson, Elena "Yo-Yo" Rodriguez and Deke Shaw barely escaped Izel and Pachakutiq with their lives. Fortunately, Jemma Simmons and a team of S.H.I.E.L.D. agents arrived just in time to whisk them away, before a fleet of chronicom hunters could blow them up. With no time to explain, she brought them onboard an upgraded version of the Zephyr-One, then took them back in time to the 1930s with a specialized jump drive.
RELATED: Agents of SHIELD Just Went Straight Up Marvel Zombies
Now, the S.H.I.E.L.D. agents will wage war against the chronicoms, a seemingly immortal race of androids who hope to wipe out humanity and establish Earth as their new home planet. Simmons explained to Mack and Daisy not only why this threat was so dire, but why they need a certain agent to survive.
"We have a problem that Fitz and I could not solve, but Enoch provided a possible solution. The chronicom hunters have Fury's black box as well as centuries of anthropological research to pull from. Our team needs an expert in S.H.I.E.L.D. history to have a chance of stopping them, to even know what the hunters might target," she said.
RELATED: Agents of SHIELD Cast, Crew Eulogize the Series on Social Media
"I would ask May her opinion, but she's out of commission for the time being. The rest of us could vote, but truthfully, this decision should be left up to him and he has already voiced his opposition to anything like this," she continued. "He has all of his own memories and has been upgraded with complete knowledge of everything he's missed. He has chronicom hardware, which makes him our most advanced LMD -- and there is no better person to be your right hand, sir."
"I was deeply against it at first, but the more I thought about it, the more I think he'd understand. I believe it's the right thing to do," she added. "And frankly, I miss him."
Simmons left the choice of waking up this Coulson LMD to Mack and Daisy. While Mack seemed hesitant, Daisy smashed the button that would bring Coulson's LMD to life. After a tense moment, Coulson lifted his head, smiled and said, "Hey, guys."
RELATED: Agents of SHIELD Announces Final Day of Shooting with Thank You to Fans
Speaking to CBR, showrunners Jed Whedon and Maurissa Tancharoen revealed the show wouldn't have continued without Coulson actor Clark Gregg. "When they were talking about a Season 6, the only reason we considered doing one is that we had the idea of floating around the writers room of another character for Clark Gregg, the other version of Coulson, and so we only decided to do it based on that," Whedon explained.
"The idea that that would happen, because we've always believed there's no show without Clark. And then as we were in the middle of [Season] 6 and talk of [Season] 7 came up, it was sort of a question of, 'Now what do we do?'" he continued. "We don't want to play the same flavor again, we don't want Sarge to end up being a good guy, and it's sort of a watered down version of the guy we used to like."
RELATED: Agents of SHIELD: The Origin of Coulson's Doppelganger, Explained
"In the way that we didn't want to buy back Coulson's death, we came up with Sarge and then we also didn't want to buy back Sarge," Tancharoen added.
"We ended up at the end of the season, giving the audience something that we sort of wanted to see, and we hope they wanted to see, which is he's back and he's himself," Whedon shared. "This 2.0 version, he's gonna have new problems and new rules and a new attitude but we're excited to get him back."
RELATED: Agents of SHIELD Brings Back Major Inhuman Character
Asked how this Coulson LMD will impact the team dynamic in Season 7, executive producer Jeff Bell teased, "That's the big question of Season 7, frankly. So yeah, at the heart of it is, 'Who is this person? How do I feel about this person? How do we all react to this person? How does this person feel about being back?' Because he clearly made clear he didn't want any version of this... For us, it was just a great way to lob a bomb into our group and blow it up and create a whole new set of dynamics."
Marvel's Agents of S.H.I.E.L.D. will return next summer for its final season on ABC. The series stars Ming-Na Wen, Chloe Bennet, Henry Simmons, Iain De Caestecker, Natalia Cordova-Buckley, Elizabeth Henstridge and Clark Gregg.
KEEP READING: How Agents of SHIELD Became Marvel's Most Successful TV Show