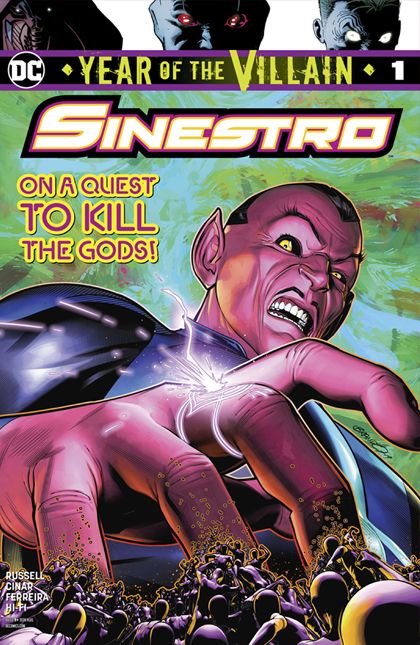 The DC Universe is full of noble, calculating villains who are able to match their physical might with unnerving, tactical cunning The longtime Green Lantern villain Sinestro one of the Legion of Doom's greatest master strategists, and he's even more dangerous since he recently received a power upgrade from Lex Luthor that lets him tap into the ultraviolet spectrum. Now, Sinestro takes center stage in a DC Year of the Villain special issue by Mark Russell (Wonder Twins) and Yildiray Cinar (Supergirl) that provides a high-concept look at the nefarious possibilities of his new powers.
The issue sees Luthor continuing to lead the Legion of Doom after attaining his own otherworldly power boost and brief Sinestro on an intergalactic threat invading from another universe that's targeting planets with defensive shields erected by Luthor as part of his overarching plans for reshaping the DC Multiverse in his image. Realizing the seemingly unstoppable, planet-destroying foes are impervious to his conventional attacks and tactics, Sinestro rethinks his strategy after he learns the world-killers are set on a collision course for Earth.
RELATED: DC's Year of the Villain Brings an Unexpected Addition to Batman's Rogues Gallery
While Russell had blended superhero action with teenage hijinks on Wonder Twins and provided timely social commentary and suburban ennui in his work with various Hanna-Barbera properties, including Snagglepuss and The Flintstones, he goes full tilt on the high concept sci-fi action here. While there elements of his trademark sly wit, Russell focuses on presenting Sinestro as a keen strategist, undeterred by the overwhelming opposition that he faces across the cosmos. With that in mind, the resulting action is largely played seriously as Sinestro confronts the world-killers as they move ever closer to their final target.
While still distinctly his own spin on space-faring adventures, with the fate of planets at stake, the story feels reminiscent of Grant Morrison without being indebted to it the writer's previous work; Russell's story comes off more as an homage to writers like Morrison and Alan Moore rather than a pastiche of them. While Sinestro has largely played a supporting role during Scott Snyder's current Justice League run as a visible member of the Legion of Doom, Russell gives the ring-slinging villain his time to shine in the special, reminding readers just how dangerous Sinestro really is even in the face of a seemingly overwhelming new threat.
RELATED: DC Celebrates Year of the Villain with Spoiler-Filled Acetate Covers
The epic, space operatic visuals elevate Russell's script, featuring the talents of penciller Yildiray Cinar, inker Julio Ferreira and colorist Hi-Fi. Despite the apocalyptic intensity that the looming, all-powerful enemies bring with each planet they destroy, the art team still captures the wonder of the sci-fi setting and the distinct races that live on each world. Sinestro himself has a commanding presence in every panel in which he appears, befitting the vaunted nobility of the longtime villain. The expected sci-fi action pops off every page, with vibrancy and color as battles rage across the stars and doomed planets launch their own desperate last stands.
DC's Year of the Villain storyline has provided the opportunity for all-star creative teams to spotlight DC Comics' extensive library of villains as a dangerously upgraded Lex Luthor similarly gives his various allies a power boost. With Sinestro, Mark Russell and Yildiray Cinar have shown how deadly and brilliant a tactician the eponymous character is, even against a visibly superior foe. With its breathtaking visuals and high concept story, the creative team have also crafted a solid space opera set right in the heart of the DC Universe about facing the inevitability of destruction defiantly and refusing to surrender to it.
KEEP READING: Batman Solidifies Its Place as Part of DC's Year of the Villain Event