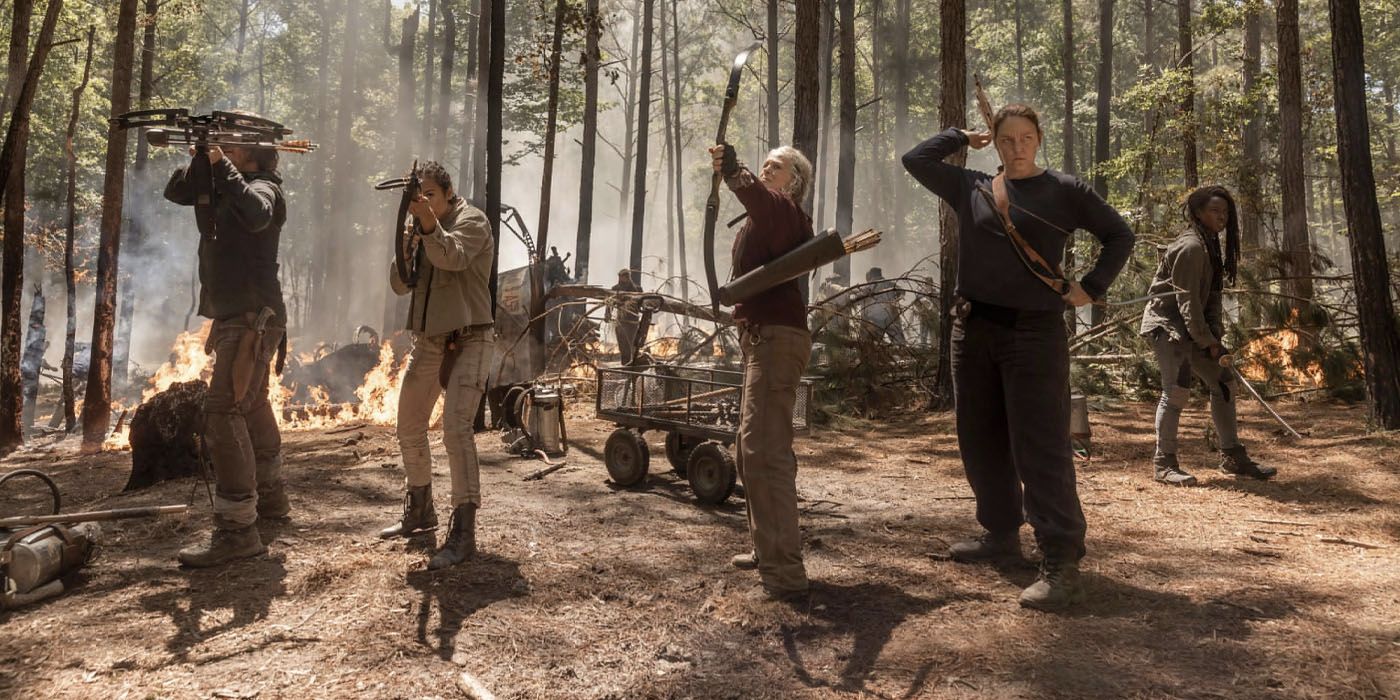 War rages on in the latest photographs from AMC's The Walking Dead Season 10. Following the bloodbath of Season 9, battle lines have been drawn between the various communities and the villainous Whisperers.
As The Walking Dead gears up for its October return, a new crop of photos show the show's main players gathering together and tooling up to take on Samantha Morton's Alpha. While the likes of Daryl, Michonne and Carol prepare to defend themselves, there's a new addition and the return of some more familiar faces.
RELATED: The Walking Dead Introduces New Character in S10 Photos
Posting on Twitter, AMC's The Walking Dead account confirmed Lethal Weapon's Juan Javier Cardenas has nabbed a part as Dante. Those up on their comics will know Dante is Maggie Greene's love interest. Elsewhere, Daryl and Carol are seen riding off on a mission, while Michonne and Nadia Hilker's Magna look troubled by something.
Other shots include the cast facing an unknown foe in the middle of a burning clearing. Following a heroic turn to save Judith Grimes at the end of Season 9, it looks like Negan is finally getting his freedom. The once brutal overseer of the Saviors is sure to be a point of contention for those who can't forgive his past actions.
As for Dante's arrival, Cardenas' casting could also hint at the return of Lauren Cohan as Maggie following her Season 9 departure. Apart from a brief mention that Maggie and baby Hershel had headed off with the mysterious Georgie, there's been no news on where the former Hilltop leader has been.
RELATED: Walking Dead's Next Spinoff Casts Younger Star in Lead Role
After the fall of the Kingdom and the character cull of the Fair, Season 10 picks up with another time jump from Season 9's wintery finale. Starting in spring, the communities are struggling to stick to the borders imposed by Alpha and are keen to seek revenge for their fallen comrades. Although zombies are still a threat in Season 10, it's expected that the ongoing war with the Whisperers will be the main focus.
AMC's The Walking Dead stars Norman Reedus, Danai Gurira, Melissa McBride, Josh McDermitt, Christian Serratos, Jeffrey Dean Morgan, Nadia Hilker, Dan Fogler, Angel Theory, Lauren Ridloff and Eleanor Matsuura. The series returns for its 10th season in October.