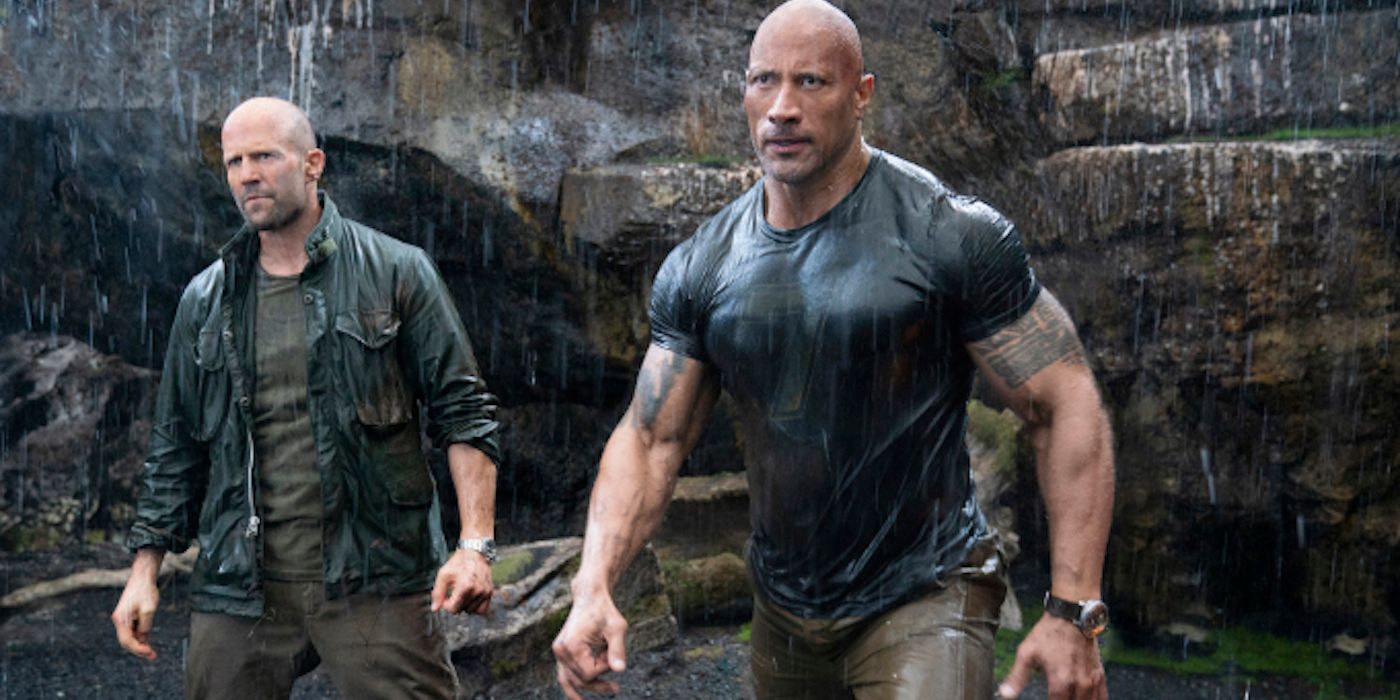 WARNING: The following article contains spoilers for Fast & Furious Presents: Hobbs & Shaw, in theaters now.
Hobbs & Shaw is a bombastic blast of noise and fury, featuring some of the most ridiculous (and entertaining) action sequences in years. The film melds car chases, epic battles, tightly choreographed fight sequences and scenes straight out of Looney Tunes, orchestrated with clarity by director David Leitch.
Everyone is going to have a favorite scene, such as when Dwayne Johnson's Luke Hobbs pulls a Captain America, and holds down a helicopter with a chain and his bare hands. So, perhaps it's no surprise that Leitch has his own stand-out moments from the Fast and the Furious spinoff.
RELATED: Hobbs & Shaw's Explosive Ending, Explained
Hobbs & Shaw throws together sworn enemies Hobbs and Deckard Shaw (Jason Statham) to stop cyber-genetically enhanced anarchist Brixton, clear MI6 agent Hattie Shaw -- Shaw's sister, played by Vanessa Kirby -- and save the world.
Leitch, who previously directed Deadpool 2 and Atomic Blonde, was practically giddy when he talked with CBR about some of his favorite action beats.
"Well, there's obviously a lot of the Samoa sequence," he said. "But I love the fight scene in the apartment with Shaw, juxtaposed against Hattie fighting Hobbs. I was geeked out about that, because you get to bring those three characters together... On one hand, you've got Shaw fighting dirty. Just Jason doing what he does best. I've been dying to do a fight with him for a long time. "
Leitch used that moment to create some quiet and effective character development for the protagonists, and explained how, "Just watching how brother and sister fight alike, establishing their characters through these fights was really fun. Then Dwayne, just being lovable Hobbs and getting that great payoff of him picking [Hattie] up. And it's all driven by music! My whole vision for that scene was this inter-cut music piece that connects the characters and defines them quickly for the audience so we can go on this ride. I loved it. I love watching that sequence."
He also noted the final fight, in which Hobbs and Shaw finally confront Brixton head-on. "They have to work together and really bring it," Leitch said. "We were mining the old WWF moves and sort of augmenting them. There's some lucha libre stuff in there. It was pretty great."
KEEP READING: What Hobbs & Shaw's Post-Credits Scenes Tell Us About The Sequel
However, it turns out it's a much earlier scene that really stood out to Leitch as his favorite: It depicts Hobbs and Shaw on the same morning, contrasting how each of them lives and operates. It's a fun and fast introduction to the main characters of the film, and it's played for both laughs and action -- something Leitch really appreciates about the sequence.
"It's my favorite scene of the film, because it's this quick, non-verbal set-up of the characters," he said. "It's all visual. But you're getting all the information you need. Just how different they are, and how alike they are. And we're just hoping for them to see how alike they are, so they can work together to solve this problem."
Directed by David Leitch (Deadpool 2) from a script by longtime Fast & Furiousveteran Chris Morgan, Fast & Furious Presents: Hobbs & Shaw stars Dwayne Johnson, Jason Statham, Idris Elba and Vanessa Kirby.