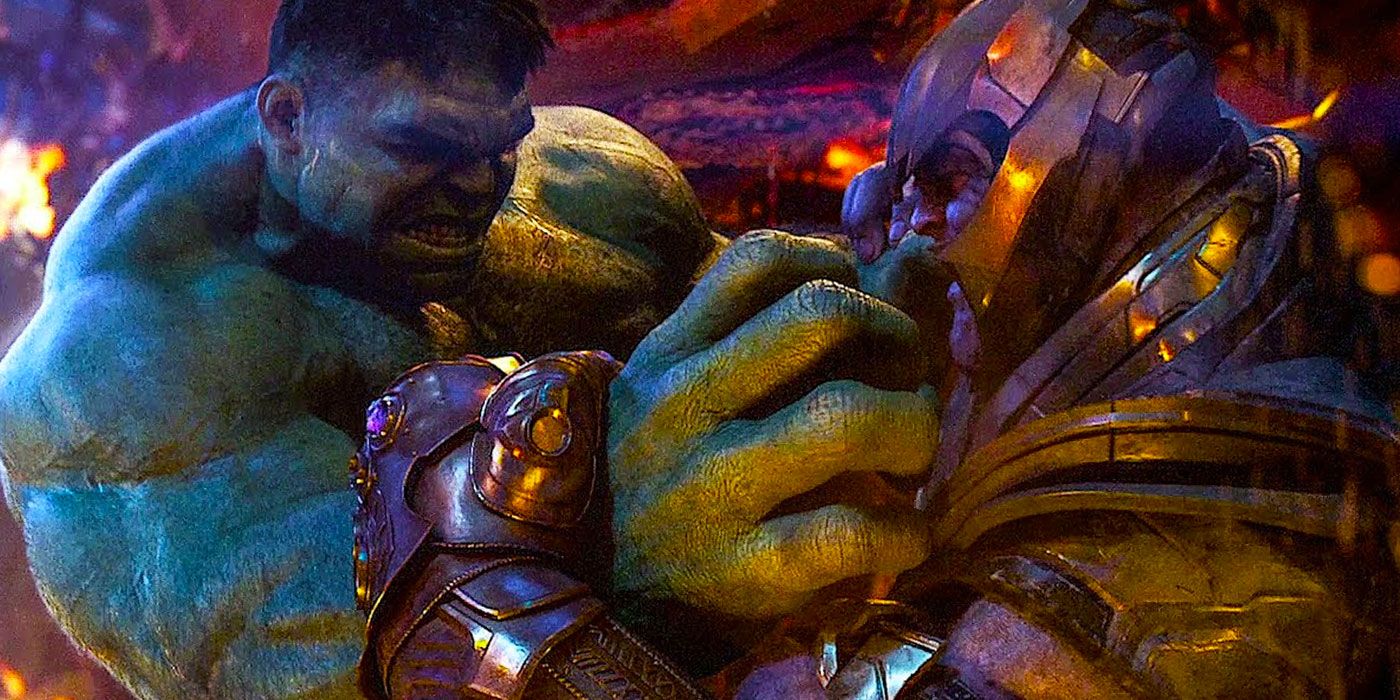 Many Marvel fans were hoping for a rematch in Avengers: Endgame between Mark Ruffalo's Hulk and Josh Brolin's Thanos, especially in light of Bruce Banner's progression into his Smart Hulk identity. However, even though the rematch never took place, we might have an explanation of why from one of the movie's writers.
Co-writer Stephen McFeely explained to Backstory Magazine that the Hulk's recent transformation was more of a reason not to stage a Round 2 versus Thanos.
RELATED: Avengers: Endgame's Professor Hulk Almost Debuted in Another MCU Film
"I know a lot of people were saying they can't wait for [Hulk and Thanos'] rematch. Well, that would've made sense had he not become Smart Hulk," McFeely said. "He's a whole different thing, and that's not what drives him. So we never thought, 'Oh, he really is trying to get a crack at Thanos now.'"
As we've previously reported, our new smarter Hulk was actually going to make his film debut ahead of Endgame. In the home video commentary for Avengers: Endgame, screenwriters Christopher Markus and Stephen McFeely said the intelligent Hulk was originally going to appear in Avengers: Infinity War during the Battle of Wakanda, where the Hulk would have fought against Cull Obsidian of the Black Order.
McFeely explained that they coined the name "Smart Hulk" behind the scenes, adding that Smart Hulk would have burst out of the Hulkbuster armor in a deleted scene. However, the scene was not popular with test audiences, and the feeling was the climax was getting too complicated with the addition of a new "character."
RELATED: Could the MCU's Scarlet Witch REALLY Have Defeated Thanos?
Smart Hulk has his origins in the comics, where is he normally called "Professor Hulk." He first appears in The Incredible Hulk #377, combining the Hulk's strength with Banner's intelligence, albeit without his normal emotional baggage. In some stories, he is treated as the merger between Banner, the Savage Hulk and the Grey Hulk.
Directed by Joe and Anthony Russo, Avengers: Endgame stars Robert Downey Jr. as Iron Man, Chris Evans as Captain America, Mark Ruffalo as Bruce Banner, Chris Hemsworth as Thor, Scarlett Johansson as Black Widow, Jeremy Renner as Hawkeye, Brie Larson as Captain Marvel, Paul Rudd as Ant-Man, Don Cheadle as War Machine, Karen Gillan as Nebula, Danai Gurira as Okoye and Bradley Cooper as Rocket, with Gwyneth Paltrow Pepper Potts, Jon Favreau as Happy Hogan, Benedict Wong as Wong, Tessa Thompson as Valkyrie and Josh Brolin as Thanos. The film is now available on Digital HD and arrives on Blu-ray and 4K UHD on Aug. 13.
(via ComicBook.com)