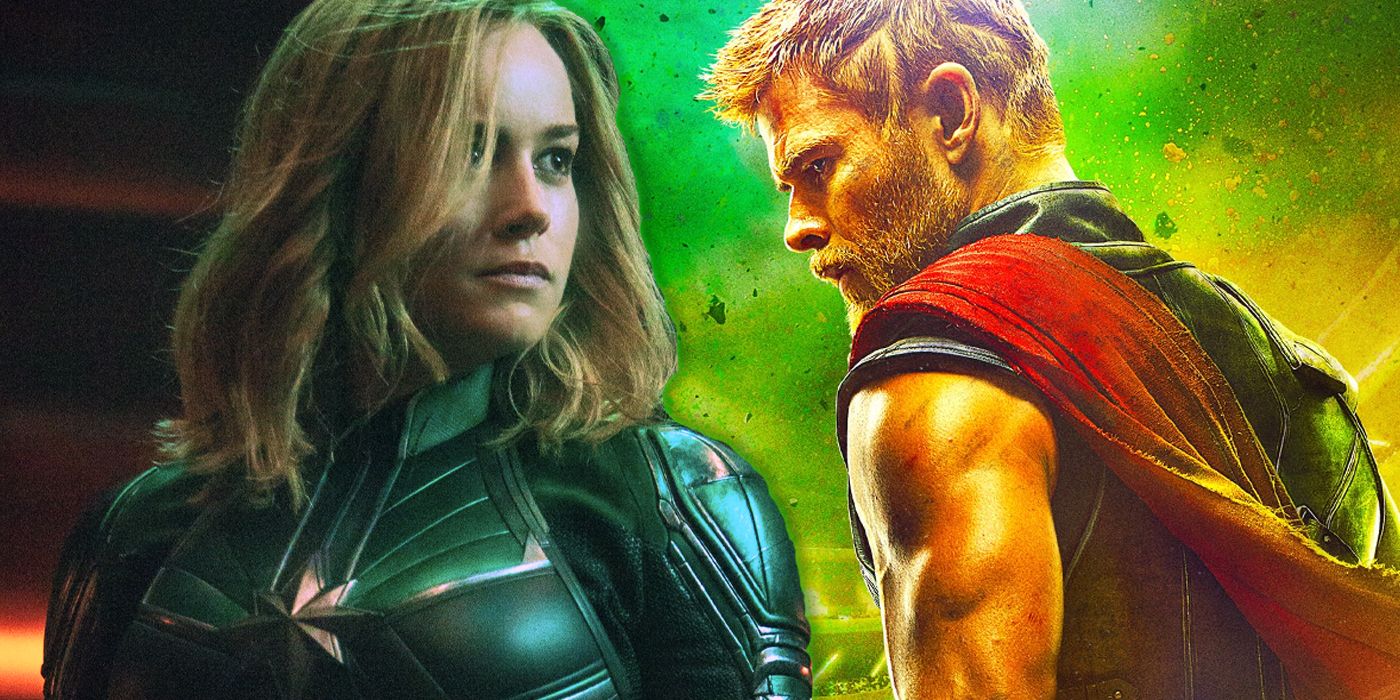 Thor and Captain Marvel are easily two of the most powerful characters in the Marvel Cinematic Universe. The two finally got the chance to appear on the big-screen together in Avengers: Endgame. But one question remained unanswered: Who is more powerful? Endgame co-director Joe Russo thinks he knows.
In a special segment on Endgame's Digital HD release, Russo explains Captain Marvel is probably the more powerful of the two.
RELATED: Avengers: Endgame Writer Reacts to Popular Captain America Fan Theory
"It's interesting seeing the Avengers with Captain Marvel," Russo states. "I think that she dimensionalizes them in a really great way. Just from a pure power standpoint and what her abilities are. If you're talking about a collection of heroes, and you're gonna go face Thanos, who we believe still has the gauntlet. She is as powerful, if not more powerful than Thor, and you suddenly have hope again. Because they all know what happened at the end of the last movie, he walked through them like they were paper."
It's not known at this time when Captain Marvel and Thor will next interact. The latter is set to get his fourth film, Thor: Love and Thunder, in 2021. A release date for a sequel to Captain Marvel was not announced, but Marvel Studios President Kevin Feige did confirm such a film was in development, seemingly for Phase 5.
Directed by Joe and Anthony Russo, Avengers: Endgame stars Robert Downey Jr. as Iron Man, Chris Evans as Captain America, Mark Ruffalo as Bruce Banner, Chris Hemsworth as Thor, Scarlett Johansson as Black Widow, Jeremy Renner as Hawkeye, Brie Larson as Captain Marvel, Paul Rudd as Ant-Man, Don Cheadle as War Machine, Karen Gillan as Nebula, Danai Gurira as Okoye and Bradley Cooper as Rocket, with Gwyneth Paltrow Pepper Potts, Jon Favreau as Happy Hogan, Benedict Wong as Wong, Tessa Thompson as Valkyrie and Josh Brolin as Thanos. The film is now available on Digital HD and arrives on Blu-ray and 4K UHD on Aug. 13.
(via CinemaBlend)
KEEP READING: Avengers: Endgame May Answer Whether Thanos Can Lift Thor's Hammer