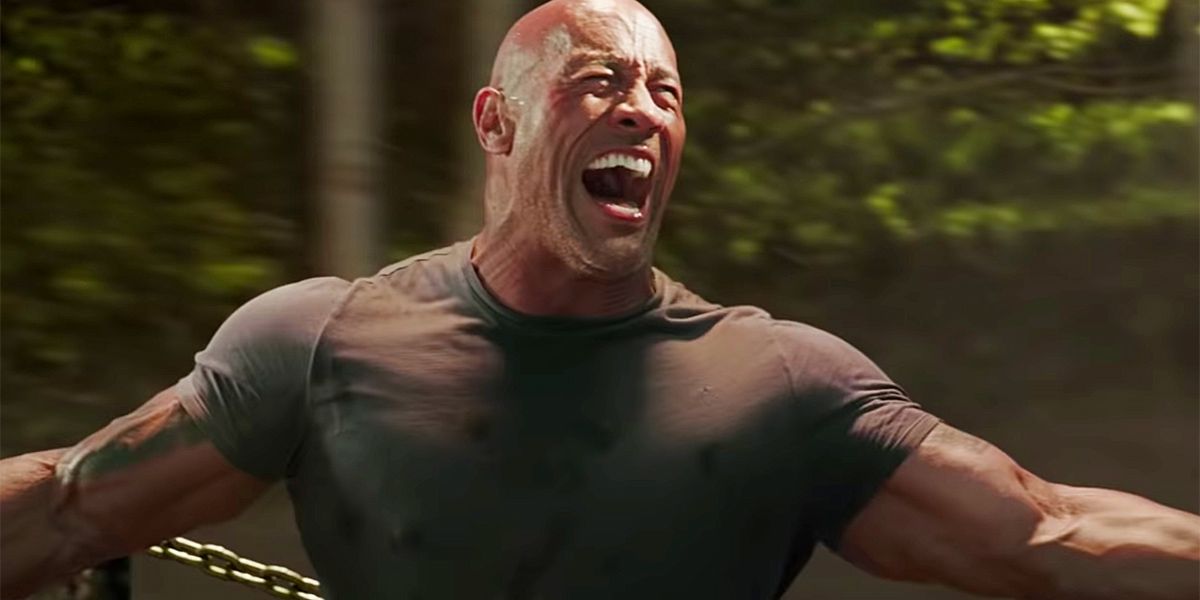 WARNING: The following article contains spoilers for Fast & Furious Presents: Hobbs & Shaw, in theaters now.
The first Fast and the Furious franchise spinoff, Hobbs & Shaw teams Dwayne Johnson's Luke Hobbs and Jason Statham's Deckard Shaw for a mission to save the world. While the film is filled with bold action sequences, one in particular stands out as Hobbs holds back a helicopter while riding a five-car daisy chain.
During an interview with CBR and other outlets, Johnson spoke about the origins of the scene, and why he wanted to include it in the film.
RELATED: Hobbs & Shaw's Explosive Ending, Explained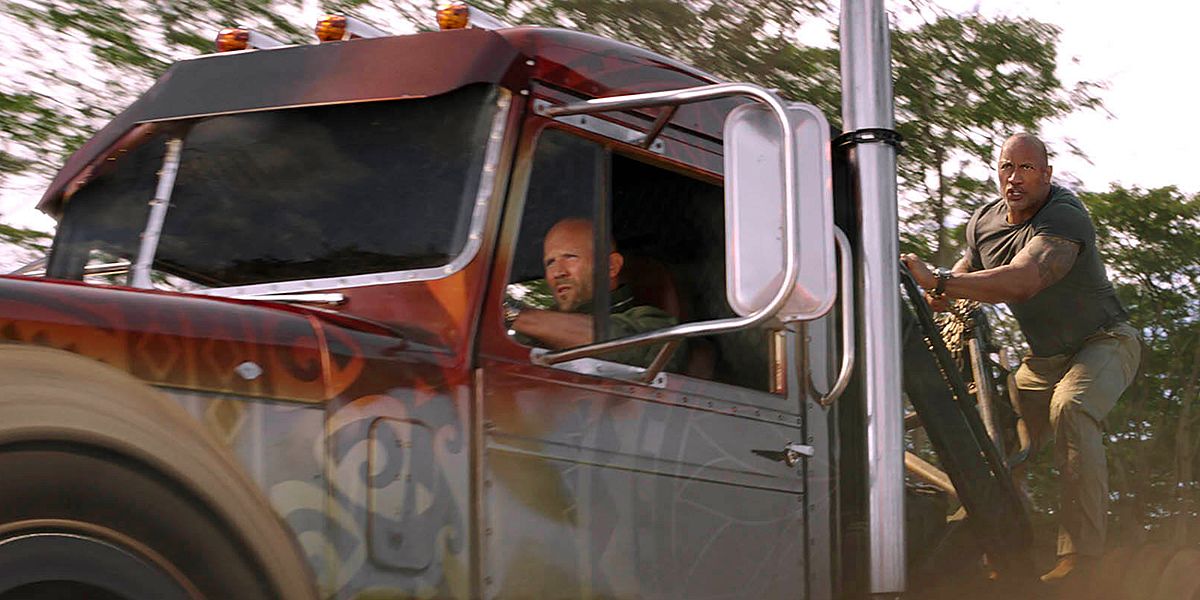 "We shot in London for one month, then from London we had a Christmas break," Johnson recalled. "Then we [went] to Hawaii. And so as we're getting into the third act, we've shot most of the movie in Hawaii, which is obviously Samoa in the movie. [...] We knew that we had a banger of a fight scene, a triple fight, a triple-threat fight, between myself and Idris [Elba] and Jason. We always knew that that was going to be our anchoring action sequence. But [director David Leitch] had this big idea and it was gonna, it cleared all the elements. That was his way of paying homage to one of his favorite directors, Akira Kurosawa out of Japan, so we had fire and we had rain."
RELATED: What Hobbs & Shaw's Post-Credits Scenes Tell Us About The Sequel
However, Johnson said he couldn't get over the feeling that something was missing from the big fight in Samoa.
" I sat with Chris Morgan our writer/producer ... and the gnawing in the gut," he said. "Was there something missing? Is there an action element that is missing?' Because the answer was, 'Well, I don't think we're missing anything, but can we make it better, can we make it unique, is there something that we can add that's just going to give it one more push of power before the helicopter crashes and we go into the tunnel for the big fight?' I give you guys all that context because it was Chris Morgan, at the beginning of work the next day, saying, 'I have this crazy idea, what if during the back of the car chase Jason is driving, the helicopter comes with Idris, you grip the chain with the helicopter and that's how, he's on the back of the truck and I grip the helicopter, and then the helicopter will eventually crash and go down into cave, that was always in the movie? What if we extended this and we took this sequence, and we turn this into a fucking insane daisy chain of cars, driven by [my] brothers, all created in the Hobbs custom workshop in order to bring the helicopter back down?'"
RELATED: Hobbs & Shaw Is A Delightfully Over-The-Top Blast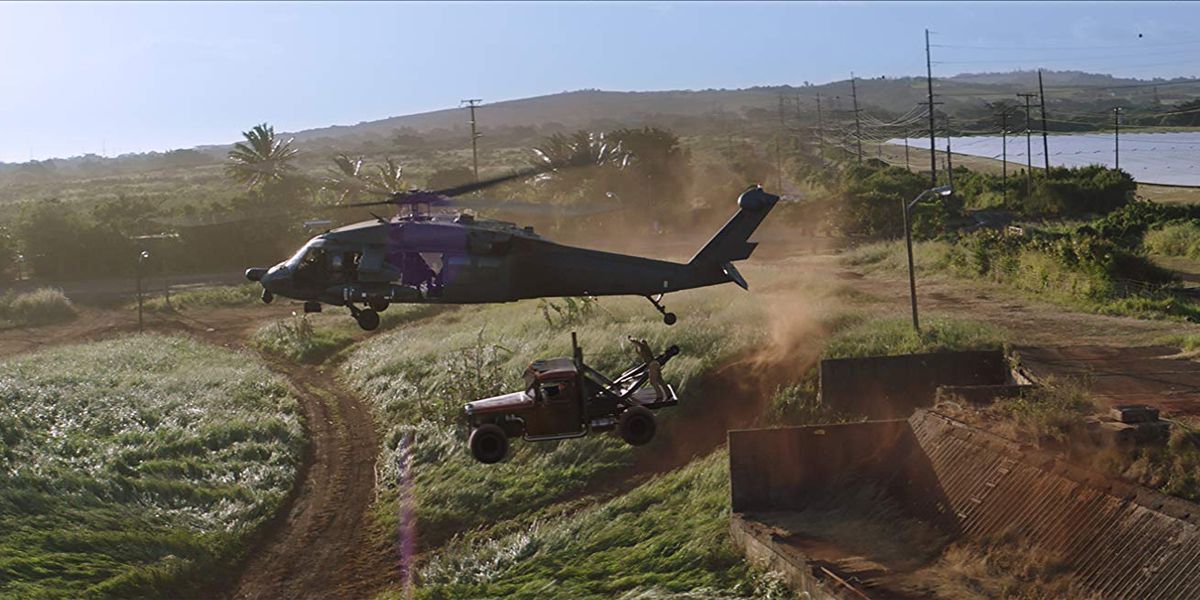 Just from that, Johnson was onboard. "It sounded great and fantastic and cool," he said. "And on the top, we finally sat down and put together some visuals of it and that's how that scene came to be. It wound up being this really insane scene that keeps the audience on the edge of their seats but also really puts our heroes in unique jeopardy going into the third act. So that's how it came to be... it just physically, it was a lot. We shot it outside in the sun on the pavement, me holding a chain and you know, that's one of the fun things about movies like this in the Fast and Furious world. The action was so over the top and so absurd."
"I really like that it's so funny, because we were talking before we were shooting the scene. The question was put, 'Is that too much? Is it too much that Hobbs is holding the helicopter?,' and then, of course, we justify it. 'No, he's redirected the torpedo things like that.' I said. 'I don't think it's too much if we can find a way to find humor at some point, either within this sequence or certainly when we get down into the cave and make people smile and laugh at some point. That's how we got into that crazy daisy chain finale, that wound up being the movie's big 'holy shit' moment."
Directed by David Leitch (Deadpool 2) from a script by longtime Fast & Furiousveteran Chris Morgan, Fast & Furious Presents: Hobbs & Shaw stars Dwayne Johnson, Jason Statham, Idris Elba and Vanessa Kirby.