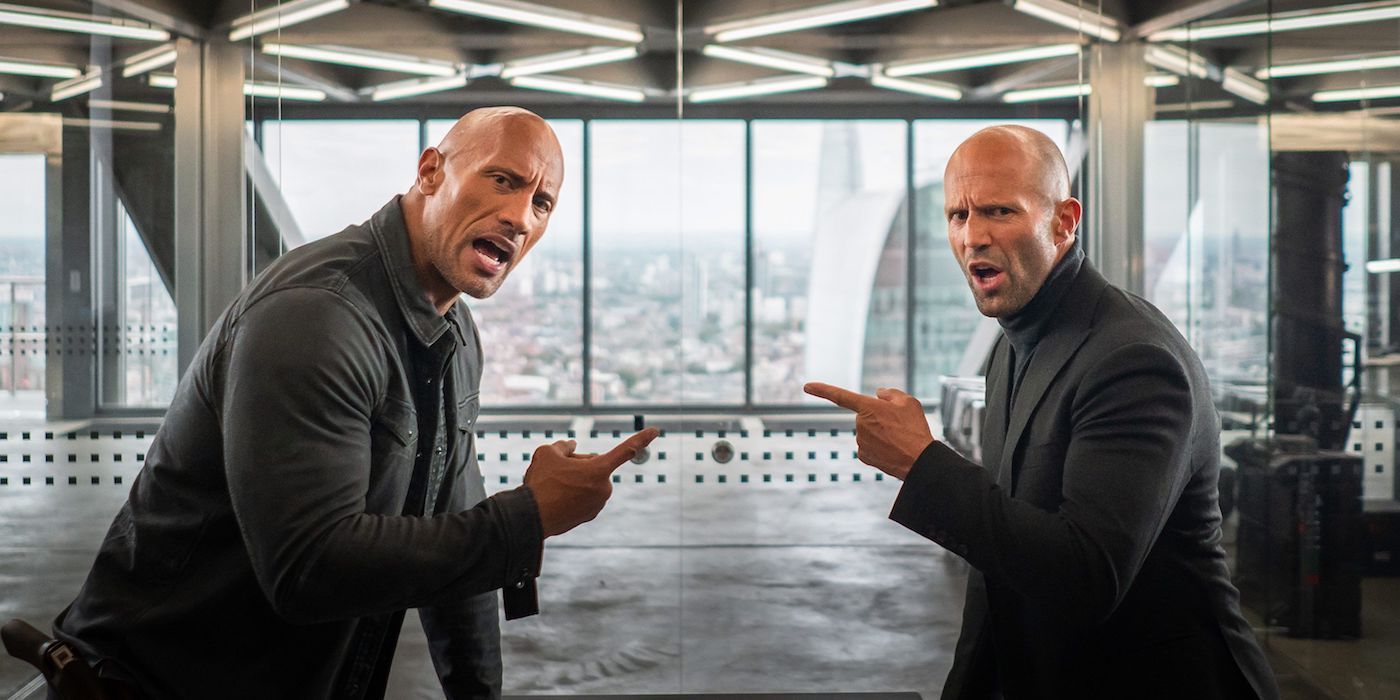 WARNING: The following article contains spoilers for Fast & Furious Presents: Hobbs & Shaw, in theaters now.
Hobbs & Shaw grounds its over-the-top action with the onscreen chemistry shared between stars Dwayne Johnson and Jason Statham. Their characters, Luke Hobbs and Deckard Shaw, spend much of the film snarking each other or else coming close to blows. The relationship is the core of the story, giving both actors plenty of opportunities to poke fun at one another. It turns out, however, the origins of Hobbs & Shaw are rooted in an improvised insult in a previous installment of The Fast and the Furious.
"It was great working with Jason, because we were really leaning into the chemistry that blossomed out of nowhere, Johnson said in an interview with CBR and other outlets. "We had worked together, obviously, on the F&F stuff and in Fast 8, we were pretty much chained together. I remember there was a scene where he was working on his car, and I went to him and I said, 'So let's change things up a little bit. I'd like to say something to you in this, I wanna talk a little shit to you. I don't want to tell you what I'm going to say, I just really want you to react and I'll react to your reaction.' And at that time, in any movie like this, chemistry comes with trust. Trust comes over time. It's exactly like the chemistry I have with Kevin Hart. It comes over time. [Kevin and I] have known each other for 10 years-plus and we've worked together on many movies, but I had not worked together with Jason before then, so it wasn't like there was a lot of trust."
RELATED: Hobbs & Shaw's Explosive Ending, Explained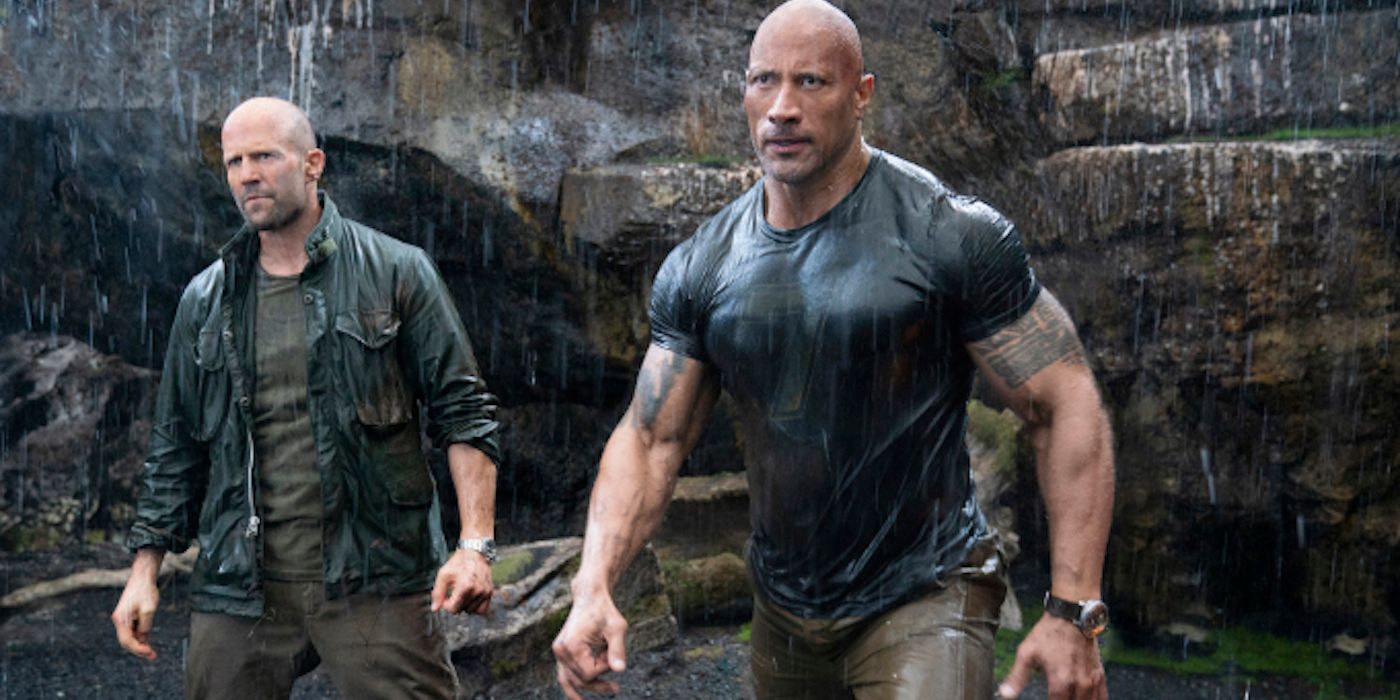 "He looked at me ... Jason is very regimented, Johnson continued. "He likes to say, 'That's on the page, read the script,' and he doesn't often like to deviate from that. I like to do that too, however, I also like to ad-lib. I like to reach, I like to stretch things out a little bit more and see if we can find some magic. So anyway, I remember I thought, let me try this first. 'I wanna say something to you, I want to talk a little shit for and you react how you react.' And he said, 'Ok mate, sure!' And I said, 'I promise you, trust me, I'm not going to hang you out to dry if it works, it should be kind of funny."
RELATED: Hobbs & Shaw Is A Delightfully Over-The-Top Blast
"So we're in the scene and I remember specifically saying, 'When this is over, I'm gonna knock your teeth so far down your throat you're gonna stick a toothbrush up your ass to brush 'em.' And he looked at me and he started to crack up and broke character. That's the take that we used in the movie, and honestly, it was in that moment that this kind of unique thing happened."
"And then when we had our other scenes, he would come to me and say, 'Dwayne! Dwayne! Do you wanna say something else to me?' And 'Yeah! Let me say this!' and then I would say, 'Well what if you said this back to me...' and he's like, 'Oh, yeah! I love that!', and then before you know it, by the end of the movie... here's a little inside baseball for your guys, by the end of the movie where it's the big dinner scene and we're on top of the apartment at the end of F&F 8, it got to a point where Jason and I were almost shooting our own movie at the same time."
KEEP READING: What Hobbs & Shaw's Post-Credits Scenes Tell Us About The Sequel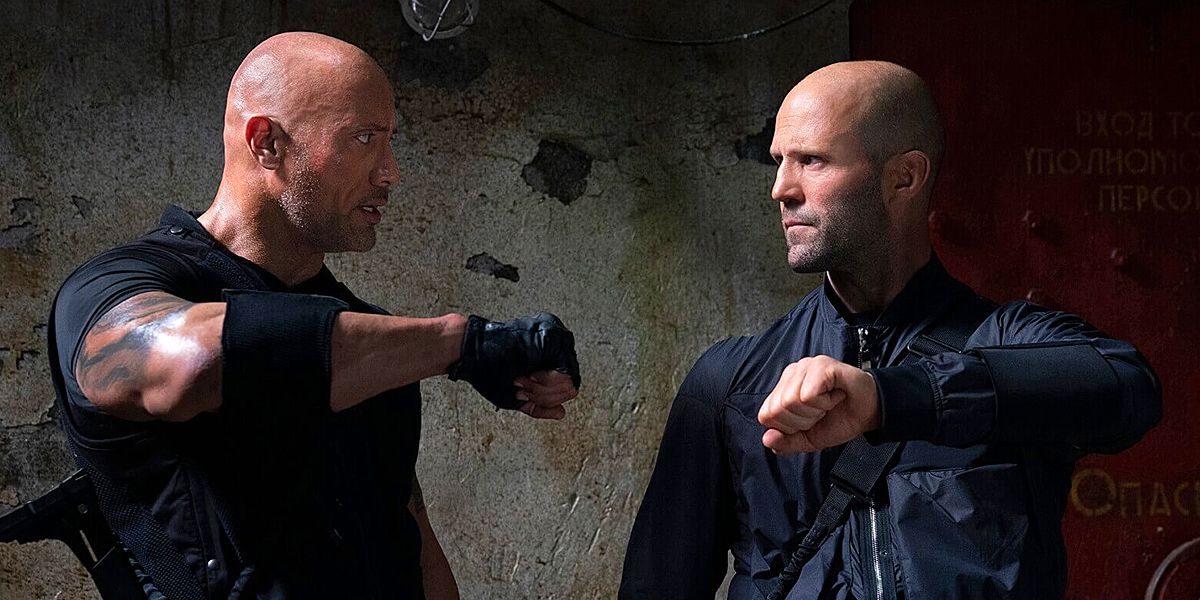 "The things I was saying to him in that scene and the things he was saying to me, it's almost musical. To give you guys an example, we had such a good time and it was after that movie that Universal [realized] the audiences loved our characters together and loved what we were really doing. And that was the creative nudge we needed that make the spinoff."
"So it started with our chemistry. Now, of course, there's a lot of trust between us. And the chemistry just really explodes on-screen. Not only that, what the spin-offs allowed us to do was not only to delve deeper into our own backstories but also it allowed us to have our own identity and our own tone. And allowed for more comedy, more banter between the two leads. And again, it created pretty fun chemistry for the audience."
Directed by David Leitch (Deadpool 2) from a script by longtime Fast & Furiousveteran Chris Morgan, Fast & Furious Presents: Hobbs & Shaw stars Dwayne Johnson, Jason Statham, Idris Elba and Vanessa Kirby.