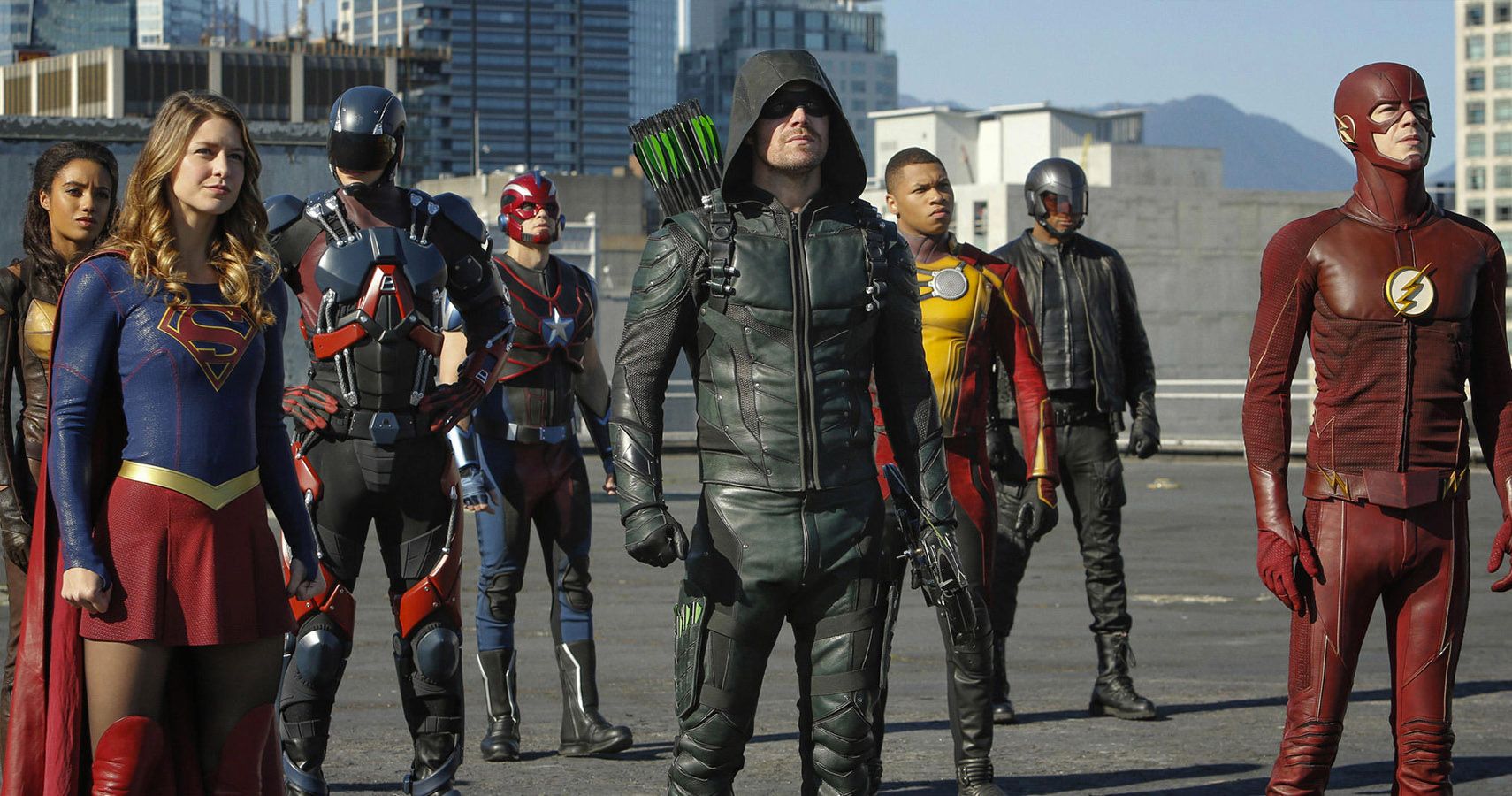 For fans of the Arrowverse, the annual crossover is the highlight of the season. The announcement that this year would finally bring Crisis on Infinite Earths, fans were sent into a frenzy. Now that the crossover coincides with the end of Arrow, the stakes are even higher.
RELATED: Arrowverse: Crisis on Infinite Earths Concept Art Reveals the Anti-Monitor
In the comics, Crisis on Infinite Earths was a universe altering event that featured the deaths of high profile heroes. We know the Arrowverse will change some key plots for TV, so the guessing game has begun. These are 5 fan theories we want to see come true in Crisis on Infinite Earths and 5 we don't.
10

DON'T WANT: CONNECTION TO THE FILM UNIVERSE
When Warner Bros. announced they were working on a Justice League movie universe, fans immediately wondered if it would be connected to the Arrowverse. The casting of Ezra Miller as The Flash made it clear that the two franchises would not be involved with one another.
Of course, now that the movies have suffered some setbacks and undergone several changes on and off camera, we're glad the Arrowverse has nothing to do with the DCEU. The TV shows have built their own Justice League with all the heroes created specifically for the Arrowverse, and don't need the instability of the movie universe confusing things.
9

WANT: LENA GOES FULL LUTHOR
It took three seasons, but Lena Luthor finally found out that her best friend Kara is really Supergirl. We've been wondering when the genius would put two and two together, as Kara has occasionally been obvious around her.
Unfortunately for their friendship, Lena's evil brother Lex was the one who broke the news, and that may have hurt more than the actual lie. We can't wait to see Katie McGrath finally get to play the darker Luthor side of her character, though we don't necessarily want her to become irredeemable, since her and Kara's friendship is such an important relationship for both women.
8

DON'T WANT: BARRY DISAPPEARS
Since the first episode of The Flash, Crisis on Infinite Earths has been set up to happen. We saw the newspaper headline from 2024 describing The Flash's disappearance, and it's been like a ticking clock ever since. In the season five finale, the date on the paper suddenly changed to 2019.
RELATED: The Arrowverse: Every Green Arrow TV Costume, Ranked
We've always known this was coming, but that doesn't mean we thought it would ever really happen. Comic book TV shows are famous for finding weird ways of saving characters from certain doom, so we're hoping The Flash has another loophole up its sleeve.
7

WANT: MAJOR CHARACTER RETURNS
The multiverse has been well established in the Arrowverse. We've met doppelgangers of most of the characters, so we're anticipating seeing some new versions of familiar faces. It's already been announced that Brandon Routh will play Superman again, hinting at it being the Kingdom Come iteration of the Man of Steel.
We assume Crisis on Infinite Earths will involve stories on or around multiple Earths, so it stands to reason that we could see the doppelgangers of lost friends. We'd really like to see Ronnie and Professor Stein come back as Firestorm, or maybe Slade Wilson returns to help out Oliver.
6

DON'T WANT: EVIL DOPPELGANGERS
The first time we were introduced to a new Earth, we got evil doppelgangers of our favorite heroes. Caitlin, Ronnie and Cisco were all criminals on Earth-2. Things got even more disturbing during the Crisis on Earth-X crossover, when it turned out Oliver and Kara were the leaders of a Nazi planet.
We've pretty much seen the worst possible versions of everyone, so it's not a story we need to revisit. We have no doubt we'll see new Green Arrows and Flashes, we just don't want them to be evil twin versions.
5

WANT: MULTIVERSE UNITES DC SHOWS
When Barry took a wrong turn onto Earth-38 and Supergirl officially joined the Arrowverse, it sparked the idea that all DC shows might take place on various Earths. Over the years, Easter eggs have only helped cement the theory that Smallville has been in the Arrowverse all along.
RELATED: Arrowverse Stars Bid Farewell to Arrow's Stephen Amell
Tom Welling has made it clear he's done being Clark Kent, but perhaps he could be persuaded to return to the role for a quick cameo. A universe threatening crisis is the perfect opportunity to unite the past and present of DCTV.
4

DON'T WANT: OLIVER'S SACRIFICE
During the Elseworlds crossover, Oliver made a mysterious bargain with the Monitor to save Barry and Kara's lives. In the Arrow season seven finale, the Monitor returned to tell Oliver that he would die during the crisis, but he could help save others before his time came.
Knowing Oliver as we do, there's no question that he wouldn't hesitate to sacrifice himself to save the universe. We know Arrow is ending and Oliver saving the day is an ideal way for it to end, but we're not ready to say goodbye.
3

WANT: OLIVER AND FELICITY ARE REUNITED
When we heard Emily Bett Rickards was leaving Arrow at the end of season seven, we couldn't imagine how the show would wrap up without Felicity. In the finale we saw the Monitor return to take her to possibly be reunited with Oliver, so there's still hope for a happy ending for the first couple of the Arrowverse.
We're not sure what comic book gymnastics it would take, but we can see an ending where Oliver sacrifices himself to save the universe, then gets reunited with Felicity on some alternate plane. The Monitor does seem to have unlimited powers.
2

DON'T WANT: REVERSE FLASH COMES BACK
From day one, Barry's most constant enemy has been Eobard Thawne/Reverse Flash. His obsession with The Flash has destroyed Barry's life, and he has continued to be involved in every horrible thing that happens to him.
What's so frustrating is that he always seems to find a way to get out of trouble. As amazing as Tom Cavanagh is, we just don't need to see Reverse Flash in another crossover, because we know it will end with Barry letting him go for no apparent reason.
1

WANT :BLACK LIGHTNING JOINS THE ARROWVERSE
It was made very clear from the start that Black Lightning would not be connected to the rest of The CW's DC superheroes. Since the show shoots in Atlanta, while all the others film in Vancouver this makes sense. However, when the Pierce sisters name dropped Supergirl, speculation swirled that Freeland could be on Earth-38.
At Comic-Con International in San Diego, Cress Williams made his feelings about joining the Arrowverse clear. "I want Supergirl to come to Freeland. So there's been lots of talk... nothing official, but at this point, I wouldn't be surprised," he said. It would be great to see Anissa and Jennifer get to interact with other young heroes and we really want to see Gamby and Cisco team up.
NEXT: 10 Fan Theories About Arrowverse's Crisis On Infinite Earths That Are Likely To Happen