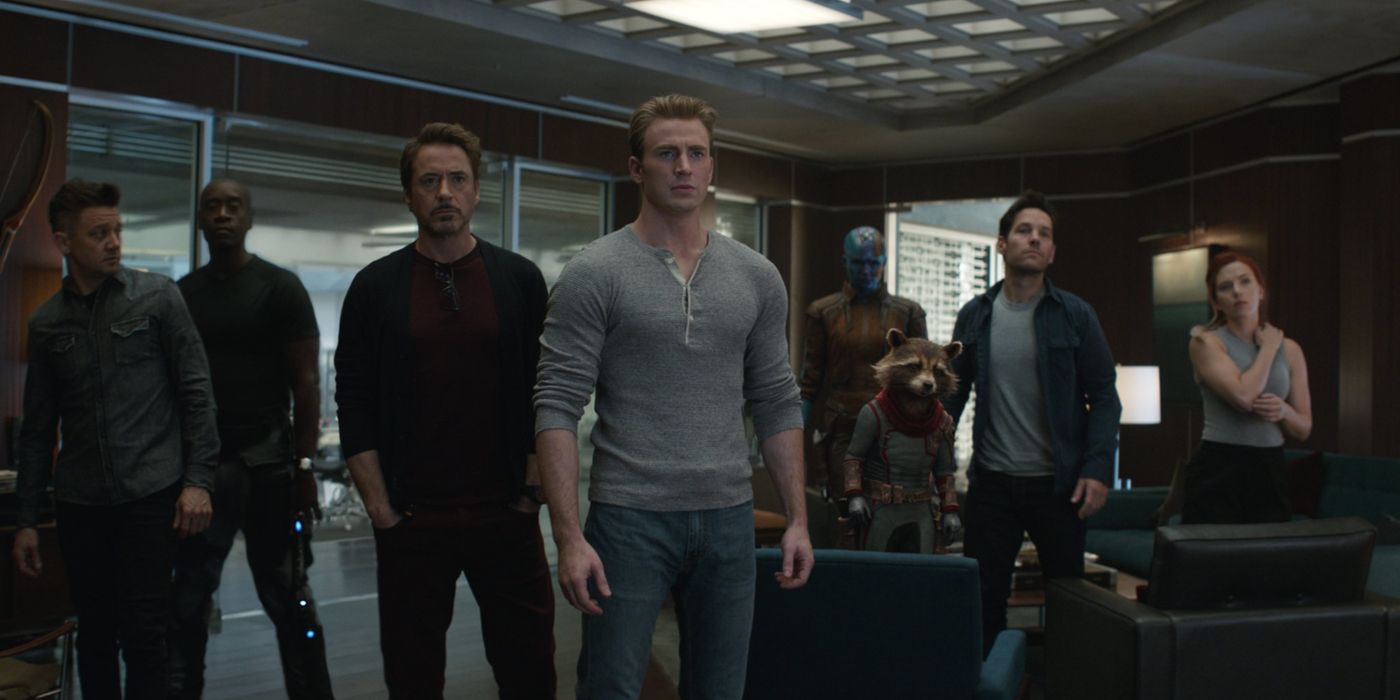 A comment from Ant-Man about Captain America's ass proved one of the most hilarious parts of Avengers: Endgame for many viewers. However, the line almost didn't make it into the film.
During the Vudu Viewing Party for Endgame, Marvel Studios President Kevin Feige revealed, "Ant-Man's line, 'As far as I'm concerned, that's America's ass,' was not in it for quite a while. I think it was [executive producer] Louis D'Esposito or someone who said, 'What happened to that funny line about America's ass?'"
RELATED: Avengers: Endgame - This Really Looks Like A Spider-Gwen Easter Egg
"We're like, 'Is it funny? I don't know, let's try it in the next test screening,' because we screen all of our movies multiple times for audiences. And it killed, it killed instantly, without question. And it stayed in the movie, and later in the movie it a got a reprise in some additional photography where Cap himself comments on his own ass."
"We questioned, let's be honest, we questioned, 'Is it in character? Is it in the character of Steve Rogers to make a comment on his own ass?' And the thought was, yes, it works, and the audience likes it," Feige said.
"But also, we were building a version of Steve who actually was growing, and who was loosening up, and who was leading towards the decision [to retire]. It was part of a character shift, maybe we're just justifying the laughs, but it was part of a character shift to get to the decision he makes at the end of the film to stay with Peggy and get some of that life Tony was always telling him to get."
RELATED: Avengers: Endgame May Answer Whether Thanos Can Lift Thor's Hammer
At this time, there's no indication Chris Evans will reprise his role as Steve at any point soon. The mantle of Captain America has passed to Sam Wilson/The Falcon, and he's likely to hold it for the foreseeable future. He'll receive his own Disney+ series alongside Bucky Barnes in 2020's The Falcon and The Winter Soldier.
Directed by Joe and Anthony Russo, Avengers: Endgame stars Robert Downey Jr. as Iron Man, Chris Evans as Captain America, Mark Ruffalo as Bruce Banner, Chris Hemsworth as Thor, Scarlett Johansson as Black Widow, Jeremy Renner as Hawkeye, Brie Larson as Captain Marvel, Paul Rudd as Ant-Man, Don Cheadle as War Machine, Karen Gillan as Nebula, Danai Gurira as Okoye and Bradley Cooper as Rocket, with Gwyneth Paltrow Pepper Potts, Jon Favreau as Happy Hogan, Benedict Wong as Wong, Tessa Thompson as Valkyrie and Josh Brolin as Thanos. The film is now available on Digital HD and arrives on Blu-ray and 4K UHD on Aug. 13.
KEEP READING: Avengers: Endgame Hid an Easter Egg in the Marvel Intro
(via ComicBook.com)