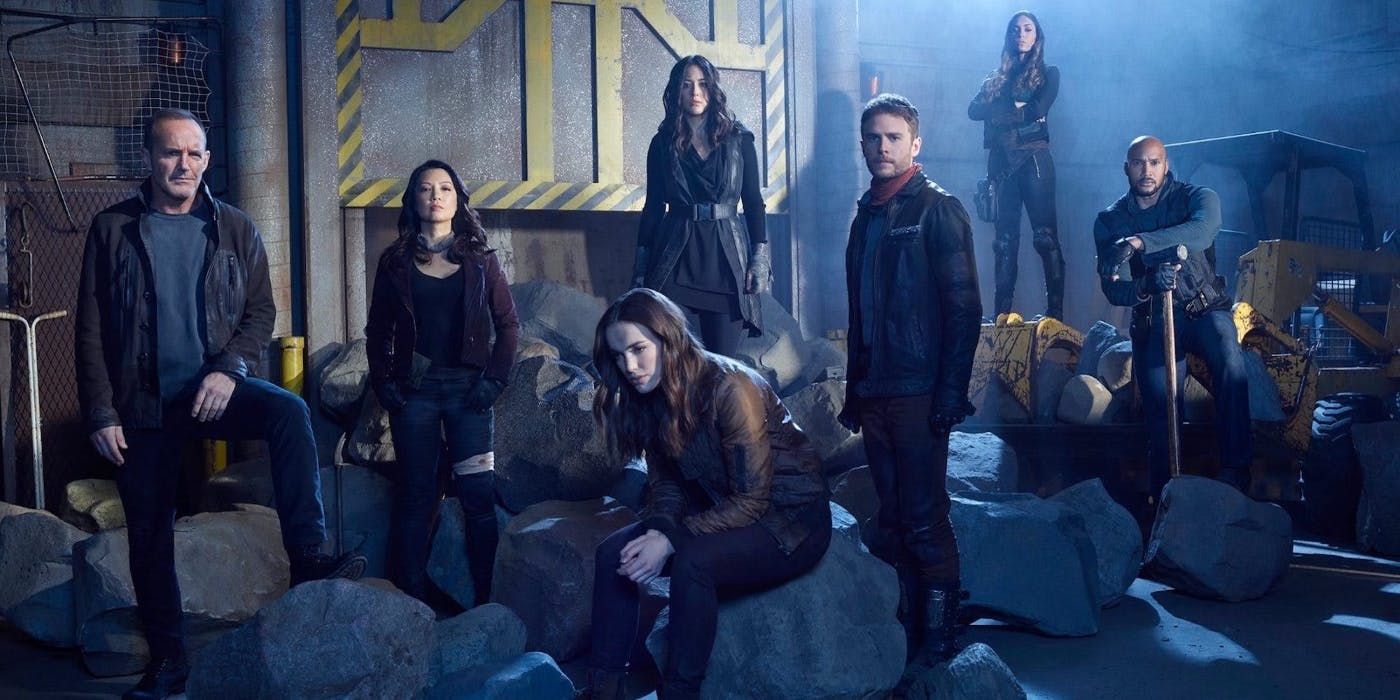 SPOILER WARNING: This article contains major spoilers for the Agents of S.H.I.E.L.D. Season 6 finale.
The zombie apocalypse has reached the Marvel Cinematic Universe -- sort of. In the Season 6 finale of Agents of S.H.I.E.L.D., Director Alphonso "Mack" Mackenzie, Elena "Yo-Yo" Rodriguez, Melinda May, Daisy Johnson and Deke Shaw were forced to face a horde of Shrike-infected zombies in order to survive.
All throughout the season, Mack's S.H.I.E.L.D. team has done its best to fight off this Shrike invasion. The Shrike are essentially bat-like parasites with wings, designed by the villain Izel to turn their hosts into pliant, willing hosts. She hoped to use the Shrike to enslave humanity, then provide human bodies as physical forms for her non-corporeal people.
RELATED: Agents of SHIELD Cast, Crew Eulogize the Series on Social Media
Izel created the Shrike with her own set of superpowers. She then released them, instructing them to take hosts. The Shrike would find a victim, then crawl inside their mouth. This would enable to the Shrike to hijack the host's neural system, in much the same way the Cordyceps fungus does to ants in the Amazon. Once embedded, the Shrike would force the host to carry out Izel's bidding.
As Izel entered the final phase of her plan, she released a horde of Shrike with orders to protect her temple at all costs. Those Shrike found hosts soon enough. Once infected, the Shrike went wild in search of any threats. Of course, that's when Team S.H.I.E.L.D. swooped in to save the day.
RELATED: Agents of SHIELD Announces Final Day of Shooting with Thank You to Fans
When the Shrike realized S.H.I.E.L.D. was there, they went mad. They piled on the agents, with no thoughts of preservation or their own-well beings. Aside from special bullets made from the Shrike-killing blades, no injuries would stop them. This made their similarity to zombies almost uncanny, so much so that everyone in the field found themselves making a zombie joke or two. The battle even "inspired" Deke with the idea for a zombie-based game -- a Shaw original concept, or so he believed at the time.
Yo-Yo almost found herself condemned to this fate. When she was trapped on the Zephyr-One with Mack and Daisy, surrounded by these Shrike zombies, a Shrike found its way into the cockpit. Before anyone could react, it managed to infect Yo-Yo; for all appearances, her fate was sealed. She even begged Daisy to kill her when the Shrike took over.
RELATED: Agents of SHIELD Brings Back Major Inhuman Character
Fortunately for Yo-Yo, though, the Shrike's well-being was tired directly to Izel. So, when May sliced Izel in half and killed her, the Shrike also died. For Yo-Yo, this was a saving grace. The Shrike liquefied inside of her; that choked her for a moment, so that she spewed black liquid. However, she made it out of this encounter alive, thanks to S.H.I.E.L.D.'s last-minute defeat Pachakutiq. This also ended the Marvel Cinematic Universe's plague of Shrike-infected zombies.
Marvel's Agents of S.H.I.E.L.D. will return next summer for its final season on ABC. The series stars Ming-Na Wen, Chloe Bennet, Henry Simmons, Iain De Caestecker, Natalia Cordova-Buckley, Elizabeth Henstridge and Clark Gregg.