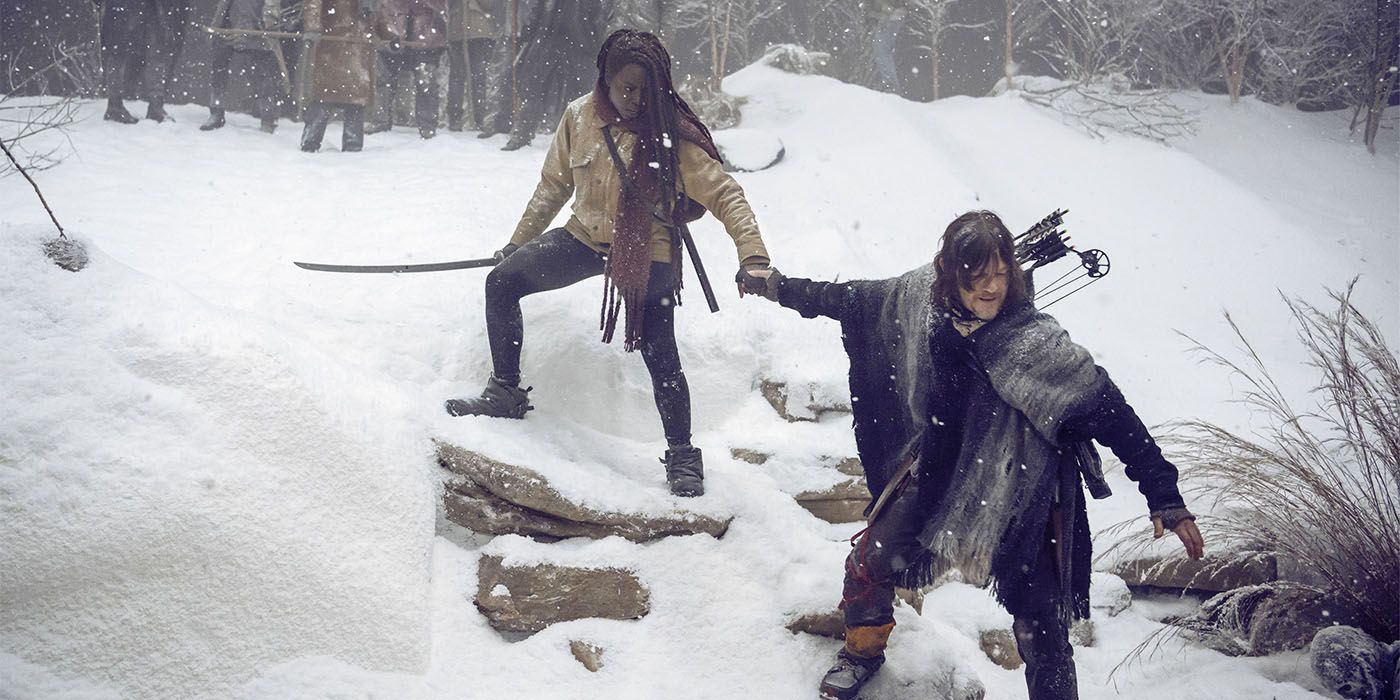 It sounds like AMC's The Walking Dead will face plenty of change in Season 10 as the long-running zombie series will introduce another time jump in the premiere.
Fans will remember how incoming showrunner Angela Kang really mixed things up in Season 9. As well as the major cast departures of fan-favorite charters like Jesus, Tara, Maggie and even Rick Grimes, Kang delivered two substantial time jumps. While Season 10 won't quite match the six-year jump after Rick "left" the survivors, there's been a changing of the seasons since the icy Season 9 finale.
Speaking to Entertainment Weekly, Kang confirmed, "We're passing a few months, probably," when asked how much time has passed since the likes of Maggie and Daryl escorted the Kingdom survivors to the Hilltop. She went on to explain, "I feel like we mark time on the show based on the children. So we saw Rosita pretty heavily pregnant at the end of last year, and I'll say that that state has changed."
Discussing how the time jump will affect the main cast, Kang revealed, "They've been living with some of the Whisperers' rules, and we'll see that some things have changed and some people have done some unexpected things in the time that has passed to deal with the trauma at the end of last season."
RELATED: The Walking Dead's Next Spinoff Series Casts Its Leads
Heading back to the end of Season 9, audiences will remember a few months had already passed since the dramatic events of the fair where Samantha Morton's Alpha decapitated some of the show's biggest names. Despite even more time having passed, the character cull of Season 9 will still be weighing on everyone's minds.
The Walking Dead has always battled with a convoluted timeline, but as the series shuffles into its ninth year on everyone's screens, even the most diehard of fans are expected to struggle when it comes to keeping up with when the story takes place. With Comic-Con International in San Diego on the horizon, viewers will be able to see if there's still life left in the show as Kang continues the ongoing war with the Whisperers.
RELATED: Walking Dead Star Believes Negan Will Become A Good Guy In Season 10
AMC's The Walking Dead stars Norman Reedus, Danai Gurira, Melissa McBride, Josh McDermitt, Christian Serratos, Jeffrey Dean Morgan, Nadia Hilker, Dan Fogler, Angel Theory, Lauren Ridloff and Eleanor Matsuura. The series returns for its 10th season in October.