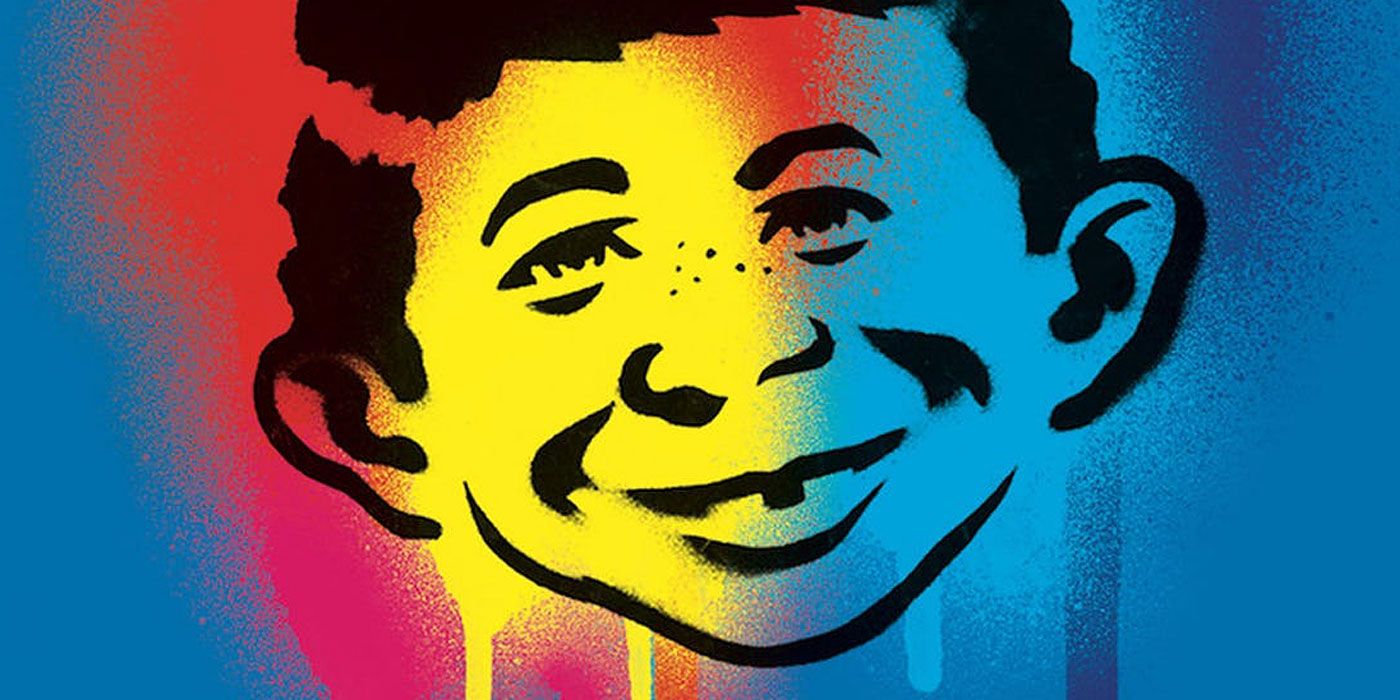 Late last night, reports began circulating on social media that MAD Magazine, the longest-running humor magazine in the United States, would soon cease publication. Across social media, comic artists and writers shared information from emails they'd received from MAD editorial, explaining that the publication is no longer soliciting new material.
While DC remains silent on the matter, due in large part to the company being closed for the long holiday weekend, MAD editor Allie Goertz has released a statement via Twitter, explaining what, exactly, is happening to Alfred E. Neuman's home. And while the news isn't likely going to please the series' regular readers, it's not completely dire, either. While MAD will cease publishing new material after Issue #10 arrives in October, the series will continue to be released on its current bi-monthly schedule, but as a reprint periodical. Future issues will feature "vintage" material, along with new covers that will presumably continue to skewer current events.
RELATED: Mad Magazine Reportedly Shutting Down After 67 Years
"There's been an outpour of kindness surrounding the rumor that @MADmagazine is ceasing publication, but MAD is not quite done," Goertz tweeted. "After the next TWO great new issues are released, MAD will begin publishing bi-monthly issues with vintage pieces and new covers.
"While there will be no new material after issue #10, @MADmagazine is not gone," she continued in a subsequent tweet. "I find it deeply sad to learn that there will be no new content, but knowing history repeats itself, I have no doubt that the vintage pieces will be highly (if not tragically) relevant."
RELATED: How Mad Magazine Struck a Blow for Parody Songwriters Everywhere
Goertz concluded her statement with words of appreciation for the magazine and those who worked on it alongside her, including cartooning legend Al Jaffee whose fold-in art helped define MAD, and remains a part of the magazine's DNA to today.
"Working at MAD was a childhood dream come true. MAD is an institution with such a rich history. It informed just about every comedian and writer I (and probably you) look up to. I worked with ICONS. Sergio Aragonés visits were common. Al Jaffee still does the fold-in!
"I am so proud of what the new team accomplished, am such a fan of the team before us, and am forever in awe of the original gang of idiots. I look forward to receiving vintage @MADmagazine pieces on my door step, but it's bittersweet to say the least. Thank you to all the MAD fans, contributors, and Usual Gang of Idiots in all its forms.
MAD-ly,Allie
#ThanksMAD #QuestionEverything #FuckPeteButtigieg"
MAD Magazine #9 arrives August 21. #10, the final issue to feature all-new material, goes on sale Oct. 16.
KEEP READING: Canadian Cartoonist Michael De Adder Fired Due To Viral Trump Comic