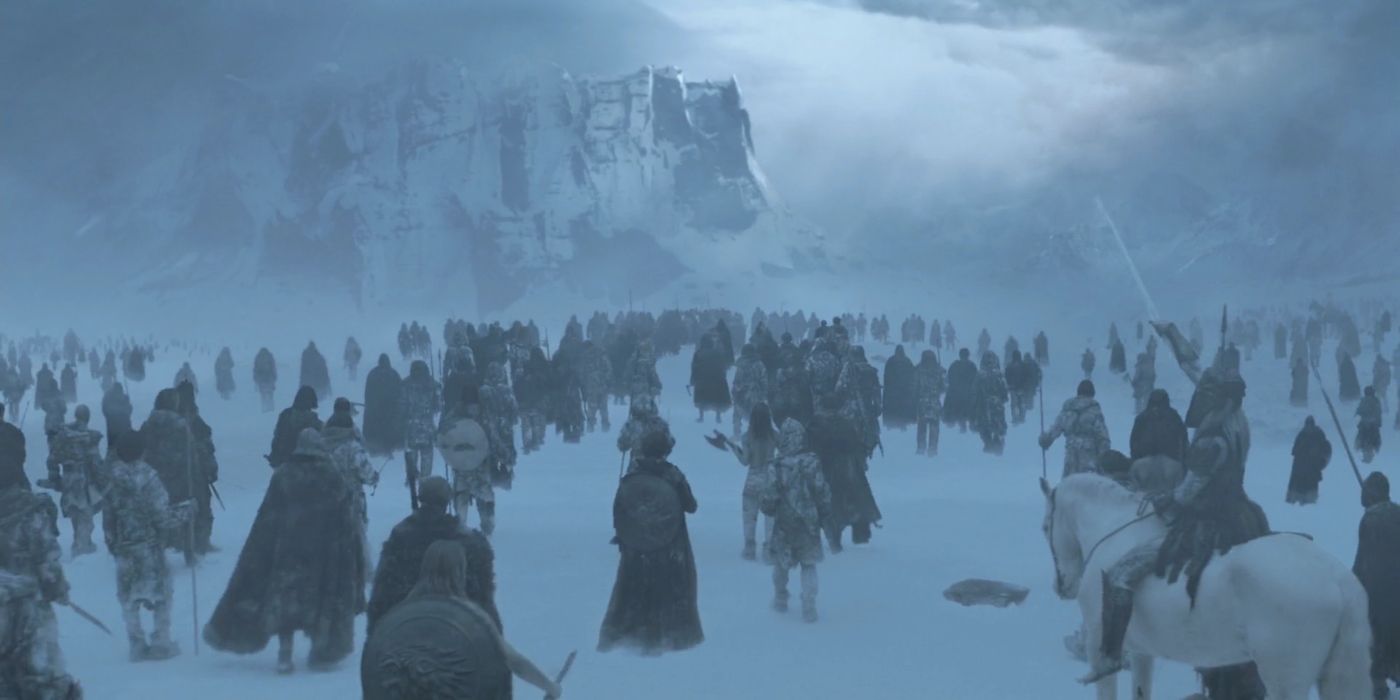 Game of Thrones scribe George R.R. Martin has recently revealed some details about the mysterious upcoming prequel series to the hit franchise.
Thrones fans are used to hearing about the Seven Kingdoms of Westeros. But with a lack of a unifying ruler so long ago, the world of the prequel series is much more divided. "Eventually you get back to where there are a hundred kingdoms — petty kingdoms," Martin told Entertainment Weekly, "and that's the era we're talking about here."
RELATED: Game of Thrones Prequel Logo, Title May Have Leaked
One of those kingdoms will belong to a familiar family name, that according to Martin has been holding down the north for millennia.
"The Starks will definitely be there," he said, adding, "there are [also] things like direwolves and mammoths." Conspicuously absent are dragons, the symbol and weapons of House Targaryen that played a prominent role in Game of Thrones.
Another absent family of note: the Lannisters. The golden-haired house of wealth had no ancestors carrying their banner at Casterly Rock. However, Martin revealed that viewers will still get to see the site, now occupied by the eponymous Casterlys.
Martin also spoke about the cast for the new series. After casting breakdowns spurred some speculation of a trio of female leads -- played by Naomi Watts, Naomi Ackle and Denise Gough -- he hesitated to put any characters above others in terms of importance.
RELATED: Game of Thrones Prequel Series Begins Filming
"I hesitate to use the word 'lead,'" he said. "For Game of Thrones, we never even nominated anybody for lead actress or lead actor [during awards season] until recently; it was always for supporting [categories] because the show is such an ensemble. I think that will be true for this show too. We don't have leads so much as a large ensemble cast."
The prequel will take place almost 5,000 years before the events of Game of Thrones, and leads to a confrontation with the villainous White Walkers known in Westerosi lore as "The Long Night," which is rumored to be the tentative title of the series. However, another title is still in play. "I heard a suggestion that it could be called The Longest Night, which is a variant I wouldn't mind," Martin said. "That would be pretty good."
Martin will certainly leave his mark on this first spinoff, penning the pilot episode while he works on The Winds of Winter, his much-anticipated sixth book in the Ice and Fire series. Though Game of Thrones has just ended, it's clear that its creator is ready to stay immersed in the world of Westeros.