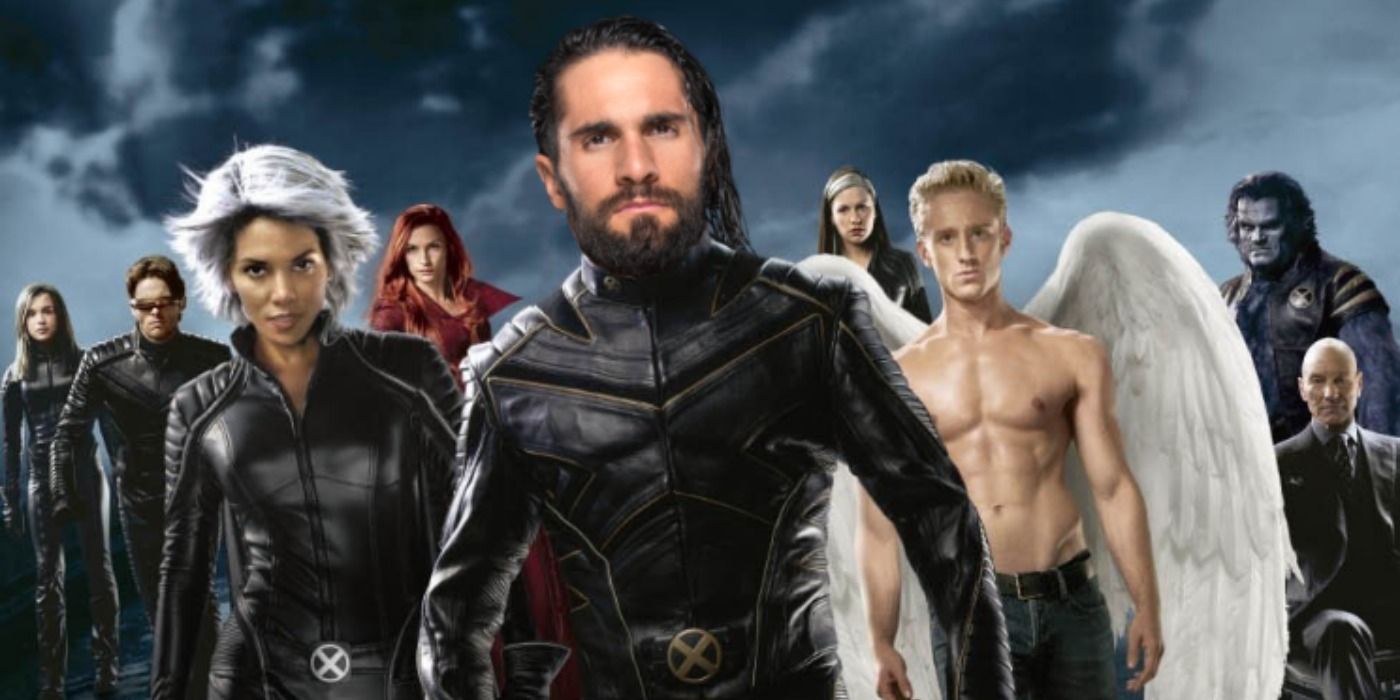 The following contains spoilers for the 2019 Extreme Rules WWE event.
Defending WWE Universal Champion Seth Rollins turned up to this year's Extreme Rules pay-per-view event sporting ring gear inspired by Hugh Jackman's early days as Wolverine in 20th Century Fox's original X-Men films.
Rollin's black outfit with yellow trimming and a distinctive "X" in the center is undeniably evocative of the X-Men costume Jackman's Wolvie wore in such films as X-Men, X2 and X-Men: The Last Stand. The latter film is especially fitting, as much like Wolverine found himself in the unstoppable Juggernaut's crosshairs in The Last Stand, Rollins fell victim to a similarly hulking adversary in Brock Lesnar.
RELATED: BOOM! Studios' WWE SmackDown Live Shines the Spotlight on Becky Lynch
In the event's final scheduled match, Rollins teamed up WWE Raw Women's Champion Becky Lynch. The pair, who are a real-life couple, defended their respective titles in a winners-take-all tag team match against challengers Baron Corbin and Lacey Evans.
Rollins and Lynch came out on top and retained their titles. However, WWE's resident Wolverine wasn't out of the woods yet. After the match ended, Brock Lesnar turned up to cash in his Money in the Bank briefcase, which gave The Beast Incarnate a free shot at Rollins' championship belt right then and there. Once the bell rang, Lesnar made short work of the former Shield member, defeating him in 15 seconds and leaving with the Universal title.
RELATED: WWE's Becky Lynch Rises from the Ashes in Morrison-Era Jean Grey Ring Gear
Notably, it was four years ago at that Lesnar was defending his WWE World Heavyweight Championship in the main event of WrestleMania 2015 against Rollins' former Shield partner Roman Reigns. Rollins crashed the match to cash in his own Money in the Bank, ultimately pinning Reigns and absconding with Lesnar's belt. It just goes to show, what goes around comes around.
It should also be noted that Rollins has made no secret of the fact that he is a fan of superheroes, as this certainly isn't the first time he's worn Marvel-inspired ring gear for pay-per-view events. For instance, he showed up to SummerSlam 2018 sporting gear inspired by Avengers: Infinity War's Thanos. And just last month, he wrestled at the inaugural Stomping Grounds event in gear based on the Marvel heroes' time travel suits from Avengers: Endgame.
(via Twitter/@FanSidedDDT)