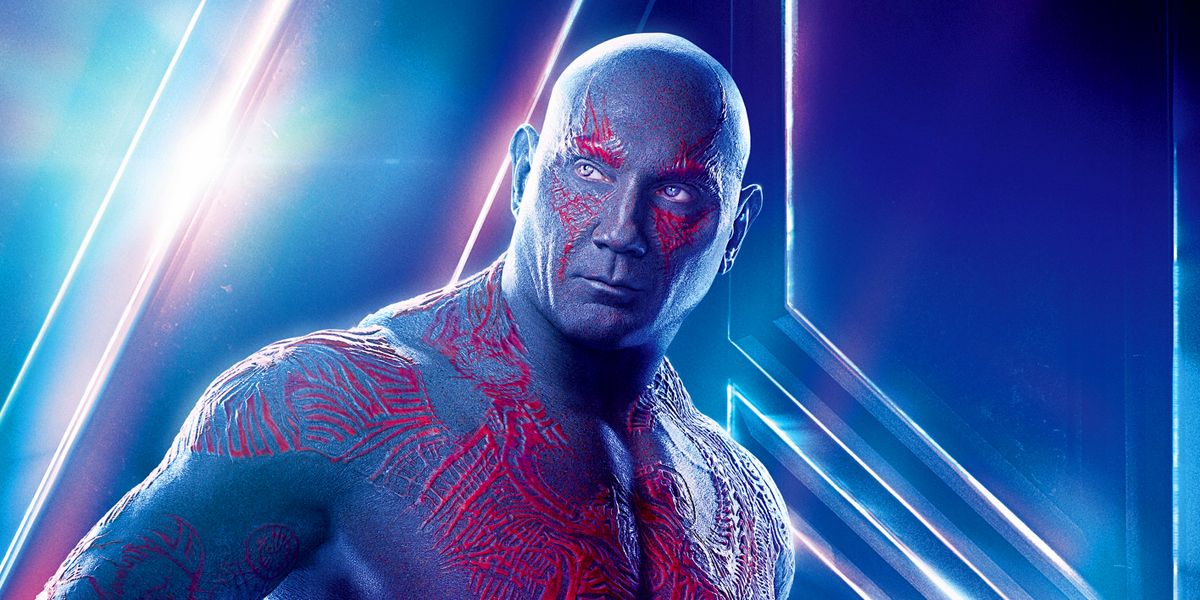 In Avengers: Endgame, the titular Marvel heroes finally defeat the villain Thanos. While this is an accomplishment just about all the surviving Avengers are likely proud of, one hero who you'd think would be especially happy is Dave Bautista's Drax the Destroyer. After all, since he was first introduced in 2014's Guardians of the Galaxy, Drax's motivation has been putting an end to Thanos as revenge for the death of his family.
However, Bautista believes that Drax still has one major hang-up about how things went down. Specifically, he feels the Destroyer is disappointed he ultimately did not get to deliver the killing blow himself. (Rather, it was Tony Stark who sealed the deal.)
RELATED: Avengers: Endgame: Bautista Shares Good Look at Drax's Funeral Outfit
In an interview with GQ, Bautista was asked what he thought Drax's mindset was like and where his energy was going now that the Mad Titan has fallen. "I don't know," he replied. "I think he's going to be a little unsatisfied he didn't kill Thanos himself."
Nevertheless, the actor is confident Guardians of the Galaxy writer/director James Gunn will have a new motivation for Drax when it comes time to officially get the ball rolling on his third Marvel Studios film.
"I thought about that a long time ago," Bautista explained. "James is super creative, and he's also a fan so he will dig through and come up with a new villain and something for Drax that I'm sure people will appreciate. He's a genius."
RELATED: Guardians of the Galaxy 3: Saldana Wants to Explore an Evil Gamora
Written and directed by James Gunn, Guardians of the Galaxy Vol. 3 does not currently have a release date. The film is reportedly scheduled to begin production in February 2021.
Directed by Joe and Anthony Russo, Avengers: Endgame stars Robert Downey Jr. as Iron Man, Chris Evans as Captain America, Mark Ruffalo as Bruce Banner, Chris Hemsworth as Thor, Scarlett Johansson as Black Widow, Jeremy Renner as Hawkeye, Brie Larson as Captain Marvel, Paul Rudd as Ant-Man, Don Cheadle as War Machine, Karen Gillan as Nebula, Danai Gurira as Okoye and Bradley Cooper as Rocket, with Gwyneth Paltrow Pepper Potts, Jon Favreau as Happy Hogan, Benedict Wong as Wong, Tessa Thompson as Valkyrie and Josh Brolin as Thanos. The film is set for release on Digital HD on July 30 and Blu-ray and 4K UHD on August 13.