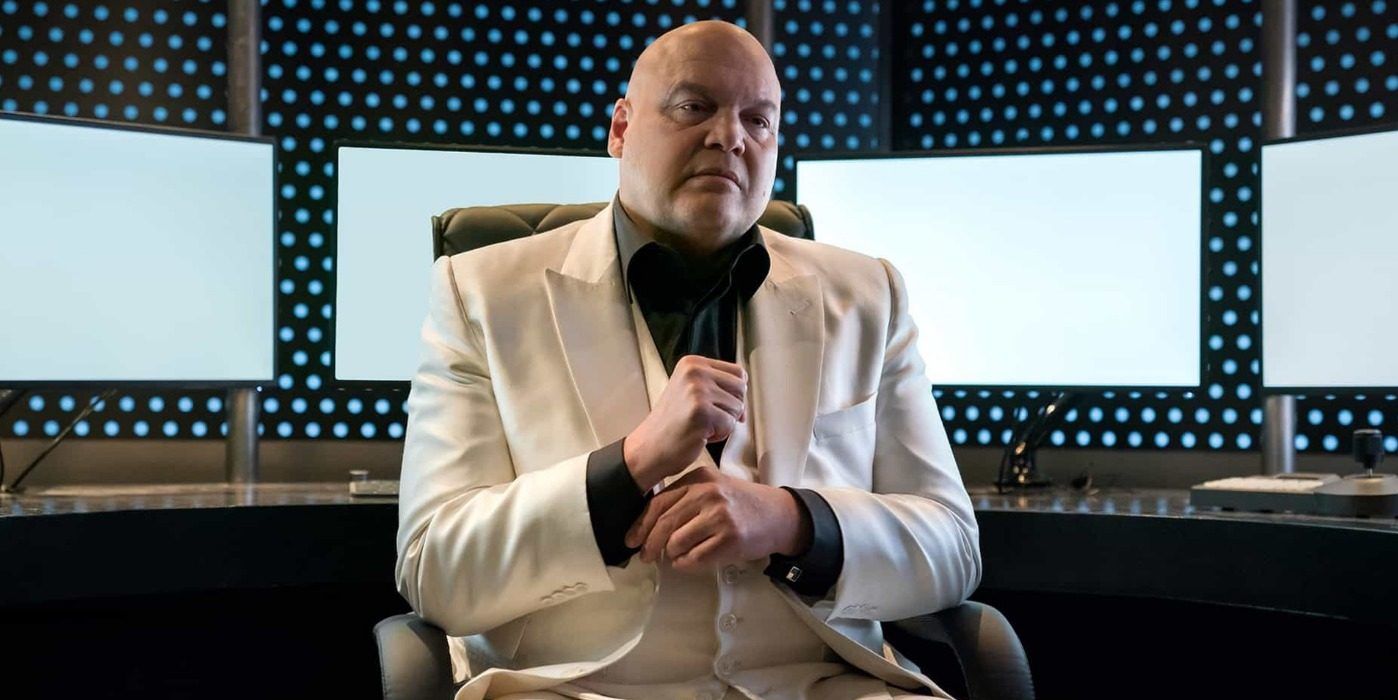 Veteran actor Vincent D'Onofrio famously played the Marvel villain Wilson Fisk/Kingpin in all three seasons of Netflix's Daredevil. Previously, D'Onofrio has been vocal about wanting to return to the role in some way or another. And it appears he would still like to don the white suit again, especially if Spider-Man is involved.
On Twitter, a fan posed the idea of Spidey and Daredevil teaming up on the big screen in order to take on the Kingpin. D'Onofrio responded, "Wouldn't that just be astonishing." Several fans responded to this tweet, echoing D'Onofrio's sentiments.
RELATED: Daredevil Cast Ready for Season 4, D'Onofrio Says
While the Kingpin has become synonymous with Daredevil over the years, the character was originally introduced as a Spider-Man villain. In fact, an animated version of the Wilson Fisk, voiced by Liev Schreiber, recently appeared as the main villain of Sony's Spider-Man: Into the Spider-Verse.
Moreover, D'Onofrio isn't the only Marvel Netflix star who has expressed interest in reprising the role on the big screen, with Daredevil himself, Charlie Cox, previously stating that he'd like to team up with Tom Holland's Spidey at some point.
However, the stars and fans of Daredevil alike will have to wait some time for this to even become a possibility. A reported clause in Marvel's deal with Netflix states that Marvel would not be allowed to use the characters they loaned to Netflix in their own productions until two years after each respective show's cancellation. Daredevil was canceled in November of last year, meaning Marvel Studios will not be able to use the show's characters until late 2020 at the earliest.
RELATED: Spider-Man: Far From Home Webs Up Massive Independence Day Weekend
Now available on Netflix, Season 3 of Marvel's Daredevil stars Charlie Cox as Matt Murdock, Elden Henson as Foggy Nelson, Deborah Ann Woll as Karen Page, Joanne Whalley as Sister Maggie, Wilson Bethel as Benjamin Poindexter, Jay Ali as Rahul "Ray" Nadeem and Vincent D'Onofrio as Wilson Fisk.