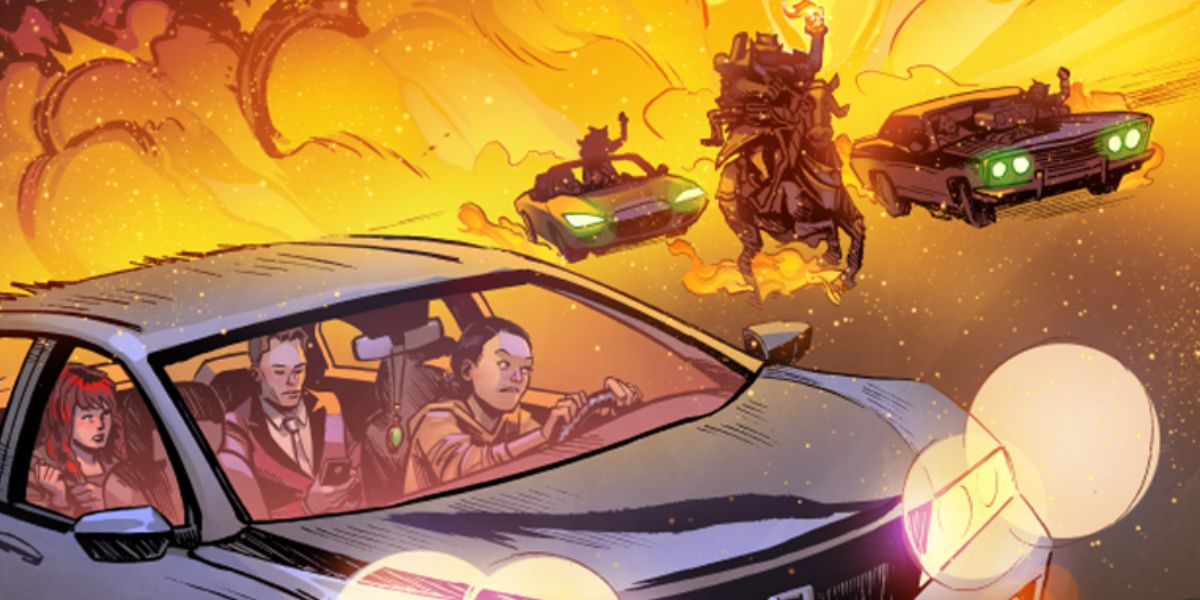 ComiXology announced the latest in their Originals program, Afterlift, at a press event at San Diego's Comic-Con International. The series comes from Eisner-nominated writer Chip Zdarsky (Sex Criminals, Spider-Man: Life Story) and artist Jason Loo (The Pitiful Human-Lizard, Kill Shakespeare), and tells the story of an unexpected trip to the modern version of Hell.
"This is an epic story about guilt, responsibility and breaking rules," said Chip Mosher, comiXology's Head of Content, who oversees the comiXology Originals program. "Fans are going to be blown away by the scope of Afterlift, which stretches through the byways of the afterlife, through hell, and beyond."
Afterlift centers on Janice Chen, who quits her job in finance and becomes a driver on a ride-sharing app. Her new job seems to suit her well enough, until one passenger enters Hell as their desired destination. The series will run for five issues and is set to release later this year in digital and physical forms.
"The upcoming publication of Afterlift marks a major turning point in the literary career of Chip Zdarsky, award-considered writer," said Zdarsky, in his usual humorous tone. "Someday soon an Afterlift trade paperback will sit on the shelves of libraries around the world, alongside dusty, leather bound tomes of John Milton's Paradise Lost and other books."
RELATED: SDCC: Disney Kicks Off Avengers We Love You 3000 Tour With Cosplay Event
"When Chip Zdarsky asked me if I wanted to be part of his next award-winning comic work, I was like 'HELL YES!' and he was like 'Exactly!' I didn't know what to say after that so he showed me the script and pointed out my pun," said Loo. "Anyway, I'm really excited to work on the most ambitious comic of both of our careers."
"This is our brave, unrelenting portrait of a modern Hell," said Zdarsky. "People will read it and ask themselves: 'Did they relent?' No, they did not. 'Were they brave?' Yeah, probably."
"Join us," said Loo. "In Hell."
Afterlift looks to bring Zdarsky's irreverent point of view and love of the absurd to the depths of Hell itself, with Jason Loo's art bringing the wild ride share to life. While a great many details are still unknown, including the comic's release date, Afterlife will add some color and insanity to the comiXology Originals line. It might even one day sit alongside some dusty tomes, as Zdarsky's heart of hearts desires.
Afterlift will be released both physically and digitally later this year. It will be available to read on release to members of comiXology Unlimited, Kindle Unlimited and Prime through Prime Reading at no additional cost. It will also be sold on Kindle and comiXology. A full color print edition will also be available, exclusive to Amazon.