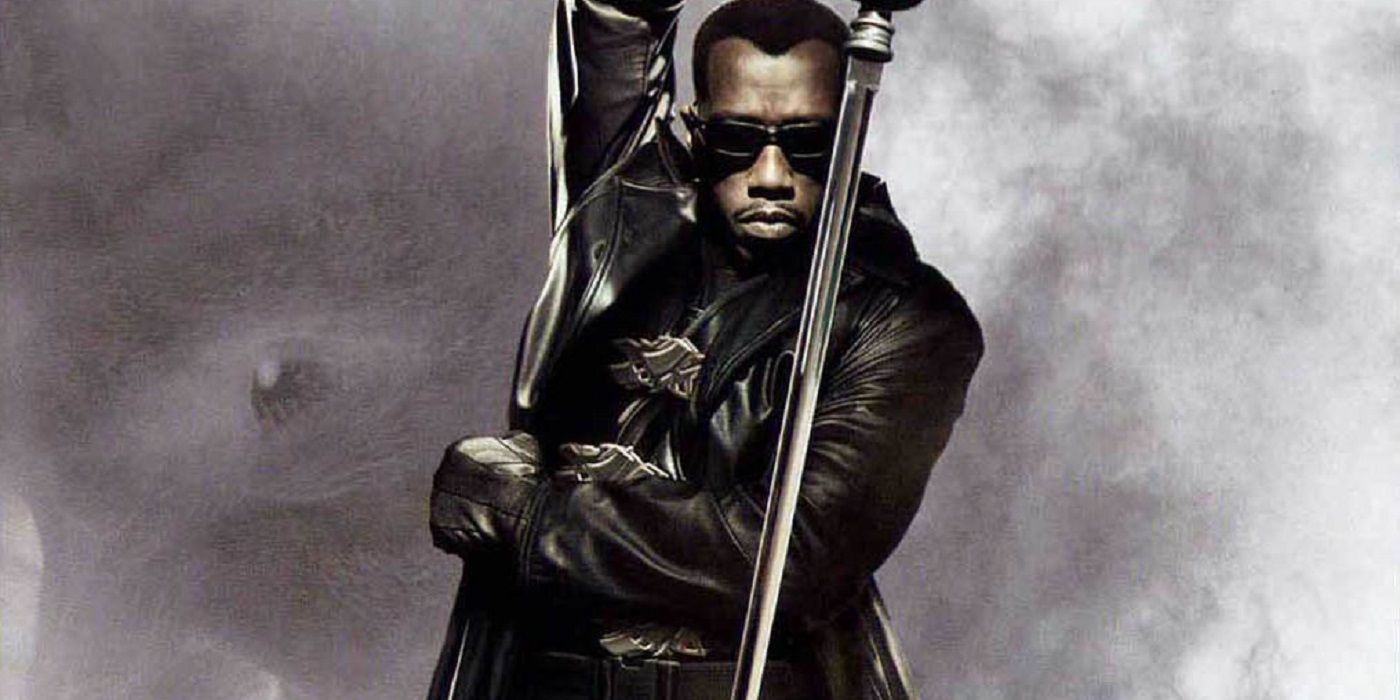 According to a new rumor, the vampire Blade could finally be returning to screens as a member of the Marvel Cinematic Universe thanks to Marvel's upcoming Hulu lineup.
Marvel's partnership with Hulu has taken a more supernatural turn as of late, with solo
Ghost Rider
and
Hellstrom
series
recently being announced
by the popular streaming service. Citing a "reliable source,"
MCU Cosmic
claims that the character Blade could be joining the proverbial monster mash alongside numerous other horror-centric Marvel characters.
That being said, it is not made clear whether Blade would be getting is own series or if he would simply be appearing in one of the other shows.
Naturally, nothing has been officially announced by Marvel or Hulu as of yet, so this rumor should be taken with a grain of salt, especially seeing as how rumors regarding Blade's MCU debut have surfaced before. However, it should be noted that
MCU Cosmic
previously reported
that Marvel had recently filed a new trademark for "Spirits of Vengeance," the name of a supernatural team from the comic books that features Ghost Rider (albeit not to same one who will star on Hulu), the Hellstrom siblings and, yes, Blade.
Of course, the character of Blade is well known for his trilogy of feature films that were released by New Line Cinema from 1998 to 2004 and starred Wesley Snipes as the titular vampire. After being acquired by Disney, Marvel began earnestly reacquiring the rights to their licensed characters for use in the MCU, starting with Blade in 2012. However, Marvel has yet to debut the Daywalker in their shared universe.
In 2013, Marvel Studios President Kevin Feige reaffirmed that Marvel had, in fact, reacquired the rights to Blade, confirming that the company had also locked down the rights to Ghost Rider and the Punisher, both of whom have gone on to become prominent members of Marvel's television roster.
Marvel's partnership with Hulu kicked off in late 2017 with the premiere of
Runaways
, which was
recently renewed
for a third season. Prior to announcing the
Ghost Rider
and
Hellstrom
shows, the streaming giant
also unveiled
a lineup of upcoming adult-oriented animated series that includes
Howard the Duck
,
M.O.D.O.K.
,
Tigra & Dazzler
and
Hit-Monkey
. It should also be noted that Disney
was revealed
to have taken full control of Hulu last month.
Will the Daywalker himself be joining this ever-growing lineup? Only time will tell.