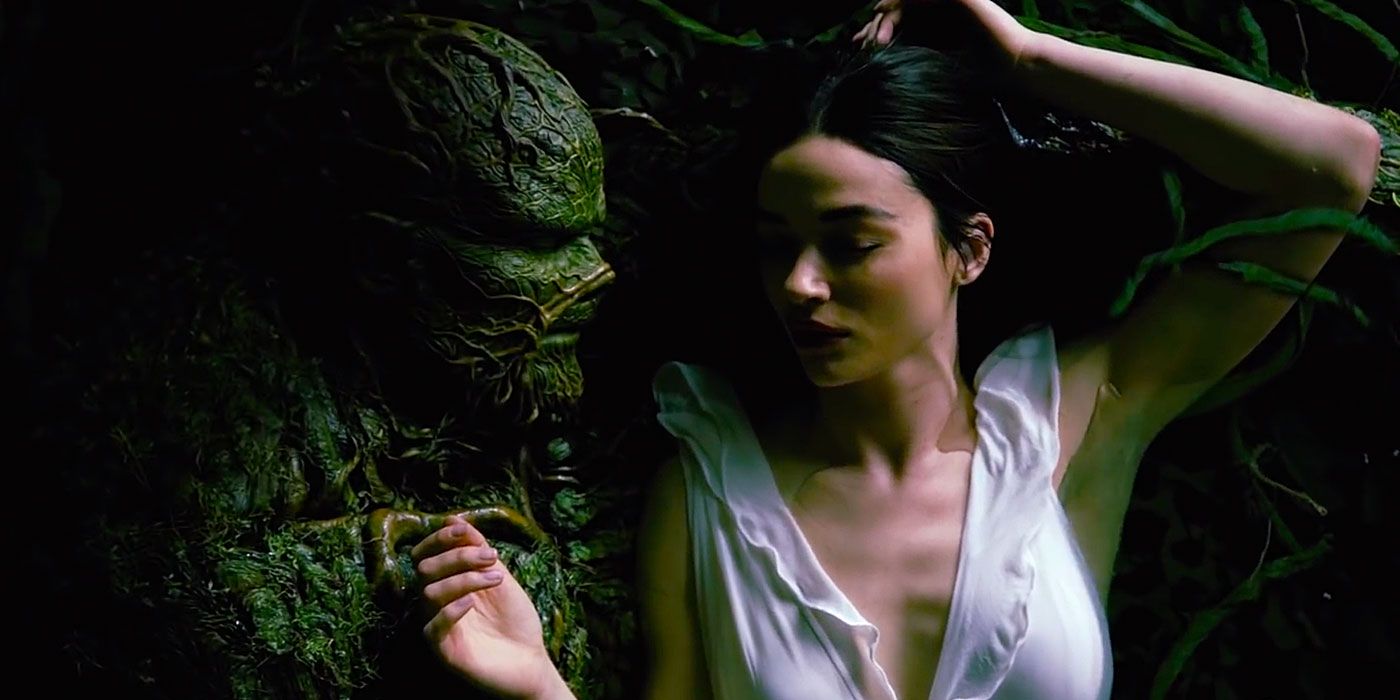 DC Universe hopes to bring a little horror to your summer with Swamp Thing, the streaming service's new series. The show finds Crystal Reed's Abby Arcane returning home to Marais when an infectious disease of unknown origin strikes the little Louisiana town. A CDC doctor, Abby aims to get to the bottom of this epidemic, only to find a major mystery and an enigmatic partner in scientist Alec Holland. However, she may be in for more than she bargained for when disaster strikes and a monstrous creature emerges from the swamp.
Speaking to CBR, Reed offered a little insight into her character and what separates Swamp Thing from the other genre projects she has starred in. She addressed the possibility of Abby realizing her superpowers, how the series explores her difficult history in Marais and why she is a "driving force" on the series. She also discussed the difference between working with Swamp Things actors Andy Bean and Derek Mears and her favorite scene from Season 1.
RELATED: How Swamp Thing Made Its Return to TV
CBR: Having starred in projects like Gotham and Teen Wolf, you're no stranger to the genre. What made your experience on Swamp Thing different?
Reed: I think the platform in which Swamp Thing is going to be streaming made this experience the most different to me, because it allowed for a lot more creative flexibility that I think I've never had before. We could do a lot of things on MTV, but it still was cable, so we had some constraints, but the fact that we kind of really go there in terms of our practical stunts and special effects and just our language made this feel like we were creating something very special.
In the comics, Abby has a few superpowers of her own. How does the TV series approach that?
That's a secret! Yeah, we haven't delved into that completely, and there might be some hints of that moving towards the end of the season, but I don't want to give too much away.
RELATED: Swamp Thing Trailer Unleashes DC Universe's Newest Beast
Abby clearly has a lot of history in Marais. How does the show continue to explore that?
Abby's coming home to Marais is a really big deal in her life and we will continue to see that evolve with her with the Sunderlands and also her relationship with Liz Tremayne -- I almost called her Maria [Sten] because she is Maria and she is also a very close friend to me -- and also to Matt Cable, so see all these things kind of evolve and, through the character's eyes, we get a glimpse of who Abby is and who she was.
One of the aspects I loved about the pilot was the way it showed just how capable Abby is. Tell me a little more about what we'll see from Abby as a doctor.
One of the things that was really important to me was that we need to believe wholeheartedly that this woman is a CDC doctor, not just a doctor -- that she is incredibly knowledgeable about infectious disease and that she also is -- which goes hand-in-hand with the fact that she is very caring and nurturing. I think that's great that we see a lot of that with her relationship with Susie Coyle. I think it was important that she is strong on her own and she can deal with things on her own and I think, as a woman today in the world, that was kind of a driving force and a through-line that I wanted her to have throughout the series.
RELATED: DC Universe's Swamp Thing Relishes in the Character's Horror Roots
You got to work with both Andy Bean and Derek Mears as Swamp Thing. How did that impact the way you played against the character?
It was really interesting and quite a lot of fun! Because Abby's initial contact with Swamp Thing in general was with Alec Holland and she falls in love with Alec Holland, it is he that she sees moving forward. So although she is seeing a man she thinks is this very green plant man, I think she is convinced that it is Alec Holland in a way... So I would be imagining the actor Andy Bean when I was working with Derek Mears, which is confusing and weird, but somehow it worked.
Can you tease your favorite moment or scene from Season 1?
Oh, I haven't thought about this! Episode 6. My favorite was -- I think it was episode 6 -- Maria [Sten] and I... we've become really close, and there was this episode where we were in this old concrete facility and it was very dark and had me in there and a lot going on. There were dead bodies everywhere. It was my favorite episode because we really, in between takes, were just having so much fun. We were playing Spice Girls and dancing and everyone thought we were complete lunatics, maniacs. We had way too much coffee. I think it really helped our performance, because we had to have that sort of levity and light aspect of ourselves in order to really go deep into the horror of these characters. So if I was going to pick a moment, it would be filming on that particular episode with her.
Premiering Friday, May 31 on DC Universe, Swamp Thing stars Crystal Reed, Andy Bean, Derek Mears, Jennifer Beals, Henderson Wade, Will Patton, Virginia Madsen, Jeryl Prescott, Henderson Wade and Kevin Durand. The series is executive produced by James Wan, Mark Verheiden, Gary Dauberman, Michael Clear and Len Wiseman.