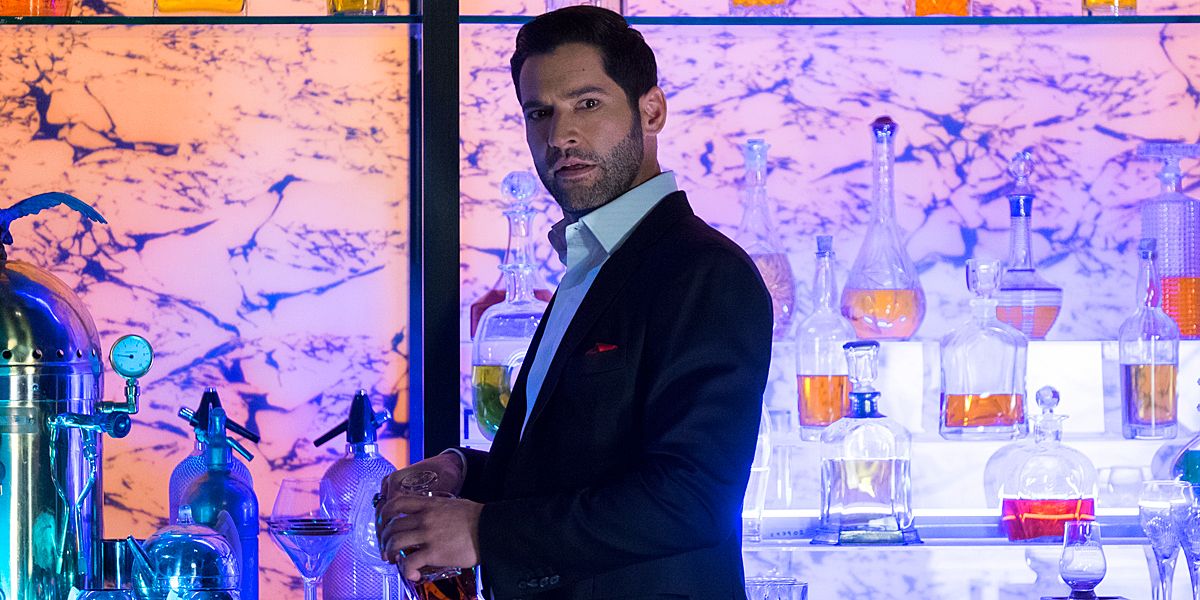 As far as mavericks and holy dissidents go, Lucifer Morningstar is the consummate nonconformist. Unlike the demon Mazikeen Smith, the fallen angel Samael (played by Tom Ellis) takes no pleasure in ruling Hell and punishing sinful humans. The Lightbringer spent 67 episodes rejecting the call of the underworld, only to return of his own volition during this season's gutting finale.
The show's fourth season introduced rogue demons to Los Angeles (no thanks to Inbar Lavi's disastrously guileless Eve), each hellbent on defying Lucifer and making angel baby Charlie (Linda and Amenadiel's newborn son) the new king of Hell. Realizing the underworld needs a ruler that can keep its demons at bay, Lucifer Morningstar decides to sacrifice his growing happiness to protect Earth, the city and the humans he has grown to love. God's young rebel, previously criticized for his (pun intended) devil may care attitude and fervent hedonism, has come a long way.
RELATED: Lucifer: Where Does the Season 4 Finale Leave Us?
The Prince of Darkness is not without options, though. The show's writers could just as easily pluck Lucifer out of Hell the same way he was replaced, by having a different celestial take over, but that would be too easy. Enter John Constantine, a fellow DC character and this universe's most capable demonologist and self-proclaimed master of the dark arts. The King of Hell needs a talented occultist to help contain stray demons. There's no better man out there than John Constantine.
Alan Moore's Constantine and Neil Gaiman's version of Lucifer have already met in the comics. This was heavily implied in Lucifer #5, where the World's Greatest Con-Man can be seen having a drink in Morningstar's nightclub, Lux, in the presence of several guests looking to meet the Devil himself. By his own admission, Constantine is there to simply survey the field, not ask Lucifer for any favors. Lucifer himself makes an appearance in Hellblazer #192 during Lucifer writer Mike Carey's 40-issue run. The two characters have also met in the movies during Keanu Reeves's stint as the Laughing Magician. Swedish actor Peter Stormare portrayed Lucifer Morningstar in the film.
RELATED: Lucifer: Eve Isn't the Villain You Expected
The illustrious owner of Lux has traded barbs and punches with demons, interacted with angels and fellow celestials and worked for (and against) stray souls and immortal humans, but he has never interacted with sorcerers or demon hunters, a supernatural connection that would come in handy right about now. Lucifer clearly needs a less constricted ally (with way more celestial freedom) that could survey the Earth for paranormal entities and send them packing back to Hell while he works any shift he desires, whether in Los Angeles or the underworld.
Having a demon hunter by his side would allow Lucifer to return to L.A. and see Chloe again without necessarily allowing Earth to fall to the demons. The souls of the sinful dead were doing just fine when Lucifer was out in the City of Angels kissing strangers and solving crime. It's only the demons that need reining in, which is where Constantine would come in. Similar to the Punisher's role in Season 2 of Marvel's Daredevil, the tough-talking Hellblazer from Liverpool could become Season 5's newest ally-antagonist, aiding Lucifer in his quest to tame the world's demons, while also heatedly butting heads on how best to deal with Earth's more supernatural problems.
RELATED: How Kevin Alejandro Went From Arrow's Brother Blood to Lucifer's Top Cop
Lucifer and Constantine have plenty in common: They both like a good drink (and a good shag) and are essentially antiheroes. Both are self-made men with sharp tongues, sardonically hilarious wit and a rebellious streak. They are each other's cigarette-puffing mirror, which is why a team-up would both be perfect and utterly catastrophic. They are too alike, and, as we have seen thus far from Lucifer's relationships with Cain/Marcus Pierce and Eve, this would play out disastrously. If the two hotheads don't work together, their pride would basically destroy Heaven, Hell and anything and everything that comes between them. At the same time, this could pave the way for some interesting banter between the two Englishmen, one Los Angeles clearly hasn't seen before.
Introducing John Constantine to the Netflix-Warner Bros. Television continuity of Lucifer would not only create fascinating tension, it would also expand on the lore and create a shared universe, potentially populated with characters throughout Justice League Dark's expansive comic book run. Constantine would just be the first foot in the door, and eventually other characters could show up, like Doctor Fate, Swamp Thing, Deadman or Zatanna. If actor Matt Ryan, who portrays John in both Legends of Tomorrow and the earlier Constantine, plays the exorcist in Lucifer, this would finally link the show to the Arrowverse continuity as well, perhaps as an alternate universe. The possibilities are both beautiful and endless.
RELATED: Lucifer Season 4 Finally Gives Amenadiel a Purpose
Given the season finale's rather dire ending, Lucifer Morningstar is going to need something radical and extreme to get him out of Hell while still being the good guy. And John Constantine might just be it.
Written by Joe Henderson and Ildy Modrovich, Lucifer's fourth season stars Tom Ellis as the Devil, Lauren German as Det. Chloe Decker, D.B. Woodside as Amenadiel, Rachael Harris as Dr. Linda Martin, Kevin Alejandro as Det. Dan Espinoza, Lesley-Ann Brandt as Mazikeen Smith, Aimee Garcia as Ella Lopez, and newcomer Inbar Lavi as Lucifer's ex and Adam's second wife Eve. The show is currently streaming on Netflix.