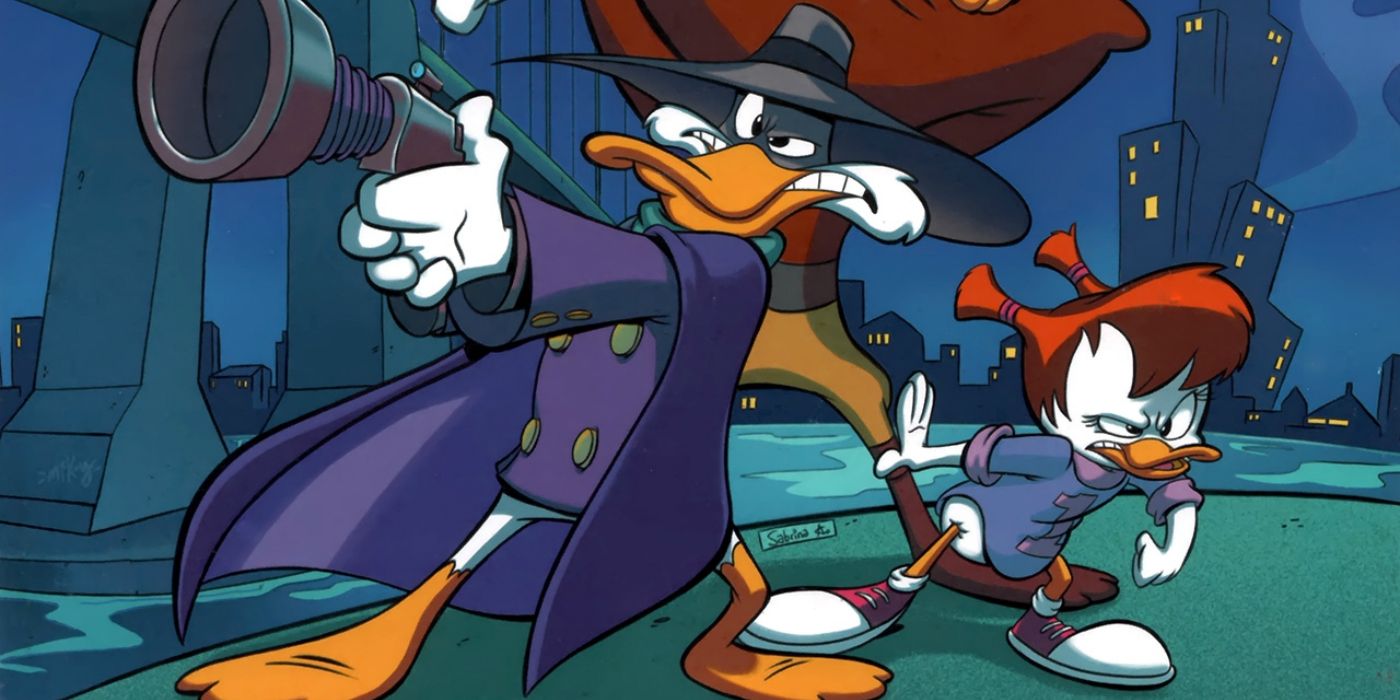 DuckTales will finally reintroduce a character with deep ties to the franchise, albeit with a few noticeable changes. Darkwing Duck is officially back to flap in the night.
Entertainment Weekly shared an exclusive clip of "The Duck Knight Returns!", this week's episode of DuckTales. In it, duck actor Jim Starling corners visionary director Alistair Boorswan (Edgar Wright) about a Hollywood reboot for Darkwing.
RELATED: Winnie the Pooh Actor Jim Cummings Claims Victory Over 'False Allegations'
Launchpad McQuack, a recurring character in both DuckTales and Darkwing Duck, also chimes in about his childhood love for the hero. In their world, Darkwing is a beloved superhero franchise with a devoted following.
Darkwing's creator Tad Stones features in a cameo in the episode as a security guard aptly named Tad, and he is elated to see the Terror That Flaps In The Night make his long-awaited comeback. "I'm a giant fan of the new DuckTales series and am super excited that they are building a universe that connects new versions of the Disney Afternoon shows, including Darkwing Duck," Stones shared.
"Matt [Youngberg] and Frank [Angones] took me through their ideas for Darkwing's presence in DuckTales and I am thrilled that they are keeping the heart of the character while building an even richer backstory. Darkwing couldn't be in better hands," he added.
RELATED: DuckTales Finally Reveals What Happened to Donald's Sister Della
Relaunched in 2017, DuckTales is produced by Matt Youngberg and Francisco Angones and stars the voices of David Tennant and Danny Pudi. The first DuckTales premiered in 1987 and ran for 100 episodes and four seasons. Darkwing Duck spun off from that in 1991.
"The Duck Knight Returns!" will air this Friday on the Disney Channel and DisneyNow, an on-demand app available on Roku and similar devices.