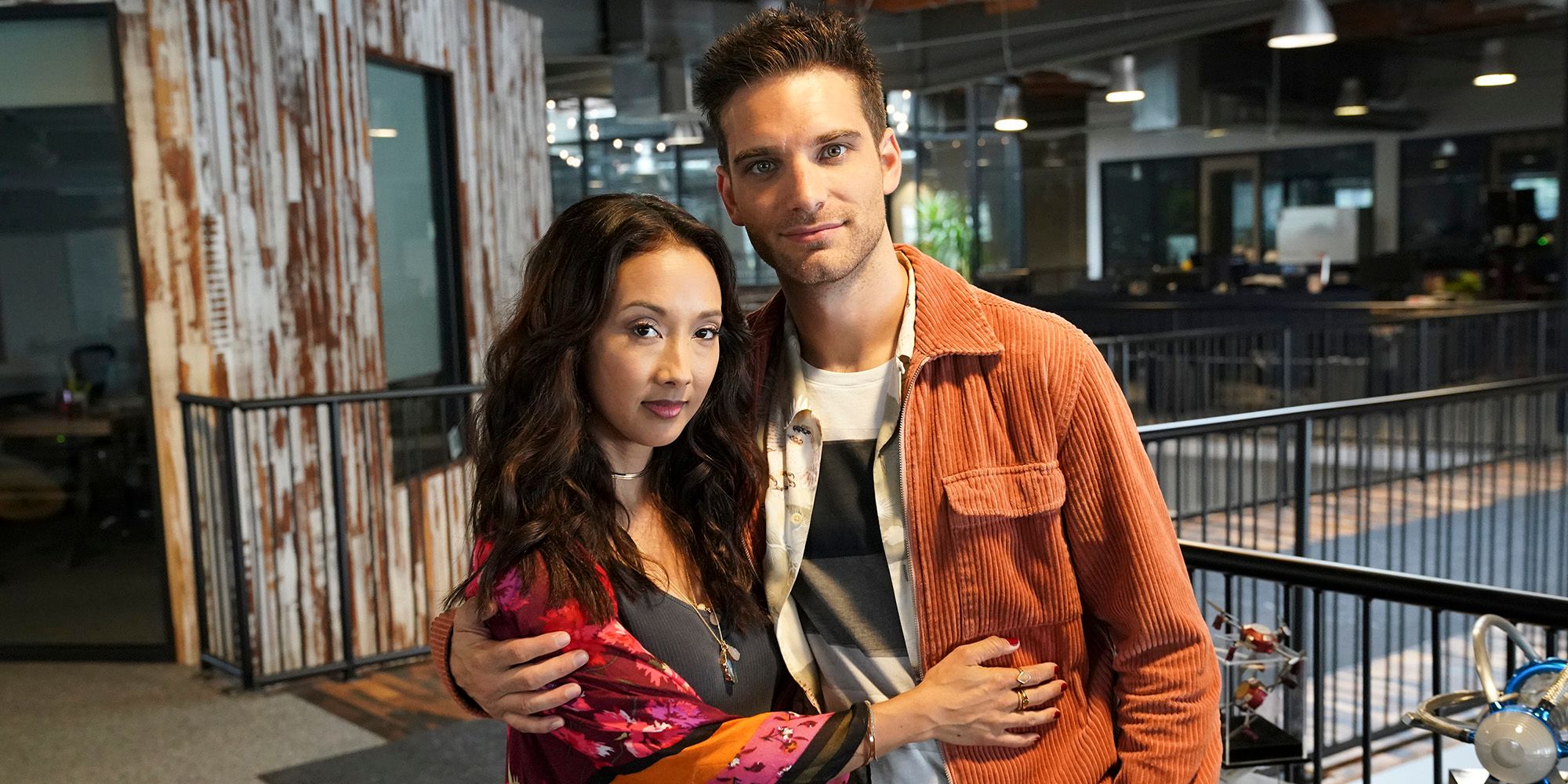 SPOILER WARNING: This article contains major spoilers for "Code Yellow," the latest episode of Agents of S.H.I.E.L.D.
Deke Shaw has got some explaining to do. In "Code Yellow," Agents of S.H.I.E.L.D. caught up with the wayward time traveler, revealing what he has been up to for the past year.
Last season, Leo Fitz and Jemma Simmons' grandson Deke traveled back in time from the year 2091 to our present in 2018. As Phil Coulson and his team geared up to face Graviton and stop the destruction of the planet, Deke went his own way to experience the world before it ended. S.H.I.E.L.D. successfully thwarted Graviton, preventing the cataclysmic event -- and averting the timeline in which Deke was born. With no future left to return to, Deke set out to make a life for himself in this brave new world.
RELATED: Agents of SHIELD's Deke Previews His Season 6 Return, New Girlfriend
"Deke is somebody that is really good at manipulating the world into doing favors and services for him, so I think he wants to go figure out if he can make this world work for him," Deke actor Jeff Ward explained in an interview with CBR. "I think he pretty quickly figures out that, in modern society, the universal language is money. So he's kind of like, 'Oh! Well, I can probably make a lot of money pretty easily.'"
And that he does. In the past year, Deke became an entrepreneur and founded a tech company with the hopes of turning the Framework into a gaming system. "A gaming system like the Framework, it's going to be a cash cow," he told his girlfriend Sequoia in the episode's opening sequence. "The revenue is going to be a launchpad for all my new initiatives, because Deke Shaw is not just about virtual reality. I want to change the world in real reality."
RELATED: Agents of SHIELD: Anthony Michael Hall's Character Revealed
From there, he listed off a few of his plans for the company -- and his plans might sound a little familiar. For instance, he pitched the idea of "mushroom pellets" to end world hunger, an idea he picked up from the Kree when he lived in the Lighthouse in 2091. His projects also included gravity belt technology, based off a device he used in his own timeline, and "a prosthetic hand that has its own energy shield," much like Coulson's fake hand.
When confronted with Sarge, who he believed to be Coulson, Deke immediately went on the defensive: "This stuff is all just inspiration for the game," he insisted. "Our actual mission lies in the corporate social responsibility movement." After he realized Sarge wasn't Coulson, Deke dropped all pretense: "If you're upset that I borrowed a few ideas from S.H.I.E.L.D., it's not like they didn't steal half that stuff from aliens."
RELATED: Why Agents of SHIELD's New Threat Is Targeting Fitz
Of course, S.H.I.E.L.D. kept an eye on Deke the whole time. In fact, his friend Trevor turned out to be an undercover agent. "Did you really think we were going to let you rip off all our tech?" he asked, but Deke was more upset that Trevor lied about being his friend. Nevertheless, S.H.I.E.L.D. was unaware of just how far along Deke was in his development process -- a fact Mack seemed none too pleased about when he discovered Deke's R&D department.
The episode also provided a little more insight into what Sarge wants. After an attempt to kill Deke, Sarge explained why he was a target: "You're not from here and you shouldn't be here, so I've got to take you and make you sing... I've been hunting your kind my entire life and let me tell you, there's no use hiding in this world or the next. We'll always find you."
RELATED: Agents of SHIELD Reveals Where Fitz Has Been All Along
By saying "in this world or the next," Sarge suggests he is from a parallel universe. He may be under the impression that Deke has hopped from one universe to another, when Deke is actually from an alternate timeline -- a similar, but separate concept. In this, Sarge is much like the hunter chromicon from last week's episode; this chromicon hunted and captured Fitz for "tampering with the universe" and "existing out of time" since he technically died in the Season 5 finale.
Marvel's Agents of S.H.I.E.L.D. airs Fridays at 8 pm ET/PT on ABC. The series stars Ming-Na Wen, Chloe Bennet, Henry Simmons, Iain De Caestecker, Natalia Cordova-Buckley, Elizabeth Henstridge and Clark Gregg.