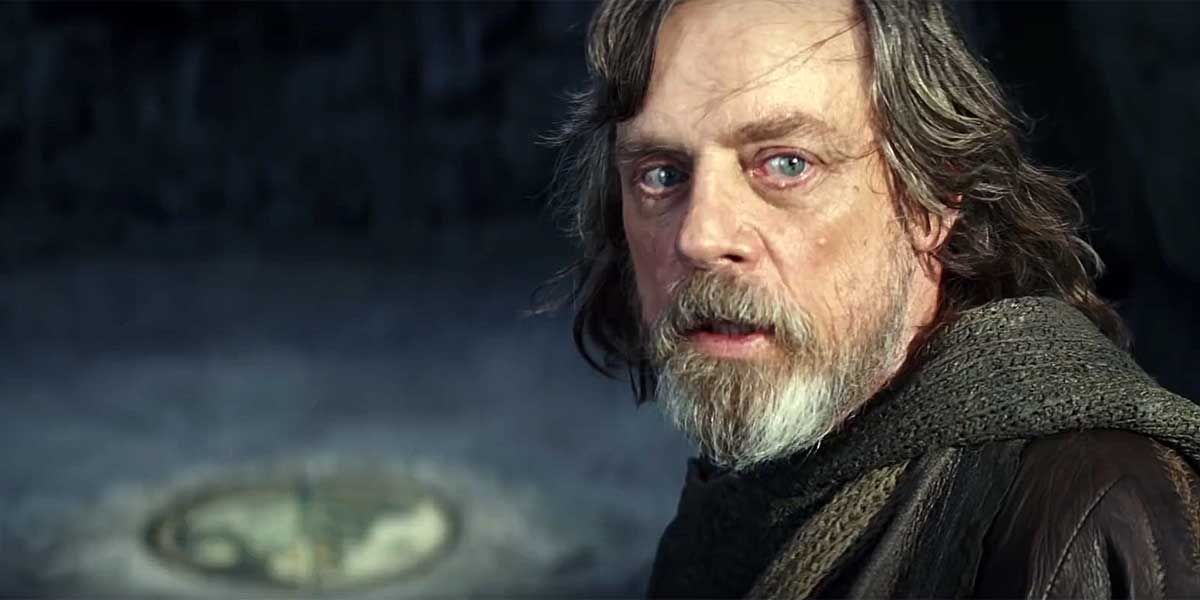 Mark Hamill recently had a chance to revisit his feelings on reprising his role as Luke Skywalker in Star Wars: The Last Jedi. Hamill discussed his presence in the latest Star Wars film during an interview about the History Channel series Knightfall, in which he plays Templar master Talus.
Hamill first discussed his shock at how Harrison Ford's Han Solo departed the Star Wars franchise.
"I just thought, Luke's never going to see his best friend again," said Hamill in an interview with Den of Geek. "You look at it in a self-centered way."
Hamill was also unhappy with his reunion with C-3PO, in which Skywalker at first didn't even acknowledge his former droid sidekick.
"They had me walking by 3PO, not even acknowledging him," said Hamill. "I said: 'I can't do that!' He (The Last Jedi's director, Rian Johnson) said, 'Okay, go over and do whatever.' So I went over, and I did whatever. They say it in the script: 'Forget the past, kill it if you have to,' and they're doing a pretty good job!"
RELATED: Can Star Wars Fans Possibly Feel 'Satisfied' With Episode IX?
Hamill also agreed with a statement Disney CEO Bob Iger gave to The Hollywood Reporter back in 2018 that the release schedule for the Star Wars films were "too densely packed," only allowing for a five-month gap between Star Wars: The Last Jedi and Solo: A Star Wars Story.
Although there were some thoughts as to the fate of Luke Skywalker, Hamill said that his character was, in fact, killed off.
"I thought: Oh, okay, you should push my death off to the last one," said Hamill. "That's what I was hoping when I came back: No cameos and a run-of-the-trilogy contract."
Hamill also said that The Last Jedi will probably be the last time audiences see Luke, Han and Leia sharing a screen together, and that after The Last Jedi Hamill would "probably never get to work with Harrison again."
RELATED: Rian Johnson's Star Wars Trilogy Reportedly Gets a Production Name
With the yet-to-be-titled Star Wars: Episode IX coming out in December 2019, Hamill assured fans of Carrie Fisher that she would be a presence in the upcoming film.
"Harrison was more prominent in the first of the sequels, then I was more prominent, and Carrie was meant to be more prominent in the third," said Hamill. "I'm glad they found a way to do that."
Hamill may have opinions on the franchise and his role in it, but he said he is still grateful for the opportunity to revisit Luke Skywalker after a 34-year gap between Return of the Jedi and The Last Jedi.
"I never expected to come back," said Hamill. "We had a beginning, a middle and an end. That's what I said: Why mess with it? It's not something that worries me, because it's all about the new generation, as it should be."
RELATED: Star Wars: The Last Jedi's Mark Hamill Reveals His Favorite Scene
Star Wars and Mark Hamill will always have a connection to each other, but Hamill was excited to take on something new with the role of Talus in Knightfall.
"The material you do in one day is much greater than what you do in film, and occasionally, I'll say, 'We're doing both those scenes on Wednesday?'" Said Hamill. "Because just that scene in the morning would take a day, two days, in a feature film."
Starring Tom Cullen, History Channel's Knightfall tells the story of the mysterious Knights Templar, the most powerful military order of the Middle Ages, entrusted with protecting Christianity during one of the world's most tumultuous eras. The second season for Knightfall launches Mar. 25, 2019.