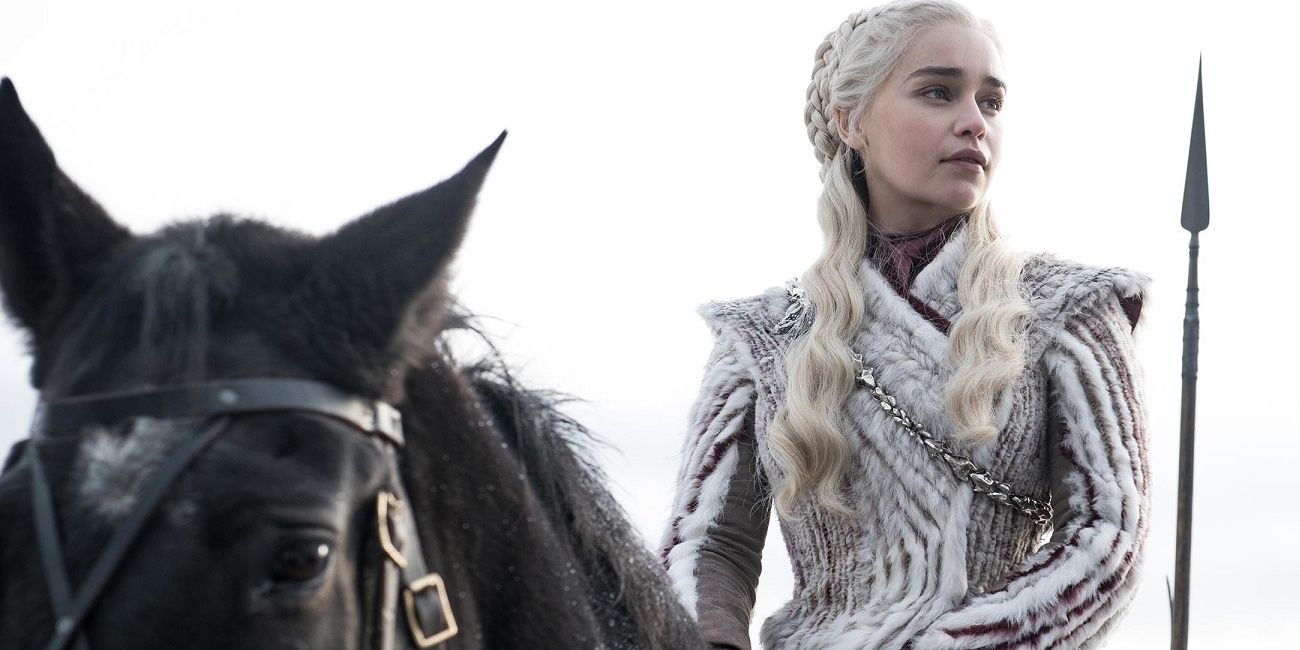 The final season of Game of Thrones is almost upon us. In little more than month, fans will once again travel to Westeros and witness the final confrontation between the series' beloved heroes, its despised villains and, worst of all, the frightening White Walkers. It's a showdown that has been eight years in the making, and one that fans have incredibly high expectations for.
Previously, it was said that the final season of the HBO series would feature a climactic battle that would put the famed, Emmy-winning "Battle of the Bastards" to shame. Now, Entertainment Weekly reports that this upcoming battle sequence may not just be the biggest of the series, but the largest in cinematic history also.
RELATED: Game of Thrones Season 8 Poster May Hide a Fatal Link to Season 1
Following a set visit during the battle sequence's filming, EW wrote: "The episode is expected to be the longest consecutive battle sequence ever committed to film, and brings the largest number of GoT major characters together since the show's debut episode in 2011."
The article goes on to confirm that this battle, which took 11 weeks of night shoots to film, takes place at the Stark's homestead of Winterfell, where characters such as Jon Snow, Arya Stark, Danaerys Targaryen and Brienne of Tarth will all take part in the battle against the Night King and his army of the undead.
"What we have asked the production team and crew to do this year truly has never been done in television or in a movie," co-executive producer Bryan Cogman said. "This final face-off between the Army of the Dead and the army of the living is completely unprecedented and relentless and a mixture of genres even within the battle. There are sequences built within sequences built within sequences. David and Dan [wrote] an amazing puzzle and Miguel came in and took it apart and put it together again. It's been exhausting but I think it will blow everybody away."
The highly-anticipated episode was directed by Miguel Sapochnik, who previously helmed fan-favorite episodes "Hardhome" and "Battle of the Bastards."
RELATED: Forget Winter, Game of Thrones Oreos Are Coming
Season 8 of Game of Thrones, the show's final season, will premiere April 14. It will feature six episodes with longer than usual runtimes. The HBO drama stars Peter Dinklage as Tyrion Lannister, Nikolaj Coster-Waldau as Jaime Lannister, Lena Headey as Cersei Lannister, Emilia Clarke as Daenerys Targaryen, Sophie Turner as Sansa Stark, Maisie Williams as Arya Stark and Kit Harington as Jon Snow.