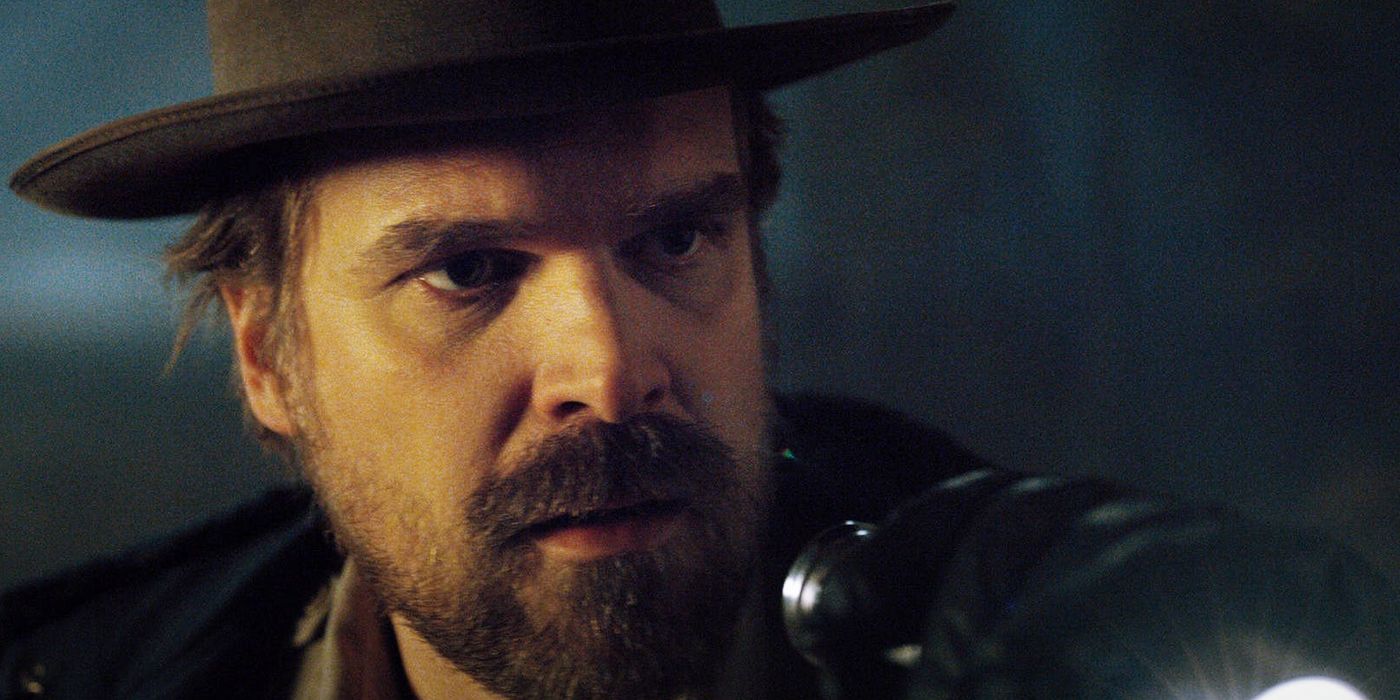 In the world of Stranger Things, Hawkins, Indiana is full of mysteries. And now, Stranger Things: Darkness on the Edge of Town, a new novel from writer Adam Christopher, will dive deep into the official history of Hawkins' top cop, Chief Jim Hopper, who's portrayed on the series by David Harbour.
Christopher made his name writing quirky and unique sci-fi novels and discussed diving into world of one of Netflix's most successful original series.
RELATED: Stranger Things Star Natalia Dyer Says Season 3 Is Bigger and Darker
"This was a dream project and the book was a joy to write – I'm a huge fan of the show, and Hawkins police chief Jim Hopper is my favourite character," Christopher wrote on his blog. "Digging into his past in NYC was a real blast, and I hope readers have as much fun reading about his bizarre 1977 adventure as I did writing it."
The NXonNetflix Twitter confirmed the news, unveiled the book's cover and revealed a little more about the story. It appears that Eleven will get "curious about unanswered questions" and Hopper will have to revisit some "long-buried secrets."
RELATED: Stranger Things 3 Teasers Ignite Frantic Fan Theories
Christopher's website has the full synopsis of the Stranger Things prequel novel. As Hopper and Eleven get ready to celebrate Christmas, she finds a cardboard box marked "New York" and wants to know why he left New York, what "Vietnam" means and why he has never talked about it before.
The book will chronicle his post-Vietnam War experiences with hi swife and child and as an NYPD detective. After the feds show up and take away numerous files on unsolved murders, Hopper will go undercover to discover the truth in what turns out to be his last case before everything in his life changes.
Christopher also wrote the Ray Electromatic series, which has a robot detective solving crimes in a world not that different from Raymond Chandler and Dashiell Hammett.
Stranger Things: Darkness on the Edge of Town comes out on June 4 by author Adam Christopher.
Created by the Duffer Brothers, Stranger Things stars Winona Ryder, David Harbour, Finn Wolfhard, Millie Bobby Brown, Gaten Matarazzo, Caleb McLaughlin, Noah Schnapp, Natalie Dyer, Charlie Heaton, Joe Keery, Priah Ferguson, Cary Elwes, Jake Busey and Maya Thurman-Hawke. Season 3 will debut on Netflix on July 4.