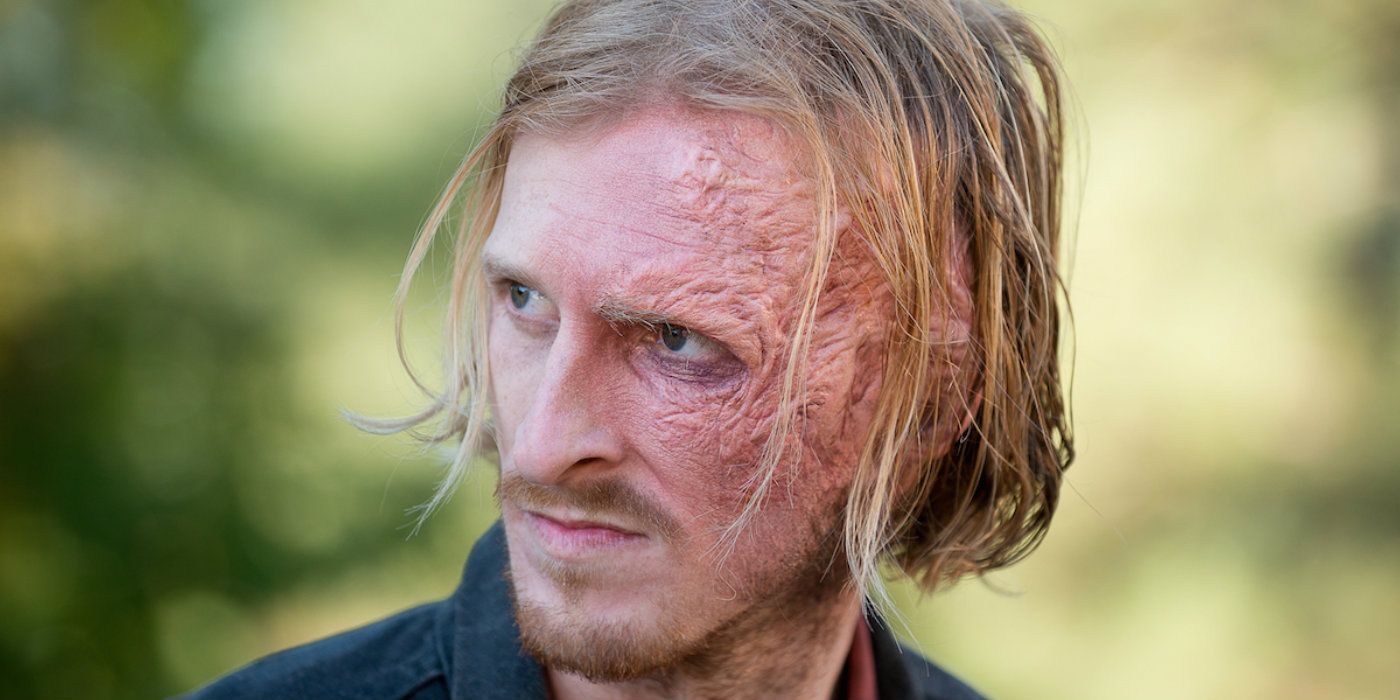 AMC's worlds of The Walking Dead and Fear The Walking Dead are reportedly set to collide once more as Austin Amelio's Dwight becomes the second character to cross over into the spinoff series.
Joining The Walking Dead in 2015, Amelio played the scar-faced Dwight until the end of Season 8, when he was last seen heading in search of his girlfriend. Despite two major time jumps on The Walking Dead, Amelio recently sparked rumors of his return when he confirmed Dwight is still out there somewhere.
RELATED: Walking Dead's Expanded Universe May Save the Ailing Franchise
According to ComicBook, multiple sources have confirmed that Dwight will be swapping the Alexandria Safe-Zone for Texas when he joins Fear The Walking Dead in Season 5. Alongside Lennie James' Morgan Jones, Dwight is the next main character to jump shows and join the sister series.
Fear The Walking Dead has risen in popularity over the years and seen a big resurgence with Season 4. That being said, having lost original characters Nick (Frank Dillane) and Madison (Kim Dickens), Fear The Walking Dead has had something of a soft reboot. Thankfully, with Jones stepping up as the new lead and additions like Garret Dillahunt and Maggie Grace, Amelio should be in good company.
Despite Fear The Walking Dead having its own time jump to bring Morgan on board, the series is currently running around eight years behind the main show thanks to The Walking Dead's recent leap into the future. Interestingly, Fear The Walking Dead's current timeline matches up with the end of the "All Out War" chapter of the main show and Dwight's exile by Daryl Dixon.
RELATED: The Walking Dead: Remembering Those Lost in 2018
Speaking at last year's Comic-Con International in San Diego, former The Walking Dead showrunner Scott Gimple said that even a complicated timeline didn't mean the network's shared zombie universe was done with crossovers. Gimple has been promoted to chief content officer of the franchise and will oversee all projects under the Dead umbrella.
With news of Andrew Lincoln leading his own Rick Grimes-centric movies, Gimple's world is getting bigger by the day. Whether Fear is facing another jump or Dwight will help to fill in some of the gaps remains to be seen, but rest assured that the former Savior will have his own story to tell.