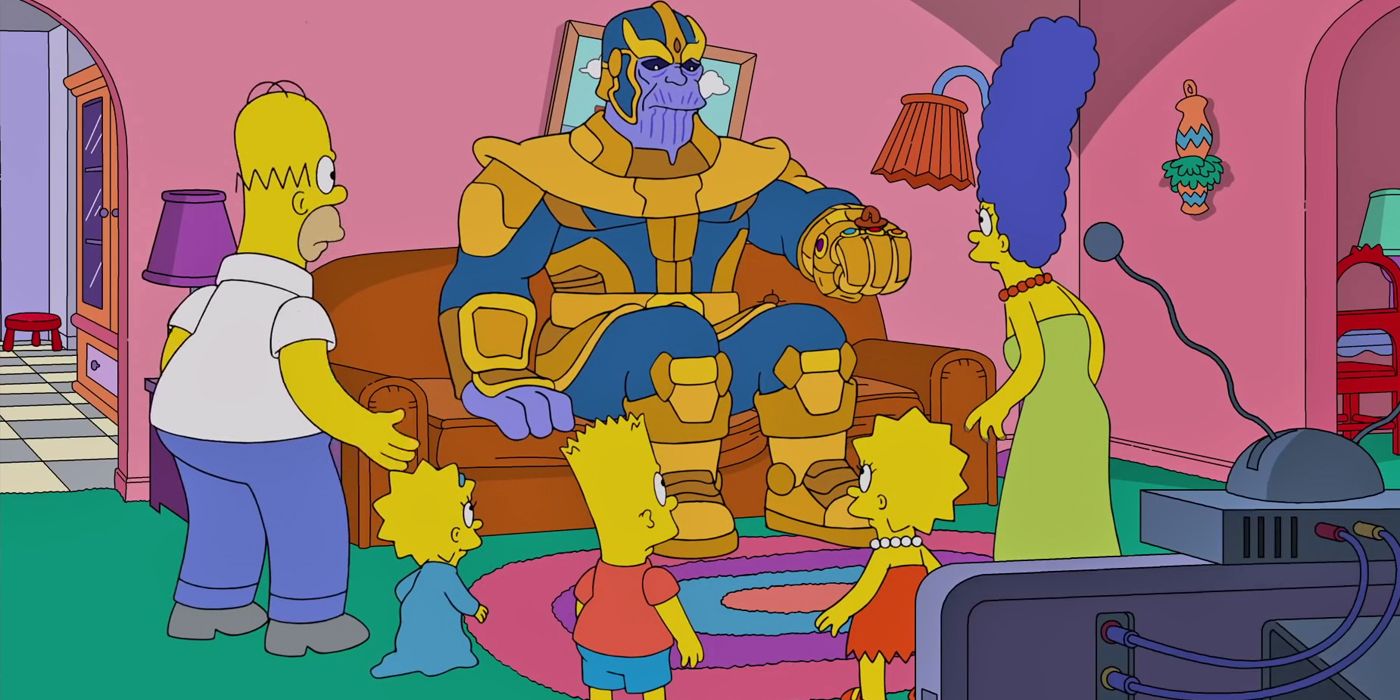 While Thanos might've wiped out half of the life in the Marvel Cinematic Universe in Avengers: Infinity War, he turns his attention to Springfield in a new episode of The Simpsons.
On the "couch gag" that opened last night's new episode, Thanos completes the Infinity Gauntlet by taking Maggie's pacifier and snaps his fingers to wipe out almost all of the Simpsons family.
RELATED: Thanos Limited Series Explores His Early Relationship With Gamora
While Homer, Marge, Bart and Lisa turned into ash, Maggie survives Thanos' snap and sits down next to the Mad Titan on the family couch. Even though the scene is short, it's not hard to imagine Thanos raising Maggie to become some kind of Gamora-esque assassin. After all, she already shot Mr. Burns.
Given the relatively limited scope of the scene, there's no telling if Grandpa Simpson, Ned Flanders or any of Springfield's many other residents survived Thanos' attack. Comic Book Guy's fate is also left uncertain, but he would likely call getting snapped away by Thanos the "Best. Death. Ever."
While the Marvel Universe has all of the Avengers to fight Thanos, Radioactive Man and Fallout Boy would probably have to deal with Thanos on their own in the world of Springfield.
RELATED: Simpsons Comics to End After 25 Years, Bongo's Future Unclear
Thanos will probably make his next appearance in Avengers: Endgame., which will premiere on April 26. Directed by Joe and Anthony Russo, the film stars Robert Downey Jr., Josh Brolin, Mark Ruffalo, Tom Hiddleston, Chris Evans, Chris Hemsworth, Jeremy Renner, Chris Pratt, Elizabeth Olsen, Chadwick Boseman, Sebastian Stan, Benedict Cumberbatch, Paul Bettany, Samuel L. Jackson, Cobie Smulders, Benedict Wong, Zoe Saldana, Karen Gillan, Vin Diesel, Dave Bautista, Pom Klementieff, Scarlett Johansson, Tom Holland and Anthony Mackie.
The Simpsons is currently in Season 30 and airs new episodes weekly on Fox.