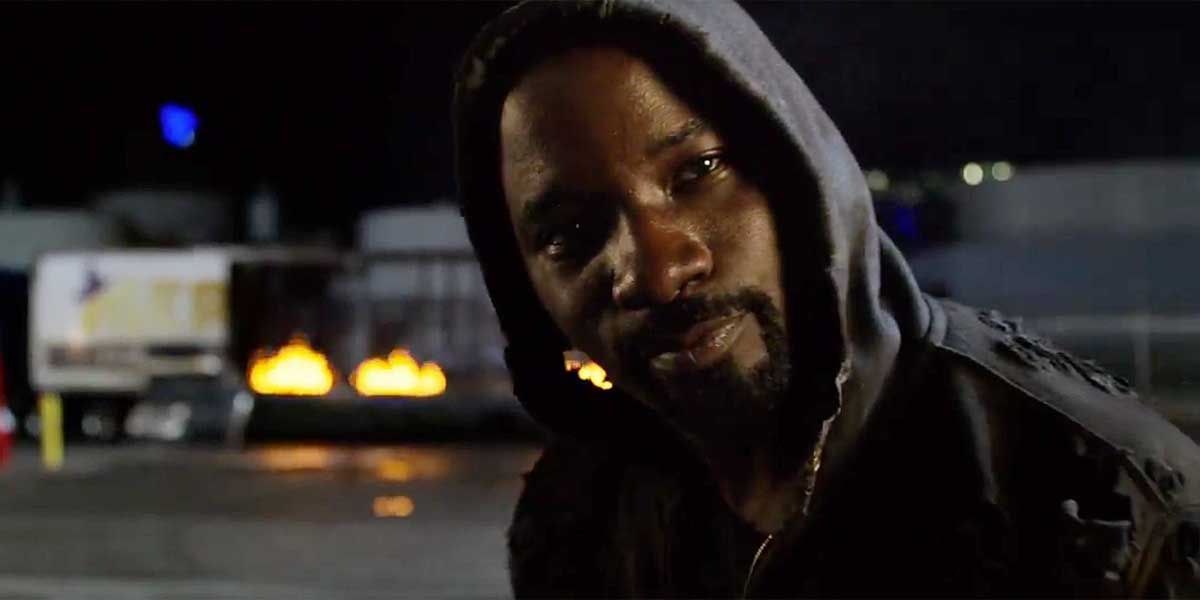 Mike Colter, who played the titular hero on Marvel's Luke Cage, has given his take on what it was like leading up to the Netflix series' shocking cancellation this past October, as well as whether the show, or at least the character, will be returning to Marvel's lineup down the line.
While the actor was surprised by Luke Cage's cancellation, hindsight is 20/20. And Colter does recall the red flags before the announcement was officially made.
RELATED: Mike Colter 'Forever Grateful' For His Time As Luke Cage
"It was bittersweet," Colter said in an interview with ComicBook.com. "It kinda did catch me off guard. I don't think I was as shocked as most people were because I was a little closer it."
"There were some things, some telltale signs, that were not quite feeling right for me," he continued. "Although we had an internal pick up, amongst a certain amount of people who were close to the project, and we were moving forward with the writing and writing the group writers room, et cetera. There was a lot of stalling. There was a lot of things that didn't feel quite right. Then, deadlines. One deadline would come and it would go. Another deadline would come, it would go."
In turn, Colter was thoroughly braced for impact when it finally came to light that Netflix had decided not to renew the series for a third season.
"There were some things that started to feel a little odd. So, when it happened, I was like, 'Eh.' It wasn't that much of a shock. But yeah, still shock."
RELATED: Marvel's Canceled Netflix Properties Likely to Remain in Limbo for 2 Years
In the wake of Luke Cage's cancellation, fans took to social media calling for the series, or at least Colter's character himself, to be brought back. Most notably, speculation surrounding a possible Heroes for Hire series began, seeing as how Luke Cage was canceled mere days after Iron Fist suffered the same fate.
While Colter is grateful for the outpouring of support from fans, he also suggests that the matter is, unfortunately, largely out of their hands. However, he also remains hopeful that there may be more in store for Power Man down the line.
"I don't know that it's something fans can do, necessarily," he admitted. "I think it's a real network/studio thing. I think it'll resolve itself, one way or the other. There just needs to be some time. Maybe I'm wrong. Maybe that's it. But I don't think the fans... as much as the fans -- the outpouring of the fans is very touching and well received and it'd be appreciated -- I don't think it's gonna make anything happen, but it's nice to know that. I think, ultimately, if it comes back, it'll probably come back because of the fans demand for it."
"I don't think their work is going in vain. It just may not happen as soon as they want it to."
RELATED: Luke Cage: Mike Colter Teases Possible Return on Jessica Jones
Colter got his start as Luke Cage in Season 1 of Jessica Jones, which is now one of only two Marvel Netflix Originals left standing (the other being The Punisher) following the cancellations of Iron Fist, Luke Cage and Daredevil, as well as the fact that The Defenders was apparently always meant to be a one-shot.
Streaming now on Netflix, Marvel's Luke Cage Season 2 stars Mike Colter, Simone Missick, Alfre Woodard, Theo Rossi, Mustafa Shakir, Gabrielle Dennis, Rosario Dawson, and Reg E. Cathey.