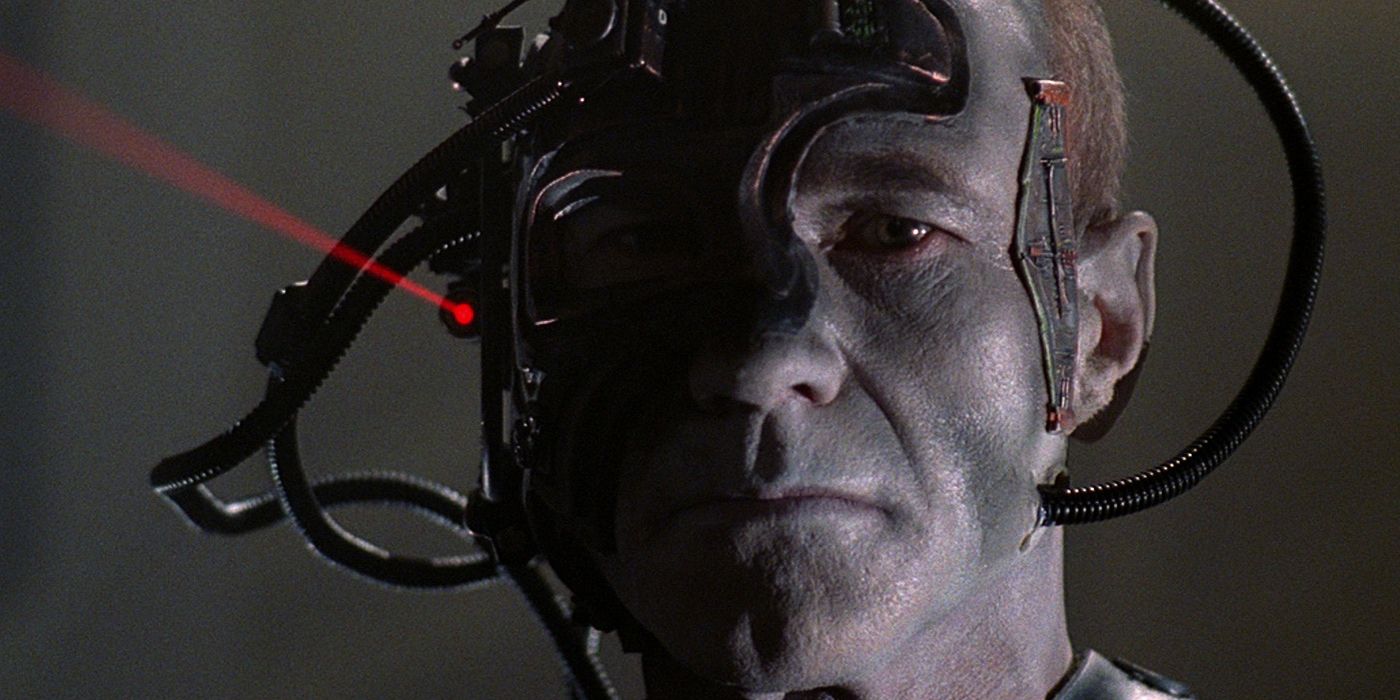 Ranking every season is a task bigger than V'Ger itself! How the heck did we do it? Besides being huge fans and watching countless hours of Star Trek (remember, there's been over 50 years of Star Trek!) we took into account a few things. First of all, we have the benefit of hindsight. Some episodes, perhaps when they first aired, were good, but over time matured like a Chateau Picard wine. Other episodes feel somewhat dated and haven't survived the test of time. Other episodes were never that great to begin with! Star Trek: Discovery premieres January 2019, and not counting the show's second season, there have been a total of 31 seasons of Star Trek and its spinoffs, including the Animated Series! We also made giant charts and ranked seasons based on how many "good" versus "bad" episodes it had. We also flipped a lot of coins.
In general, the lower end of the list contains the early seasons of the shows. Star Trek, like any television show, needed to take time to figure out its voice and its characters, so expect a lot of season ones and twos to start us off. Our list isn't perfect, and before you start firing photon torpedoes at us, we hope that you'll use your inner Counselor Troi to discuss differences in opinion. Then again, this is the internet, so we've already booted up our advanced ablative armor and metaphasic shielding in case we've offended any readers with our choices. Tell us what you think we got right, what we got wrong, and what your favorite episodes are from each season. Let's boldly go where no list has gone before and see which Treks are the best!
31

STAR TREK: THE NEXT GENERATION SEASON 1

Now that over thirty years have passed since the series premiere "Encounter at Farpoint" we can say this out loud: season 1 was bad. Roddenberry borrowed heavily from his Phase II concepts and behind the scenes he was rumored to be a terror to work with. Episodes like "The Naked Now" felt like a retelling of classic Trek. Even Q initially felt like Trelane from "The Squire of Gothos."

Although known for their camaraderie, Roddenberry wanted less an ensemble show and more focus on Picard, Riker and Data, prompting Denise Crosby to leave at the end of the first season. What did the first season have that people couldn't deny? Potential!
30

STAR TREK: VOYAGER SEASON 1

Voyager was plagued with problems from the start. The role of Captain Janeway was recast while filming was occurring, and due to the reshoots the pilot episode of the series actually cost more than Star Trek II: The Wrath of Khan. People also initially thought USS Voyager looked like a flying toilet.

The idea of Maquis rebels forced to join a Federation crew had potential for drama and conflict on the Bridge. Something that would never happen in Next Generation. Unfortunately it never happened here, and Voyager's main adversary were the Kazon, a lame version of the Klingons. Not a great way to start the series.
29

STAR TREK: THE ORIGINAL SERIES SEASON 3

The good news is that a fan letter campaign made sure there would be a third season of Star Trek. The bad news is fans were thanked with such episodes as "Spock's Brain" and "The Way to Eden." Oddly enough, there were no episodes with Harry Mudd.

Granted, there were some pretty darn good episodes, such as "Let That Be Your Last Battlefield" and "The Tholian Web." Despite some solid episodes and a second letter-writing campaign, budget cuts and a move to a 10pm Friday time slot bid adieu to the crew of the Enterprise.
28

STAR TREK: THE NEXT GENERATION SEASON 2

Star Trek: The Next Generation survived its first season, and attempts at a strong sophomore season hit tons of snags. The 1988 Writers Guild of America strike forced the production of an unused script ("The Child") as well as a shorter season and a clip show!

A new doctor was introduced, so tensions between Picard and Crusher were quickly dismissed. Literary fans were surprised to see Professor Moriarty introduced as a character. Besides the return of Q, we do get introduced to possibly the greatest Star Trek villains of all time: The Borg!
27

STAR TREK: ENTERPRISE SEASON 1

People were certainly shocked when they heard the follow up television show to Voyager would be a prequel, but fans were eager to see stories leading up to the birth of the Federation. What people got were strange continuity errors and technology that was oddly both more and less advanced than The Original Series.

Despite a plotline involving a Temporal Cold War, fans had to endure Captain Archer shuffling through space at Warp 5. No phasers, photon torpedoes, tractor beams and people were deathly afraid of using the transporter. Off to a good start!
26

STAR TREK: DEEP SPACE NINE SEASON 1

Don't get us wrong, Deep Space Nine had some pretty stellar moments in its first season. Introducing a space station by a stable wormhole created moments for reoccurring characters and longer plotlines.

The first season faced two big issues. One issue was dealing with such a radical shift in tone. Initially people found the first season too dark to be Trek. Also it faced criticism for similarities to Babylon 5. After a few seasons, both shows would be distinctly different from the other.
25

STAR TREK: VOYAGER SEASON 2

Voyager definitely made some improvements in the second season. Besides the painful Kazon, Voyager also had multiple encounters with the organ-stealing Vidiians and Q even makes an appearance. However, there were some very infamous lead balloons with this season.

The biggest dud was probably "Threshold" an episode that is almost as universally hated as Next Generation's "Code of Honor." What's more exciting than breaking the warp 10 barrier? Apparently turning into a salamander. A plotline involving the murderous Lon Suder would pay off later, as well as a plotline with the Cardassian spy named Seska.
24

STAR TREK: THE ANIMATED SERIES SEASON 2

Of course we put the Animated Series in here! Unfortunately, due to licensing, the Animated Series is debatably no longer in canon with everything else, but even the Star Trek 2009 reboot has references to the show.

The animation is definitely limited by today's standards, but the idea of an animated Star Trek makes perfect sense, since concerns over budget and scope would be very different. Although only two seasons long, we were given some memorable moments. The show was actually 22 episodes broken up unevenly into two seasons, with season 2 only being six episodes.
23

STAR TREK: THE ANIMATED SERIES SEASON 1

Just like any first season of Star Trek, the show had its own problems. Due to budget, producers weren't going to hire Nichelle Nichols and George Takei. Leonard Nimoy refused to sign on unless they were included and although they were added, Walter Koenig was not in the cast.

In the first season, the show went back to the well and had the return of Mudd as well as tribbles. Episodes like "Yesteryear" allowed us to see Spock as a child. "The Magicks of Megas-tu" also had the Enterprise explore the center of the galaxy. In "The Lorelei Signal" Uhura got to take command!
22

STAR TREK: THE NEXT GENERATION SEASON 7

All good things must come to an end, and the Next Generation ended with this season while simultaneously prepping to make Star Trek Generations. Being so busy might explain why some of the episodes like "Sub Rosa" "Masks" and "Dark Page" didn't hit home. We do get the return of Wesley!

Besides the amazing series finale "All Good Things..." we also had the underrated two part episode "Gambit" in which Data takes command of the Enterprise and has to scold Worf for being a bad First Officer. There were some amazing episodes in an otherwise very uneven season.
21

STAR TREK: DEEP SPACE NINE SEASON 4

This season starts off with probably the biggest and most exciting battle in all of Trek history: the Klingon attack on Deep Space 9. Worf officially joins the crew and the Jem'Hadar become more of a long-term threat this season. We also see the return of the Mirror Universe.

Although there's great storytelling, the show becomes very un-Roddenberry at this point. In a two-part episode, a Starfleet Admiral attempts to launch a coup d'etat and overthrow the Federation President. Trek has never been so great but conversely has never been so dark.
20

STAR TREK: DEEP SPACE NINE SEASON 3

Plenty of new alien races made appearances on Deep Space Nine, but in this season we're introduced to the USS Defiant, giving the crew a chance to leave the station and explore (as well as fight). Sisko gets promoted to Captain and we see a dynamic power shift due to the Tal Shiar and Obsidian Order losing against the Dominion.

What we see in this season is secondary characters developing and feeling like fully realized characters. Kai Winn, Nog and even Morn all feel like they could have full novels written about them. We also have some very human moments, like Sisko and son exploring space in a ship they both built.
19

STAR TREK: ENTERPRISE SEASON 4

Just when the show found its voice, Enterprise ended with season 4, just two episodes shy of the 100 mark. With the Xindi plotline over, the show finally got around to exploring the origins of the Federation. We delve more into the politics of things, with the Andorian Shran returning as a frenemy of Archer.

As strong as the season was, there were some big misses. The season opener involved a bizarre plotline with time travel and Nazis working with aliens. The series finale also infamously felt like the crew was making a guest appearance on an episode of Next Generation.
18

STAR TREK: DEEP SPACE NINE SEASON 2

By this point the show hadn't tackled the massive Dominion War yet, but it does play around with smaller arcs, such as a political faction called the Circle trying to overthrow the Bajoran government. We're also introduced to the Maquis, which will later set the stage for Star Trek: Voyager.

Thanks to Ds9 being stationary, in the second season we see repeat appearances by the tailor Garak, Vedek Kai Winn and Cardassian villain Gul Dukat. In this season we see that secondary characters start to develop fully and become strong allegories for dramatic human issues.
17

STAR TREK VOYAGER SEASON 3

Whereas DS9 was about a station and Next Generation got more involved in the politics of the Federation, Voyager in season 3 stayed focused on exploration and high concept storytelling. "Distant Origin" had Voyager encounter spacefaring dinosaurs, Janeway had to fight macroviruses and we saw the return of the Borg.

"Future's End" had the crew travel to the 20th century and at times felt like a rehash of Star Trek IV: The Voyage Home. Voyager found real challenges with scenarios like the Q Civil War and the introduction of Species 8472, and watching the crew make big, hard decisions is what made the show so great.
16

STAR TREK: THE NEXT GENERATION SEASON 3

After some trial and error, Next Generation gave us a strong season 3. Dr. Crusher may have returned but her son, Wesley, left the show. Even "Yesterday's Enterprise," an amazing alternate reality episode, featured the return of Tasha Yar and set up Denise Crosby's return for future episodes.

The writers of this season were charged with developing characters, and we saw Worf defending the honor of his father and Data creating a fellow android named Lal in "The Offspring." This season also gave us the first appearance of Locutus, the Borgified version of Jean-Luc Picard!
15

STAR TREK: DEEP SPACE NINE SEASON 5

Although known for its grim plotlines and mature themes, season 5 was surprisingly lighthearted in a way that felt balanced and refreshing. As an homage to the original series, Sisko and crew traveled back in time in "Trials and Tribble-ations" and met Kirk thanks to some amazing Forrest Gump-esque CGI.

"In the Cards"and "The Ascent" offered comedic moments with characters we've gotten to know over 5 years. Episodes were also directed by Avery Brooks, Michael Dorn, LeVar Burton, Rene Auberjonois and Alexander Siddig. The season ended with "Call to Arms" which began the war with the Dominion.
14

STAR TREK: ENTERPRISE SEASON 2

In season 2 of Enterprise, the show gave us appearances of familiar characters that exist in the Trek universe. Without messing up continuity, the crew encountered the Romulans, Andorians and even met with the Borg that survived their crash in Star Trek: First Contact.

Although we still don't get a sense of the development of the Federation, the series decides to take a turn with "The Expanse" and start a plot with the Xindi, a race of beings that want to destroy Earth. While not connected to Trek lore, it does allow for Enterprise to stand out on its own with its own storyline.
13

STAR TREK: VOYAGER SEASON 6

Season 6 of Voyager gave the show the entire Trek spotlight since Deep Space Nine had just ended and Enterprise wouldn't make its debut until one year later. This season had some big budget episodes as well as some lofty goals that unfortunately weren't met.

"Dragon's Teeth" was originally supposed to be a big two-part episode but was reduced to just one show. "Barge of the Dead" had one of the biggest set pieces ever constructed in Trek history. This season did give us the acting debut of Dwayne "The Rock" Johnson in "Tsunkatse!"
12

STAR TREK: THE NEXT GENERATION SEASON 4

Next Generation in season 4 subtly introduced the notion of multi-arc storylines. The Klingon Civil War and Worf's discommendation were repeating themes. Miles O'Brien became more of a presence on the show as well as Worf's son. We also were introduced to Picard's family, who would later be mentioned in Star Trek Generations.

The season ended with somewhat of a cliffhanger, depicting the unexplained return of Denise Crosby as an unnamed Romulan officer. She would be revealed later to be the daughter of Yar from an alternate universe. Now we're talking sci-fi!
11

STAR TREK: VOYAGER SEASON 7

Voyager had a strong last season, even when compared to the other Treks. They had less elements to wrap up than Deep Space Nine and audiences would finally learn if the crew of the USS Voyager would finally get home. Before they did, they would have one last encounter with the Borg.

Besides meeting the Borg Queen, Harry almost got his own ship to command in "Nightingale." Episodes like "Workforce" and "Author, Author" allowed the crew to play variations on themselves. This would be the last series set in the 24th century!
10

STAR TREK: THE ORIGINAL SERIES SEASON 1

After a false start under Captain Christopher Pike, the show was relaunched with Captain Kirk in the big chair, leading his crew on a five-year mission. In the show's first season, there were great suspenseful episodes like "Balance of Terror" and "City on the Edge of Forever."

Fans fell in love with the racially diverse characters on the bridge who explored the final frontiers of space. The introduction of Khan in "Space Seed" and the Horta in "Devil in the Dark" have fans still talking about them several decades later.
9

STAR TREK: DISCOVERY SEASON 1

Star Trek: Discovery, like the other Treks, had a problematic first season. It felt like 20 seasons crammed into one. Not only were there trips to the Mirror Universe, but a brand new type of travel technology was introduced, even though the show took place in the 23rd century.

As flawed as it was, the production value was insane, having viewers feel like they're watching a movie every week. Profanity and Kelpien-eating aside, the show has potential and did give us Michael Burnham, the most interesting character Trek has provided us in generations.
8

STAR TREK: VOYAGER SEASON 4

Goodbye, Kes, hello Seven of Nine. Besides cast changes, we also saw some big moments in the series, such as Voyager re-establishing communication with the Alpha Quadrant, as well as the introduction of the Hirogen, who would make several appearances.

The two-part episode "Year of Hell" beat up Voyager and scattered the crew, and any dramatic tension was resolved by a big reset button at the end of the episode. Directing efforts by Trek actors Tim Russ and even Andrew Robinson (Garak from Deep Space Nine) brought the humanity back into Voyager.
7

STAR TREK: ENTERPRISE SEASON 3

The notion of Star Trek: Enterprise being a prequel was an enticing idea at first, but the show gained steam when it developed its own plot involving the crew tracking down the Xindi superweapon. Balanced with the Temporal Cold War subplot, this was the best Enterprise had to offer.

Episodes like "Twilight" and "Damage" aren't showing the crew at their best, but was some of the best dramatic moments in Enterprise's short 4-season run. Writer Manny Coto would be one of the big factors in the show turning itself around.
6

STAR TREK: DEEP SPACE NINE SEASON 7

Deep Space Nine had a very long story arc involving the Dominion War, and all of it had to be wrapped up in the final season. There was also the political intrigue with Kai Winn, Gul Dukat undercover as a Bajoran, Klingon politics, the introduction of Ezri Dax, the Vic Fontaine holosuite adventures and eight other plots we're forgetting.

There was a lot to wrap and DS9 did its best, but some resolutions felt rushed and others dragged on for too long. There was also the villainy of Section 31, the revolution on Ferenginar, the Wormhole Aliens... man, there was a lot of stuff going on!
5

STAR TREK: THE NEXT GENERATION SEASON 6

This season had a tendency to focus more on character-based plots, and that's not a complaint. The two-part episode "Birthright" gave audiences insight into the lives of both Data and Worf. We even saw the return of Montgomery Scott in the episode "Relics."

This was also Picard's big year. Not only did we see him do a John McClane impression in "Starship Mine" we also see him a victim of torture in the two-part episode "Chain of Command." The episode "Tapestry" also shows an alternate reality in which Picard made different life choices, thanks to Q.
4

STAR TREK: VOYAGER SEASON 5

Why is this the best season of Voyager? After adding Seven of Nine as well as changes to the writing staff, the show finally came into its own. Episodes like "Counterpoint" and "Extreme Risk" felt distinctively like they belonged to Voyager.

High concept episodes like "Course: Oblivion" took bold chances you wouldn't see in other Trek shows, yet "Nothing Human" felt like a classic Trek examination of human morals and beliefs. Voyager celebrated its 100th episode with "Timeless" and the Borg Queen even returned. The season finale of "Equinox" saw Federation fighting Federation, something that Roddenberry would never have allowed under his watch.
3

STAR TREK: THE NEXT GENERATION SEASON 5

This season we saw the addition of Ensign Ro Laren to the cast as well as the return of Spock. Unfortunately this is also the year in which Gene Roddenberry passed away, but even with the man gone, his vision lived on.

Why is this the best Next Generation season? We finally explore Picard as a family man in "The Inner Light." Picard also has to overcome language issues, learning a thing or two about humanity along the way, in the iconic "Darmok" episode. This was Next Gen at its most human and most grounded.
2

STAR TREK: THE ORIGINAL SERIES SEASON 2

Some of Trek's most iconic images appeared this season. The Mirror Universe concept was established this season with "Mirror, Mirror" and we also learned about Spock's mating habits and Pon farr in "Amok Time." Season 2 also introduces Checkov to the show's cast.

Even if you're not a Trekkie (or Trekker) you know about Tribbles thanks to this season. Kirk fights gangsters and planet-killing robots as well. This season could be the reason why fans fought so hard for the show to return for the third and final season.
1

STAR TREK: DEEP SPACE NINE SEASON 6

Fight us if you want, but we're going to throw down and say that this was the best season of Trek ever. Things get even more intense with the Dominion War and fans said goodbye to Jadzia (but not to the Dax symbiote).

Our best Sisko moments happen this season as well. Not only does Sisko sacrifice his Federation morales in "In the Pale Moonlight" we see an alternate reality in "Far Beyond the Stars" in which the Star Trek universe was the creation of a struggling writer in the 1950s. The producers debated ending the series with this concept!