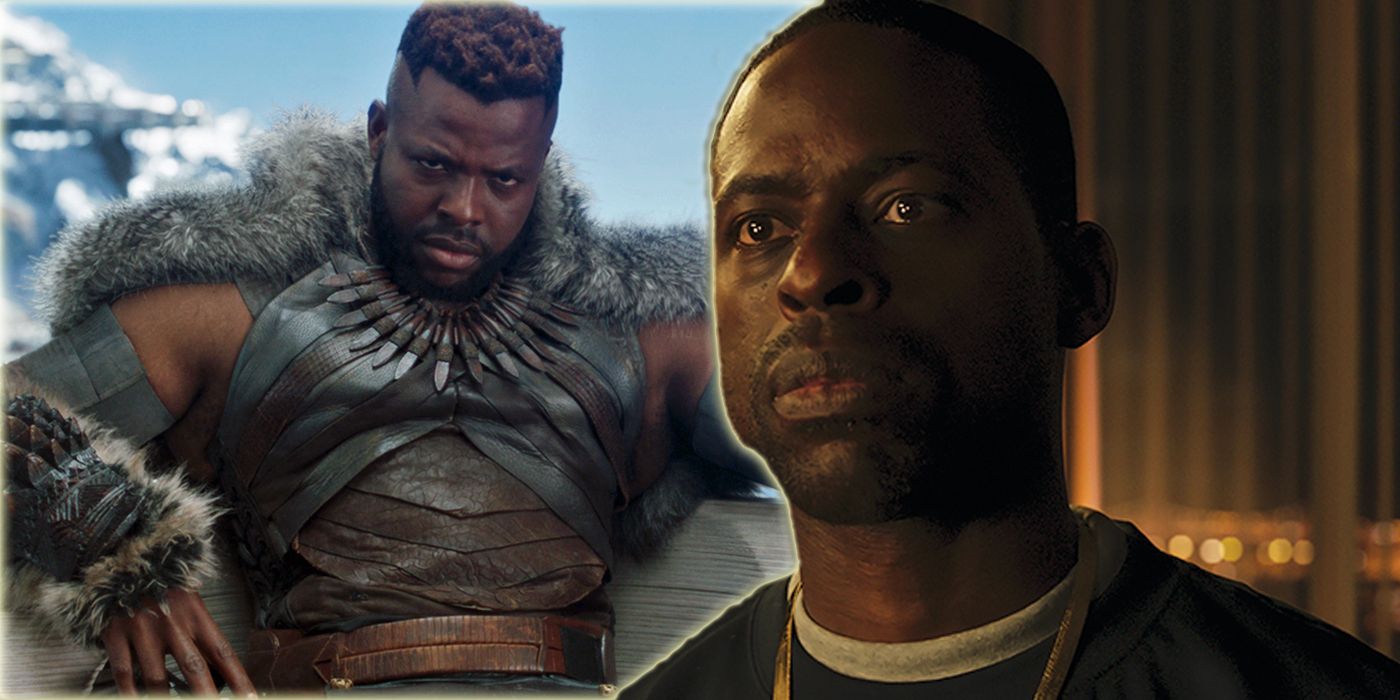 It's hard to imagine him playing anyone other than N'Jobu now, but when Sterling K. Brown initially auditioned for Black Panther it was for M'Baku, a role that eventually went to Winston Duke.
Brown's audition apparently went well, however, and director Ryan Coogler ended up offering him the role of N'Jobu, brother to Wakanda's king, T'Chaka, and father to the film's villain Erik Killmonger. Brown told Variety that he was working on The People v. O.J. Simpson: American Crime Story, which he went on to win an Emmy for, when he learned a Black Panther movie was being made.
RELATED: Black Panther Screenplay Nets Nomination from Writers Guild of America
Brown wanted to be a part of the film but his TV commitments made it difficult for him to take on a large role. So, ultimately, he was happy that he was able to play N'Jobu a character he appreciated for his strong perspective.
Of playing N'Jobu, Brown said, "It was only a couple of scenes, but he has such a strong perspective — and a perspective with which I can relate to in terms of the emancipation of black people across the globe and allowing them to have a position of power globally. And knowing that I, as a prince of this country, have access to materials that could give black people access to opportunity by any means necessary, it seems like it was a justifiable position"
RELATED: Into the Spider-Verse Wins Big, Black Panther Snubbed At Golden Globes
Brown put his all into his Black Panther scenes. He was especially concerned about strongly articulating N'Jobu's ideas so it was believable when Killmonger chose to carry on his legacy in an even more radical way. As Brown observed, "I knew it had to be passionate."
Brown also revealed that when he arrived to shoot his scenes he didn't know that N'Jobu was supposed to speak with an accent. He explained, "No one had necessarily communicated to me that there was a specific accent that we were going for until I showed up on set. I had worked on this whole other thing. … So you go back to the drawing board, you sit in your hotel room and you listen to accent tapes and the dialogue coach's suggestions and you just do it over and over again until you feel like it's right."
Ultimately, though, Brown confessed he placed more emphasis on his acting than getting the accent right, believing "...if the accent is not quite up to snuff, so be it, as long as the truth of N'Jobu's trials and tribulations is communicated."
RELATED: Black Panther, Spider-Verse Win Big at Rotten Tomatoes Awards
Interestingly, Brown also shared that he cried naturally at the scene where N'Jobu speaks with his son after he has died— n insight into the depth of emotion he brings to his most well-known role as Randall in This is Us, too.
In the case of N'Jobu's scene from beyond the grave, Brown said it hit a nerve with him because the character regretted not doing better by his son. Although Coogler directed him to avoid shedding tears during the scene, Brown said, "'I'm not trying to cry.' But there was this moment of recognition of if I failed my son, I couldn't help but."