Unless you've been living under a rock, you're probably aware that
Call of Duty: Black Ops 4
was released today. Forgoing a single player campaign to focus exclusively on multiplayer, zombies and the franchise's first ever Battle Royale mode,
Blackout
, Black Ops 4 is Treyarch's most ambitious title yet.
There are new mechanics and modes added to Black Ops 4 that can be a bit confusing at first, so we've created this guide to help you get to grips with the basics for both its multiplayer missions and Blackout challenges, as well as a few tips and tricks for finding vehicles and
zombies
.
You can check out
our review round-up here
if you're unsure if Black Ops 4 is the game for you.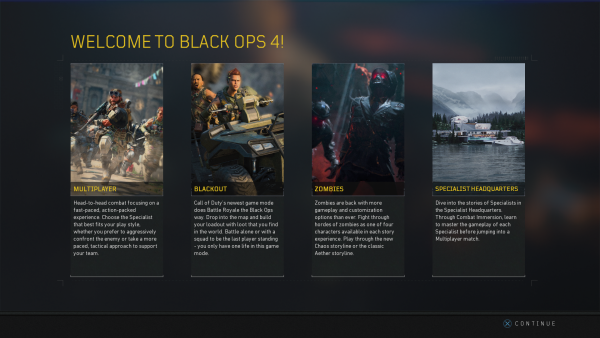 Call of Duty: Black Ops 4: Blackout
If you've somehow managed to avoid ever playing a Battle Royale game, it would be worth checking out our beginner's guide to get a good understanding of how it works.

These are the best places to land in Blackout, and we've detailed a method of landing quickly to give you a tactical advantage over your opponents.

Here's where you can find all the zombies on the Blackout map, as well as the kind of special loot they'll drop. You can either take down the zombies yourself, risking giving away your position or lure them towards an opponent.

For Blackout mode the rewards are merits, which help you level up. Here's how they work and a list of all the Challenges you should be working towards if you want to reach level 80.

There are a number of perks available in Blackout to help give you a bit of an edge over other players. They provide a range of benefits for a short period of time and can make a big difference when you're down to the last few players.

Blackout offers a range of vehicles for you to take advantage of, which are useful for speeding into the safe zone at the last minute or for avoiding enemies. There is none more useful than the helicopter, so here's where to find them.

The level cap in Blackout is currently level 80 and at present, there is no prestige mode.

Players have found an exploit already: when using an emotes, the game goes into third-person view and you can have a good look around for enemies behind you. We imagine this will be changed shortly.

Call of Duty: Black Ops 4 bugs
A bug has been discovered whilst playing in Hardcore mode, where if you use the razor wire and one of your allies accidentally trips over it, you'll be booted from the game. Tough luck.

Call of Duty: Black Ops 4 trophy list
It wouldn't be a Call of Duty game without a tonne of cheevos, so here's our list of all the trophies and achievements you can unlock for the base game and upcoming DLC.

The post
Call of Duty: Black Ops 4 guide
appeared first on
VG247
.